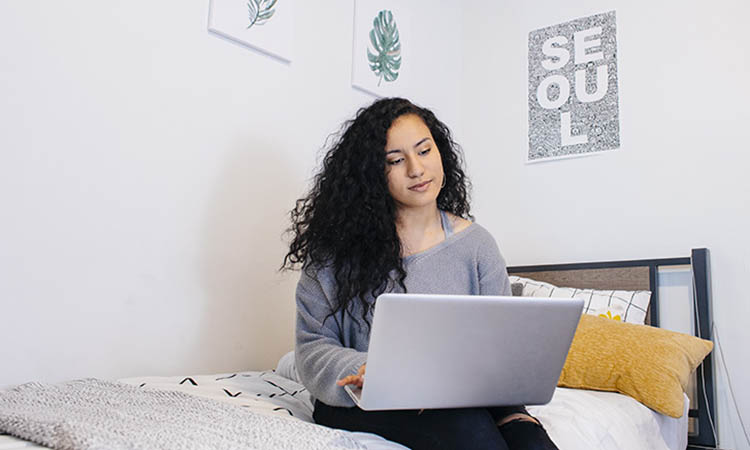 Where to Go, What to Know for Fall 2020
Editor's note: As you begin your Golden Bear journey, bookmark the resources below to stay informed about campus services and academic options, and keep an eye on your Berkeley email account and CalCentral for updates. Follow the links as prompted to stay up to date and prepare for classes.

Perhaps more than ever before, your Berkeley experience will be defined by how you choose to make the most of a unique academic opportunity. The on-campus experience will look different this year compared to previous years for the entire campus community. Based on the latest public health conditions, students are encouraged to live and learn remotely from where they are right now if they are reasonably able to do so. UC Berkeley officials recommend that people only come to campus who have on-campus housing, critical in-person classes (depending on public health guidance), in-person research or work, or other specific directive to come to campus; or for accessibility, accommodation or other needs.
At this time, the fall semester will begin with fully remote instruction, with a possibility of select in-person instruction opportunities later in the semester, as public health conditions allow. Students will not be required to take in-person classes or be present on campus at any time this fall. Check out the brand new "Semester in the Cloud" program that features large "gateway" courses and several critical-path classes that will allow students to make progress toward meeting major and breadth requirements.
It's important to note that traditional gathering spaces on campus will either be closed or restructured to support physical distancing. In-person events, gatherings, or social activities will not be allowed on campus. Student services such as financial aid counseling, tutoring, career advising, student development support, and registered student organization advising will be offered remotely. Only select services will be offered in-person via grab-and-go models such as the Food Pantry, Cal Student Store, the Amazon Hub+, and the university library. Registered student groups, fraternities and sororities, and other groups of students should hold all activities virtually.
Now that you know you'll be able to take the classes you need from wherever you need to be, read on to learn how you can start building community with fellow students, and get updates about living on campus and other critical student services.
Tune into Berkeley
Connect with fellow students and hear about campus news:
Check out the Berkeley Life Instagram channel, which talks about what it's like to be an undergrad and shares resources to help you.
Review the Student Affairs updated Frequently Asked Questions specific to COVID-19 news for fall 2020.
Watch the Campus Conversations series, which features live-streamed and recorded events with Berkeley leaders. Upcoming summer 2020 topics include student housing, instruction, news for newly admitted freshman and transfer students, and the student experience (including professional offices and student groups and events).
Orientation starts in the summer, as students complete online modules and meet deadlines, just as Golden Bears in previous years began their student experience — with Golden Bear Advising and Golden Bear Prep. Core Golden Bear Orientation (GBO) material will be shared prior to class instruction starting. Some of the in-person components of GBO will be online, and other programming will be extended throughout the 2020–2021 school year to help support your needs and work within campus event guidelines.
Housing supports students to make the best decision for you and your family about where to live. This year, campus housing will be limited and the experience will look different due to physical distance guidelines. On-campus housing for students in the residential halls will be single occupancy only (you get your own room). There is a room for all students who received housing offers, though your offer may now be in a different building. Occupancy levels in apartments for undergraduate and graduate student and student family housing (University Village Albany) remains the same.
Dining will continue to offer meal plans for students living in campus housing or for those in the campus area, and will have to-go service.
Financial Aid and Scholarships is here to support you and maintains its commitment to provide comprehensive financial aid, especially during this challenging and uncertain time. Financial aid is sharing updates and changes due to the pandemic along with helpful steps you can take now to ensure your finances are on track for fall. For starters, you can monitor and complete your tasks in CalCentral, sign up for Direct Deposit or watch a video about your Expected Family Contribution and how to make an appeal if your financial circumstances have changed. Students not living in on-campus housing are encouraged to update their "Cost of Attendance" information in CalCentral as soon as possible. Should the standard allocation not match your actual living expenses, you may request a cost of living adjustment in mid-August.
Cal Student Central is providing online and phone advising for financial aid, registration, and billing inquiries. Please call 510-664-9181 weekdays between 9 a.m. and 12 p.m. or 1 p.m. and 4 p.m. (Pacific), or create a case with your inquiry. Cal Student Central is responding to all inquiries within one to three business days.
Berkeley International Office enhances international student experiences by sharing expertise in advising, immigration services, advocacy, and programming. You'll find answers to common questions and support resources that are unique for international students.
Registrar offers answers to frequently asked questions about fall instruction to help you and your family make decisions that are right for you. Plans may be adapted due to prevailing health conditions, so keep an eye out for new information.
Monitor campus updates (page managed by Public Affairs), including news related to the pandemic and comprehensive news affecting the entire UC Berkeley community (students, faculty, staff, and the general public).
Prepare for positive cases: Students who are experiencing symptoms or think they have come in contact with a positive case should call the 24/7 Nurse Advice line at 510-643-7197. Space is reserved on campus to house students who have tested positive and are in isolation; are waiting for the results of their test; or have had close contact with a known positive and need quarantine under public health orders. Students will have meal service and other resources they may need during the isolation/quarantine period. Priority will be given to students living in on-campus housing.
The coronavirus pandemic has defined 2020 as an unprecedented and challenging time around the world. UC Berkeley programs, departments, services, and student organizations are resourceful and resilient, adapting to find the best way to continue to support your education and wellbeing.