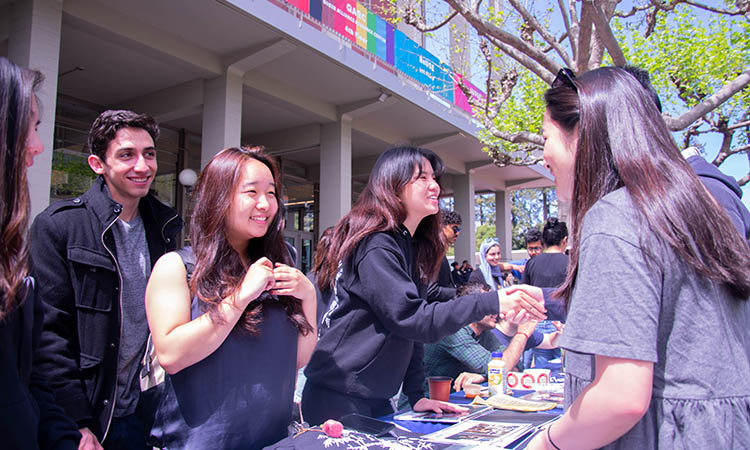 Resources for your Fall 2020 journey
Whether it's your first year or your fourth, building a circle of friends is one of the best parts of your Berkeley journey. Connect with people who get you and your values (and your humor). Whether you're on-campus or your own place, there are many great ways to find an amazing community of friends and have fun, too.
Join student groups & organizations
With 1,479 options, there's sure to be a group to fit your passion and personality. You'll meet great people and enjoy some pretty creative virtual programming. Check out the different categories of organizations out there. Trying something new can lead you to discover new interests and make new friends. Find your fit: https://callink.berkeley.edu/
Make virtual connections
Want to hang out in a virtual res hall lounge? Or enjoy some furry fun during the pet cafe Zoom? Explore all kinds of student organization events and videos to help you get connected to a whole lot of people and a whole lot of fun. Follow the fun here: CalLink Events, the Corq app, the new LEAD Center YouTube Channel for Student Org Videos, and the LEAD Center Facebook & Instagram.
Get support running your student group or organization
The LEAD Center is standing by ready to help you with virtual advising appointments, workshops, and events. Simply email lead@berkeley.edu. Learn more about registration for returning organizations and applications for new student organizations.
Connect with a diverse community
Explore the Centers for Educational Justice and Community Engagement, made up of a support system of six resource centers. The centers are a great place to find community, encouragement, knowledge, activism, and much more. Partner spaces include: African American Student Development, Asian Pacific American Student Development, Chicanx Latinx Student Development, Gender Equity Resource Center, Multicultural Community Center, and Native American Student Development.
Watch for more
Coming soon is a toolkit for building community and belonging in a virtual space.
We're also exploring creating work-study positions among different departments that would offer peer-to-peer support and assist with building community.
Tap into the wide, diverse community out there. Having a great crew of friends makes life (and studying) a whole lot more fun.