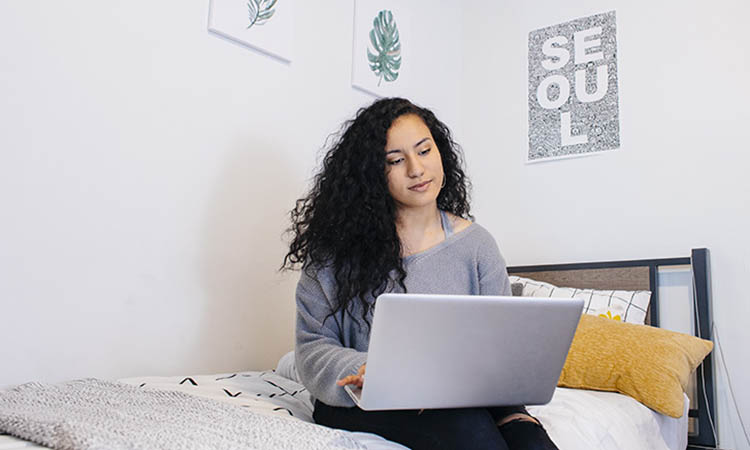 Funding. Tech Support. Connecting online.
Now that the fall 2020 semester is under way, we want to showcase important campus resources from financial assistance, to tech support, to connecting with other students. Here at Berkeley Life we'll keep featuring more student stories and experiences on how to find and use campus resources.
Testing & Tracing
Our best tools to combat the virus are testing and contact tracing; they help the community identify and address potential COVID outbreaks before they have a chance to spread.
Free asymptomatic surveillance testing is required twice per week for on-campus residence hall students. We strongly recommend free asymptomatic surveillance testing twice per week for students living in Greek housing, BSC Cooperative (Co-op) housing, and Bowles Hall.
Any student experiencing symptoms or who may have been exposed to COVID-19 (or any students with concerns), can call the University Health Services Advice Line 24/7 at 510-643-7197 for consultation or an appointment. There is no out-of-pocket cost to be tested at UHS; it is covered by the university and/or insurance
If you feel significantly ill, requiring assessment within our COVID tent, stop by the Durant side of the University Health Services building, Monday through Friday, 10 a.m. to 4 p.m. For those living outside the Berkeley area or needing assistance outside of business hours, you may need to go directly to the nearest emergency room.
If you have tested positive through another medical provider or testing location, please call the University Health Services confidential line at 510-643-8227 to inform our clinical teams and to help us support you. Remember, the line is confidential; we do serve to guide the campus response to COVID-19.
Download the UC Berkeley Mobile app for easy access to tools you need like the Daily Symptom Screener, COVID-19 testing options, and other information to help you navigate the physical campus safely.
NOTE: Information gathered during contact tracing will not be used in disciplinary action against individual students.
Finances
Are you facing uncertainty about funding this semester? Here are some ideas to stay afloat:
Basic needs
If you need help with the basics of food and shelter or are otherwise struggling to make ends meet, don't hesitate to connect with these resources.
Contact the Basic Needs Center. You can also book a virtual appointment with the Basic Needs Manager (basicneedssupport@berkeley.edu).
Check out the Berkeley Food Pantry. This organization battles food insecurity, and can help connect you to the CalFresh program (up to $194 per month to use at grocery stores and farmers' markets). Application assistance is available all day every Tuesday and Friday from noon to 8 p.m. in the Basic Needs Center. Reserve your spot at: https://tinyurl.com/calfresh2020
Technology
Need help with Zoom, hotspots, or updating campus software?
 Accessibility
Have a disability and need help with accommodations to navigate campus or classes?
Academics & Career
Your academic success is a top priority. Here are some resources to help:
Virtually visit the Student Learning Center. This program serves more than 10,000 undergraduates each year. Although physical study spaces are currently closed, SLC offers virtual service in many disciplines, with a robust fall events calendar.
Apply for research opportunities. For graduate students, visit the Student Research page (and be sure to sign up for the Graduate Admissions newsletter). If you're an undergraduate, plug into the Undergraduate Research Apprentice Program (URAP) for opportunities to work with faculty and staff researchers.
Get involved, build that resume. Berkeley encourages community involvement, and a great place to start is with the Public Service Center. And, it's never too early to explore career opportunities or start your resume. Our Career Center is providing many services online.
Connection & Wellness
With everything going on in the world, you may feel a little overwhelmed, but you are not alone! There are a lot of ways to keep healthy and connected.
Housing
It's more than just your home, it's also your remote classroom, office, restaurant, student org meeting room….
Still need housing? Current housing getting crowded? On-campus housing is still available including private rooms in residence halls and a variety of options in our apartment style locations. Learn about the benefits of on-campus housing and apply.
Need help navigating landlords and leases? Student Legal Services has advice to help you negotiate or terminate a lease. You can find other tips and advice here.
This information originally was sent (in slightly modified form) via email from Student Affairs to all graduate and undergraduate students on Sept. 10, 2020.