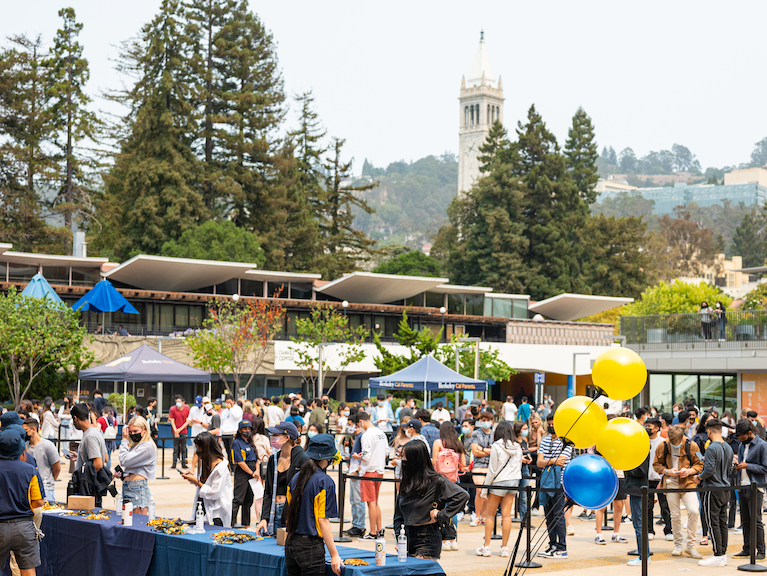 Where to Go, What to Know, How to Get There
The UC Berkeley campus thrives when filled with curious minds working together, so it's definitely exciting news to have students on campus together in person this spring. What a crazy journey! But after seeing how Berkeley students adapt and perform in inspiring ways, there's no question that you're up to any new challenge that comes your way. Go Bears!
The university announced that Spring 2022 semester will begin with mostly remote instruction (after previously planning for all in-person instruction), and continued COVID-19 testing (see the latest on the vaccination policy). There will be plenty of new announcements, activities, and processes to track. Since taking part in community health practices and being aware of changes will affect how student and public spaces are able to open (and stay open) around campus, it will be important to be involved and engaged at the personal level.
This article is designed as a roadmap to help you stay on top of new announcements, critical updates, and ways you can develop many different facets of your life as a student at Berkeley. It's a guide to resources and services available to help you before, and after, you arrive on campus.
Staying in Touch – Social, Emails, Websites, and Tools!
In the past year we all learned that changes in public health trends can cause conditions to change quickly. Communication has proved essential, but with such a large campus there can be a lot to follow, so what are some helpful ways you can stay connected and informed?
Play around with our Success Toolkit. The toolkit is a hub for various resources and updates around campus. It is designed to help you navigate buildings and public spaces, find community (both through in-person and virtual opportunities), and surface information about services and support that are available.
Keep checking your CalCentral account for important tasks and milestones! Especially for the newest Golden Bears, the tasks and messages in CalCentral will help you complete important deadlines before you show up to campus. 
Connect with fellow students and hear about campus news. Check out Berkeley Life Instagram, which shares about what it's like to be an undergrad and highlights resources to help you. Students can join their official Facebook groups as well (for new admits, connect with UC Berkeley Class of 2025 or UC Berkeley Transfer Class of 2023). Also try exploring the New Students tag here on Berkeley Life. 
Check your bMail (Berkeley email) regularly. There's no getting around it. The quickest updates from the university will arrive in your inbox first. Curious about previous updates or think you missed a message? You can check:
These resources are updated as public health conditions change and announcements are made, so be sure to visit the sites for the most up-to-date information.
Your Sources for Academics, Finance, Housing, and Dining
Check these online resources for Q&As and details about campus plans and announcements, plus routine updates that don't usually end up in your inbox.
Read details about 2021-2022 instruction (updates specific to spring 2022 coming soon). This resource offers answers to frequently asked questions about instruction (topics include in-person instruction, enrollment, and bCourses) and is updated by the Office of the Registrar. If you're interested to read a student perspective about registering for a semester, check out Choosing Classes at Cal.
The Library will provide students with free digital versions of required course materials (books, articles, and videos) for spring 2022.
Find updates and helpful financial aid steps you can start now. Stay on track for your first semester by completing all your tasks in CalCentral, like signing up for Direct Deposit or watching a video about your Expected Family Contribution (with advice on how to access available support). You can also read Financial Aid Basics and New Students & Financial Aid, Berkeley Life articles that help you walk through the financial aid process.
Keep up-to-date with the latest dining service updates. Check this page for the newest information about the dining commons, also find the option to sign up for Cal Dining's newsletter for menus and news. It's easy to buy a meal plan if you're off campus and upgrade your plan if you're on campus.
Access campus housing updates for academic year 2021–2022, including arrival guidelines. If you're seeking off-campus housing, Cal Rentals staff (part of Cal Housing) created Finding Off-Campus Housing for Fall 2021, and many of the frequently asked questions and tips apply to searching for off-campus housing at any time during the year, including a January start for spring semester. For more advice from students and resources to help your search there's also the Berkeley Life article, Find Your Home for 2021–22.
Student Services to Help you Excel
What other resources are immediately helpful in preparing for a new year? 
Explore multiple advising and support resources on Cal Student Central (CSC). The website helps walk you through materials on financial aid, registration, billing inquiries, tuition, and student records. If you're looking for more direct help, Cal Student Central provides both virtual and limited in-person services. You can use their chatbot, available 24/7; or get general help with the Virtual Front Desk (Zoom link); enter callback queues (a link to join will be available on the CSC website); or visit the Sproul Hall Front Desk, Monday through Friday 9 a.m.—4 p.m. 
Complete new student orientation (for freshman and first-year transfer students). The three sessions really do help orient you to life at Berkeley and will provide ways for you to engage with the community. Golden Bear Advising and Golden Bear Prep begin online over the summer. Tasks are assigned in CalCentral, where you can also keep track of dates and deadlines. Core Golden Bear Orientation (GBO) material is shared before classes start, and you will be able to access all the programming online with planned optional in-person activities. If you're curious about how students connected last year, including some ways you can still get involved, check out this interview with GBO leaders from 2020. 
Check for important updates and support for international students with special considerations around coronavirus. You'll find answers to common questions and resources about topics like advising, immigration services, advocacy, and programming. If you need more specific support, be sure to contact the Berkeley International Office. 
There are so many services you can tap into and teams of people around campus who want to help you succeed at Berkeley. Don't hesitate to reach out—they're there for you!

The Campanile beckons from central campus on a sunny day.