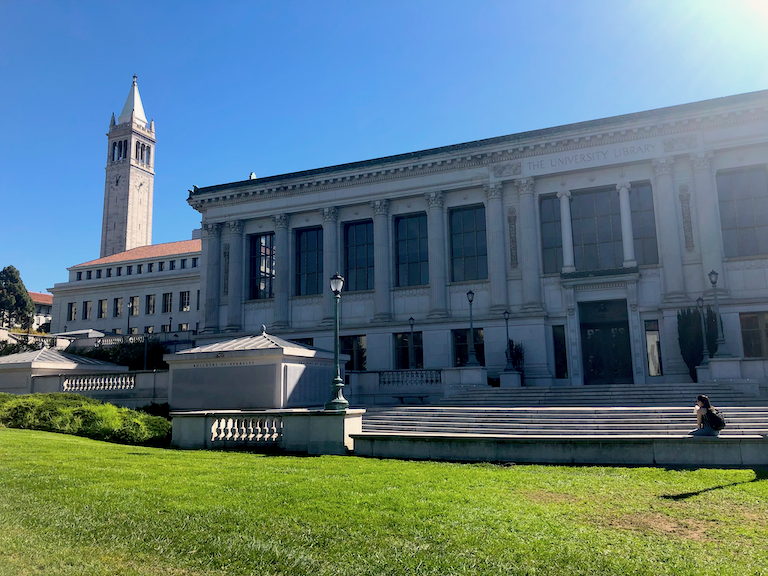 What Can Students Do On Campus?
While most classrooms and indoor spaces at UC Berkeley are closed for public health safety in the 2020–21 academic year, students might still come to campus! There are a number of reasons why you might end up visiting. Here's some of the most common ones.
Use a student study workroom at the Student Union. Living near campus and need a quiet place to study? Find a study spot! Students can reserve individual workrooms for two hours a day between 9 a.m. to 6 p.m., Monday through Friday, as dependent on public health conditions. See how it's done with this Berkeley Life Instagram post about booking a study space.
Pick up books at Moffitt Library. The Berkeley Library has launched the Oski Xpress pickup service to allow Cal students to take advantage of contactless pickup. Students are able to request up to 10 books online.
Participate in regular COVID-19 testing. You can schedule your appointment online and get a COVID-19 test at either the Recreational Sports Facility (RSF) Field House or Memorial Stadium. 
Pick up packages from the Amazon locker. Located in Martin Luther King Jr. Building, the Amazon locker provides students with an easy and secure way to pick up their packages. Students can take advantage of same-day pickup and easy, free returns.
Get a flu shot. Flu shots are also provided at the RSF Field House on a walk-in basis. You can also make an appointment at the Tang Center. It's provided at no cost for students with SHIP, or $30 for students without. 
Pick up food to go. Students with meal plans can eat at any of the Cal Dining locations open this semester, including Café 3, Crossroads, Clark Kerr, and The Golden Bear Café. If you just want to pick up a quick snack, you can check out Bear Market which functions as a mini-grocery store. If you're craving coffee or pizza, check out The Den, right next to Crossroads! The small convenience store features Peet's Coffee and Tea as well as Pizzeria 1868.
Hike up to the Big C. Hiking to the Big C is something every student should do once! The entrance to the hike can be found by the Foothill parking lot, and it's just a short 15-minute walk from there.
Take a walk in the UC Botanical Garden. Free for Berkeley students, the Botanical Garden is a great place to spend a weekend! The Garden is currently open by reservation only, so make sure to reserve your spot online before going.
Know Before You Go
It's easy for students to visit campus, but there are some things you will need to prepare for before you arrive. To make sure you're covered, check student facilities & protocols information in the Navigating COVID-19 Success toolkit. There's details on what's required for students while in university spaces and a helpful "visiting campus" checklist. Here's a quick look:
Take the

Keep Berkeley Healthy Pledge

– you only need to do it once and it's easy to access in

CalCentral

Follow public health guidelines – like washing hands often, physical distancing, and recommendations to get tested regularly

Complete the

Daily Symptom Screener

any day you visit campus – it's quick and easy, you're emailed confirmation when you complete it

Know the public health ordinances of the City of Berkeley – avoid potential fines from the city!

Check for location-specific guidelines – read and follow all directions and signs to make sure you can gain access to spaces on campus 
Editor's note: As of Spring 2021, students may be asked to show that their testing is current (by presenting a green testing badge) to gain access to university buildings on or adjacent to the central campus.
When You're on Campus
While there are not as many people on campus like there would be during a typical semester, there are still students, staff, and faculty around. Especially when you're on Sproul Plaza, it seems almost like any other semester, although everyone is wearing a mask except when eating or drinking. Even though there are people on campus, it's not hard to keep a safe distance from them when walking around. 
There are not any water fountains open right now, so when I go on campus, I usually carry a water bottle. I also bring around my own hand sanitizer, but certain places like The Golden Bear Café (GBC) have hand sanitizer you can use! I would recommend bringing your own just in case though, because public restrooms are currently closed.
Besides bringing the typical essentials like a mask, it's really important to bring your Cal 1 Card, too! If you want a quick snack from the GBC, you can just swipe your Cal 1 Card to pay for it. Also, if you're on campus to use a workroom, you need to check in with your Cal 1 Card (or other ID with Calnet authentication) and leave it with the worker until you're done with the room.
Since I live in campus housing, I find that whenever I have time, I like to walk around and admire how pretty the campus is. I especially enjoy walking during the fall when the leaves start to turn orange and yellow and the cold makes me want to cover my face to stay warm. With the majority of classes remote, getting outside to exercise and giving myself space for a mental break have been super helpful. If you have a reason to visit campus, I'd really recommend taking time to explore campus again and spend a little time outdoors! Not coming to campus? Feel a little nostalgia with these views of Berkeley from the fall. 
Kaylie Chen is a junior (Class of '21), majoring in legal studies.