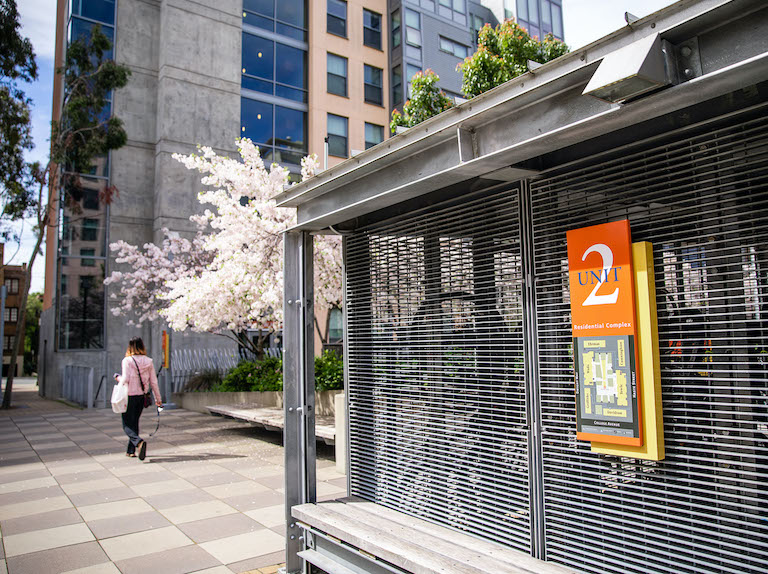 Life as a Senior in the Residence Halls
Last semester, I wrote a story on what it was like living on campus in Fall 2020; now that it's Spring 2021 and more residents are living on campus, many students have been wondering how the experience might have changed. To help you get a sense of what living in the residence halls is like right now, I will take you through a typical day in my life!
In the Morning
7 a.m. — Wake up, get ready for the day, and do yoga!
These days, I've made it a goal to get up around 7 a.m. and start my day with yoga to get me energized! I use Down Dog, an app that all students have access to for free (at least until July 1, 2021) and I find it to be a great way to stay active while being in my room. I also do yoga with my suitemate twice a week which is great for finding community and socializing!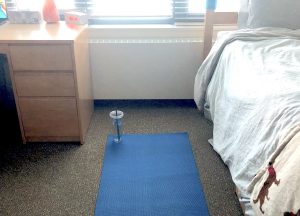 8 a.m. — Study with friends until my first class of the day and eat breakfast
I like to eat a lot of fruit in the morning, and because I don't feel comfortable going to grocery stores right now, I usually get groceries delivered by an online service which has been super convenient! One tip I have for students living in the residence halls is to make sure to let your delivery driver know that you live in the dorms! I usually leave a message that asks them to text or call me when they're here so I can meet them at the curb. Otherwise, they might just drop off your groceries outside the building where they can easily get taken by a stranger. (Unfortunately, yes, I have heard of that happening.)
10 a.m. — COVID-19 test
Usually, around this time, I go take one of my two weekly COVID-19 tests! A testing center was recently opened for students living in the residence halls at Underhill Parking Lot. It's just a quick 1-minute walk from my dorm in Unit 2, and I appreciate that convenience. There are multiple testing centers though—find the one closest to you.
11 a.m. — Class!
My first class of the day! I have been taking Korean language classes at Berkeley since I was a freshman, and because of the daily meetings and small class sizes, it has made Berkeley's huge campus feel a bit smaller for me.
Afternoon
Noon — Working for Student Affairs Communications! (ft. lunch)
This is when I work on the stories and other assignments that are posted on the Berkeley Life blog and Instagram!
Right before I start my shift, I put on my masks (yes, I double up for more protection!) and walk to Crossroads, the dining hall closest to me, and pick up one of their to-go service options. Check out the online menu for Crossroads, and all the dining halls!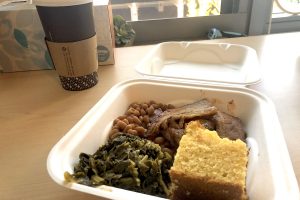 2 p.m. — Class, again.
Second, and last, class of the day! I am working towards a minor in Public Policy, and this class is about social movements, organizing and policy change. I have learned a lot about what it takes to organize a social movement, and it's one of my most engaging classes this semester.
Evening Time
5 p.m. — Dinner and relaxing
Finally, free time! This is where I continue watching whatever show I am currently into (right now it's Suits!) and take time to eat dinner and unwind for the day. As a student living in the residence halls, I get access to Xfinity, HBO Max, Peacock TV, and more! (Which I have definitely taken advantage of too much, even during finals week…)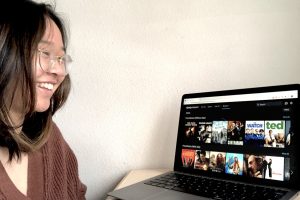 7:30 p.m. — On duty! (and studying)
As an RA, I am on duty a couple of times a month. What this means is that I pick up the duty phone for my buildings and, if a resident gets locked out or has a concern, they can call me for help! RAs also coordinate with the security monitors in our buildings in case there is anything that needs to be addressed, though it is rare for that to happen.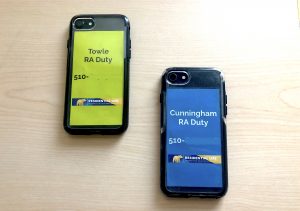 While I hold the duty phone, I can study and do other things depending on what is on my to-do list! This semester I have been using Notion (free for all students!) and I have really been enjoying it. It's certainly helped a lot with my productivity.
11 p.m. — Ready for bed 🙂
I know compared to a lot of students this might be early—one of my friends goes to sleep at 5 a.m.—but it's what works for me and my schedule! Find whatever works best for you, and try your best to stick with it. And remember to try and get at least eight hours! (Really! Berkeley professor Matthew Walker has proven sleep makes a difference and he talks about it in articles like "Stressed to the max? Deep sleep can rewire the anxious brain.")
Thanks for coming along on a day in my life as a senior living in the residence halls! Hopefully this gave you a better understanding of what living on campus has been like this semester. Stay safe, Golden Bears, and don't forget to wear your masks!
Kaylie Chen is a senior (Class of '21) majoring in Legal Studies.