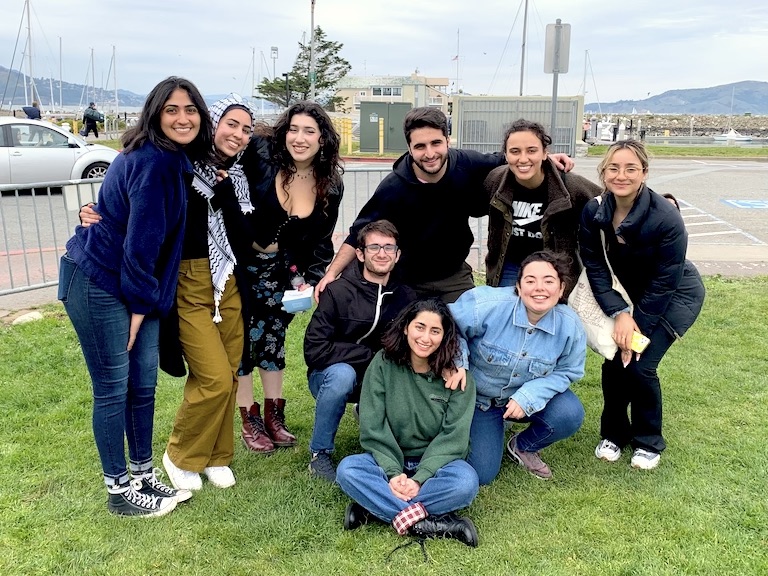 Meet Students from the Arab and MENA Communities
National Arab American Heritage Month is observed during April and celebrated by a large collection of cities and states, including California. It has become a time to celebrate the heritage and culture of Arab Americans, as well as acknowledge the important contributions they have made. In honor of that, we connected with three students involved in a UC Berkeley campus organization, and have highlighted more outlets and resources that are available to Arab and Middle Eastern and North African (MENA) students.
Meet the MENARRC
We spoke with three students involved with this campus organization: Zachary Khouri, K–12 Recruitment Director, Nina Salameh, Political and Intra-Campus Advocacy Director, and Yaas Farzanefar, Gender and Sexuality Director. Learn more about their org below!
What is the Middle Eastern and North African Recruitment and Retention Center and its purpose?
MENARRC, formerly the Arab Recruitment and Retention Center (ARRC), was renamed in order to accommodate ALL Middle Eastern and North African identifying students.
Our goal is to provide resources and educational services to the youth in our communities and other organizations that fall under our umbrella. Through different projects, MENARRC seeks to empower and inform underrepresented, pre-college students with the educational skills they lack or may need to apply to college or university (specifically UC Berkeley). Furthermore, MENARRC seeks to provide support networks for admitted and current underrepresented students who need a safe space to discuss different issues within their communities. Our values include supporting Pro-Palestinian efforts, LGBTQ efforts, and campus safety for all students.
MENARRC aims to recruit and retain Middle Eastern and North African students at Cal through a variety of events that include outreach trips, wellness activities, and Senior Weekend and Transfer Weekend programming that introduce accepted high school seniors and transfer students to Berkeley. Our purpose is to make our campus the best home it can be for students like us, through recruitment, social activities, and our variety of events; we ensure that all MENA students feel seen and enjoy their Berkeley experience.
Connecting with Student Experiences
How has your involvement in MENARRC helped enrich your experience on campus?
Zachary: MENARRC has allowed me to be a part of a diverse community of fellow Middle Eastern students that share my experiences and values. My involvement has contributed to feeling like I belong at Cal.
Nina: MENARRC was the first space on campus that enabled me to meet other MENA students, discussing our shared lived experiences and passions. It has enriched my experience by making me realize not only am I not alone, but I also have others who care about the same things I do.
Yaas: I entered Berkeley as an international student from Iran. It wasn't easy to find a community at Berkeley that felt like home. MENARRC soon became my family and enlightened me with opportunities and resources I could have never thought of. I had the opportunity to attend events with world-renowned speakers, travel to schools in southern California to recruit students, and organize events where the MENA community can come together.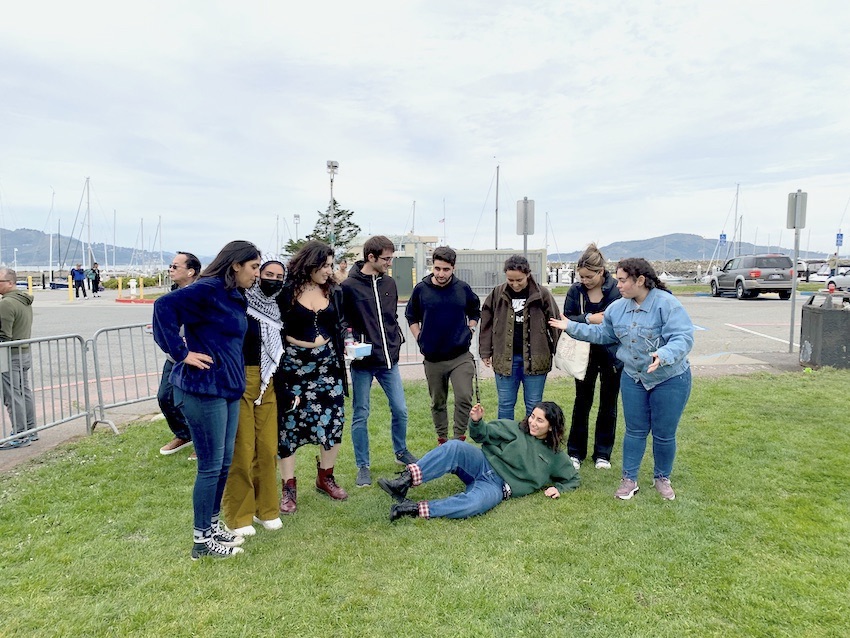 Events for Students
Does MENARRC have any upcoming events planned?
Zach: In late April, we will be hosting our annual Senior Weekend trip, where we fly-out dozens of high school students from across the state to the Cal campus and provide them with an opportunity to explore what life is like here.
Nina: Around the end of April, we are planning an open mic to highlight MENA voices which are often ignored. Hoping to provide space for poetry, music, and light conversation—this event aims to be a rare opportunity for students to share whatever they wish to. We also have larger events like Senior and Transfer weekend, focused on recruiting students to Cal.
Yaas: GenSex has many upcoming events in April. A licensed Lebanese psychiatrist is coming to speak to us about navigating queerness in the MENA region. We will also have a showing of queer made movies in the region, as well as a a talk with Shirin El Fani, the author of the bestselling book, Sex and the Citadel.
How You Can Get Involved
How can students get involved in MENARRC?
Zach: Each semester, we take intern applications, so be on the lookout for those if you want to get involved! You can also attend any of our retention events to be introduced to the community. You can find these events on our Instagram: @calmenarrc
Nina: Students should start as interns within MENARRC but can also come to any events they wish! Follow our Instagram for updates!
Yaas: All MENARRC events are open to all students, so students can attend our events. If students want to get more involved they can begin as an intern at the beginning of the semester, and later become directors of the organization.
More Student Organizations and Their Resources
What campus resources have you found helpful and would like to draw attention to?
Zach: I have found DSP services to be helpful. Although our community does not usually openly discuss disability and mental health, it is of the utmost importance that you reach out for accommodations if you feel like you need them.
Yaas: I have found CAPS the most helpful. All Berkeley students get unlimited therapy sessions for free.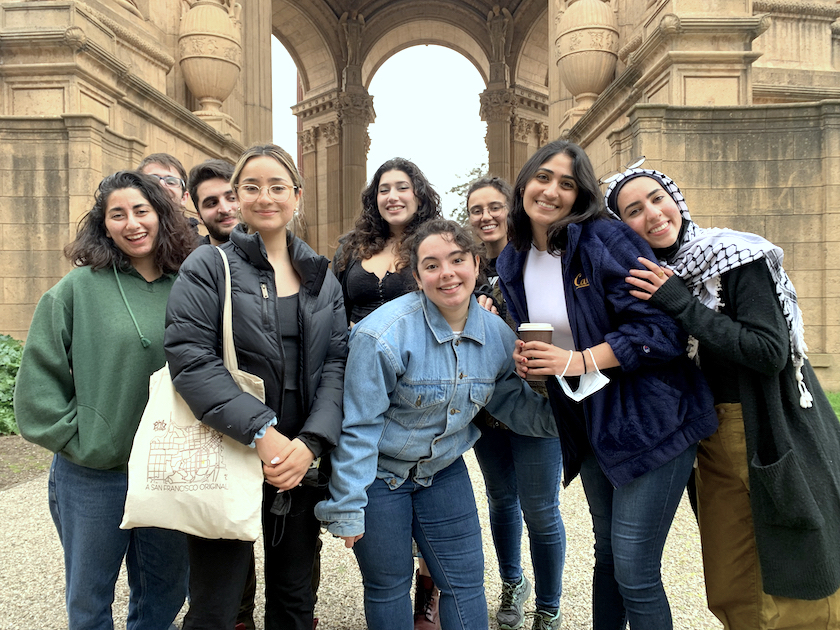 In addition to the resources listed above, we have highlighted a few more below!
SSWANA Initiative. The SSWANA (South Asian, Southwest Asian, and North African) Initiative, created by student activists, has many resources linked on its page, including SSWANA Let's Talk Sessions, free counseling and referral services available to students, and a list of SSWANA-owned businesses around Berkeley. They update the SSWANA Instagram and Linktree accordingly, so make sure to check those out as well for more information on upcoming events and more available resources.
The Arab Student Union aims to maintain and create an Arab space for Arab students and promote an understanding of Arab heritage and history to interested community members. Updates on resources and events can be found on their Instagram.
The Muslim Student Association is a space for Muslim students of all backgrounds and cultures to come together. Their page has many resources linked, including FAQs that feature more Muslim student organizations on campus.
If you're looking to explore more organizations, the SSWANA Initiative has a list of SSWANA Student Organizations on their website.
Final Words and Ways to Learn More
What advice do you have for Arab identifying students at Cal?
Zach: I would emphasize the importance of staying connected with your culture, whatever that means for you, and finding your community on campus.
Nina: I would say don't be afraid to reach out, I know it's easy to feel alone but there are so many students who would love to create community with you!
Yaas: MENARRC is an organization dedicated to provide resources, opportunities, and events for you! Get involved and share your ideas with us.
To read more about National Arab American Heritage Month and Arab American heritage, be sure to check out one of the national organizations that began the initiative for the month in 2017, the Arab American Foundation. And, to read about why the terms Arab and Middle Eastern are not interchangeable or to learn more about the history and culture, read Arab Americans: History, Culture and Contributions (download under "Additional Resources"), an educational 52-page book written by Randa Kayyali with the Arab American National Museum.
I hope this article has encouraged you to get involved in organizations on campus or has introduced you to a new resource! Whether you're learning or exploring, there's so much in the Arab community waiting to be discovered. As Nina said, "there are so many students who would love to create community with you!"
Melissa Mora-Gonzalez is a first-year at UC Berkeley majoring in English. Feature image by MENARRC showing MENARRC members from 2022.