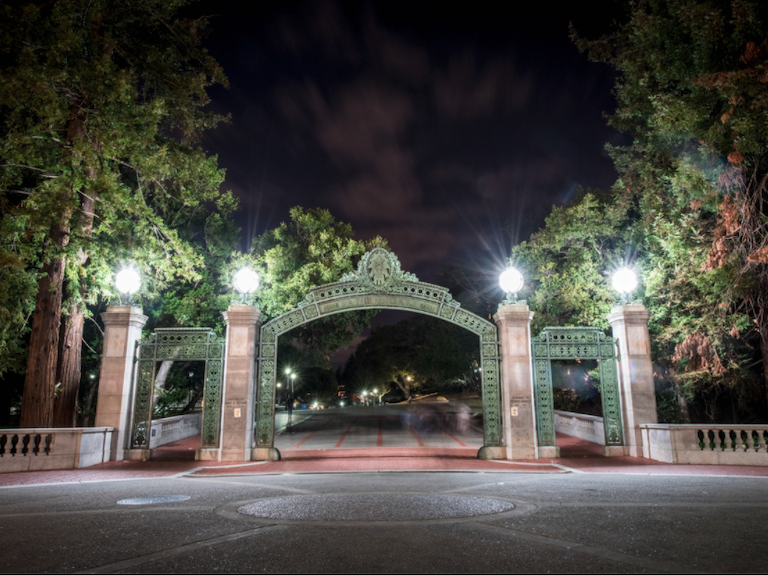 The Night Gives a New Perspective
Unless you have evening classes or activities, you may not yet have had the opportunity to walk around much of campus at night. While UC Berkeley's architectural hotspots and unique style buildings are certainly an aesthetic sight in daylight, there's something even more alluring about the way campus morphs after dusk. Below are some of the places that feel like peering into another reality when viewed under the moonlight.
Remember to always take adequate safety measures and be sure to have a walking buddy when wandering at night.
Chemistry Courtyard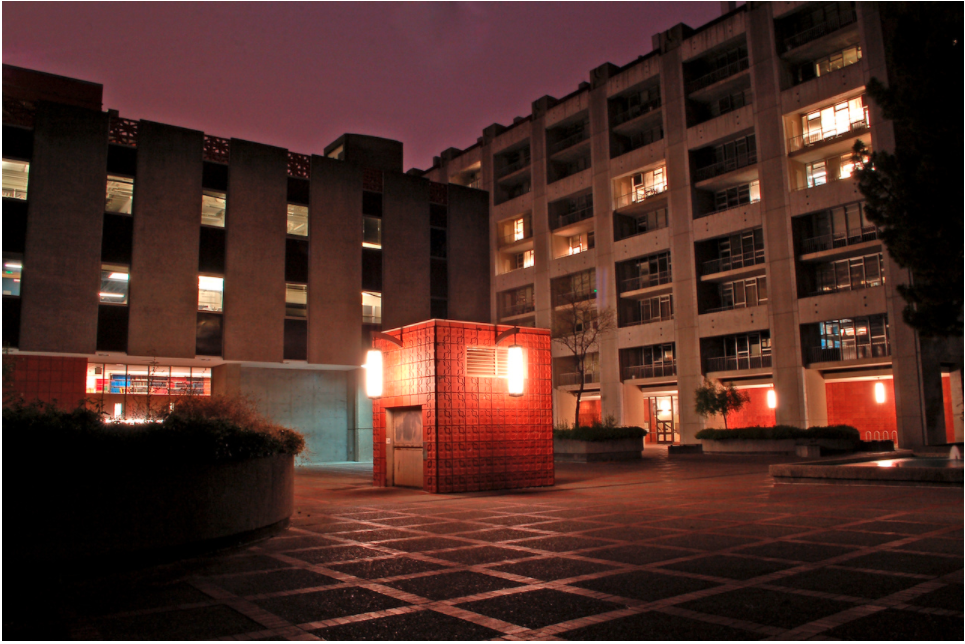 Photo by Keegan Houser
The space between Giauque Hall and Latimer Hall. If you frequent the chemistry buildings during the day, you'll know that it's always bustling with students and filled with the ongoing noise of chatter. What makes this area startling at night isn't primarily the way that the brick colored walls stand out against the worn gray concrete under the dim light, it's the unusual quietude and emptiness. Here and there you might hear the tapping of someone leaving a late class or the whirr of maintenance rolling blue trash bins, but mostly it is the hum of electricity emanating from the lights that keeps the place from being completely silent. When the sun is up and there are lots of people there, no one would notice these vibrations echoing everywhere. Just walking through it feels like you're entering a suspenseful scene taken straight from a movie. It's certainly not a bad place to study if you're a night thinker and need a constant but not distracting sound to keep your focus.
HAAS Pavilion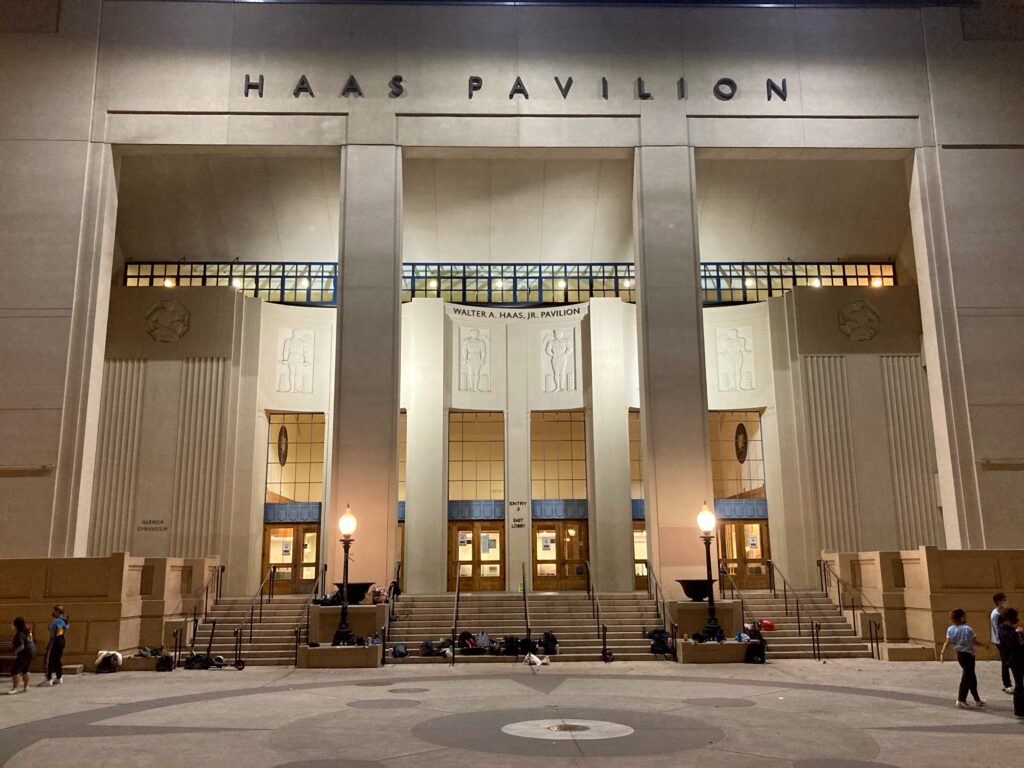 Photo by Student Affairs Communications
A symmetrical sight: Haas Pavilion. The carvings set in the curves of the wall become accentuated against the shadows brought by night. While the architecture of the building itself is impressive, it likely won't be the only thing catching your eye. In the evening, the pavilion becomes a hotspot for the numerous different dance groups at Berkeley. If you take the walkway past the front entrance of the alumni house, you'll approach the building head on and also get to appreciate the lovely tall trees lining the path. There are a few benches but this is more of a pause, stand, and look sort of spot which is well worth a visit if you get the chance. Visit Haas Pavilion.
Li Ka Shing Center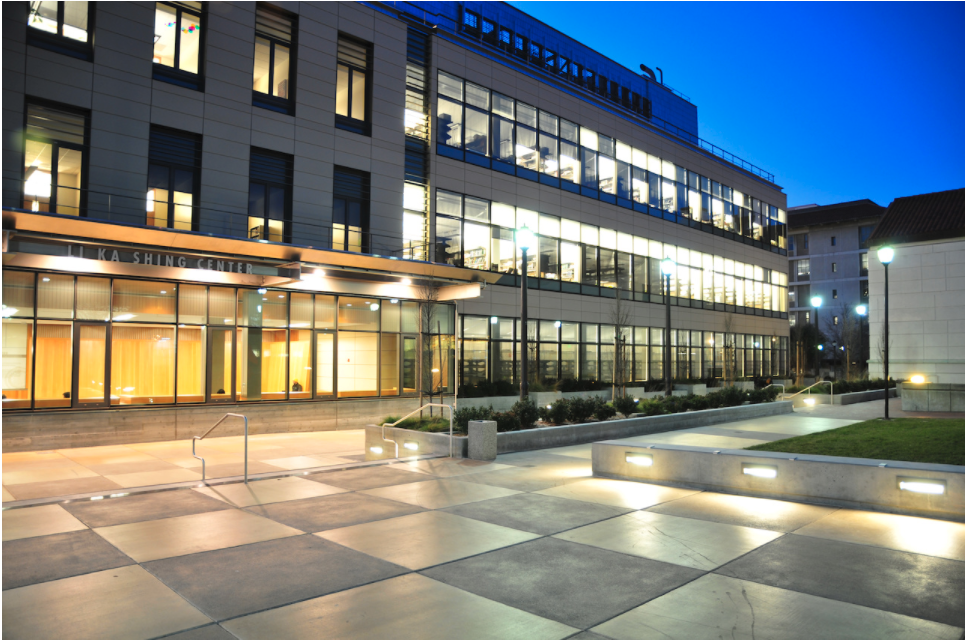 Photo by Keegan Houser
Sun down, lights up. This entrance by Wayne and Gladys Valley Plaza is illuminated by lights that almost glitter. To the right, just outside the picture, is a bold sculpture made of wide steel tubes painted red. It sits at the forefront of a large grassy area, which is a wonderful place to go on a late evening picnic. A little further from the central part of campus, this is somewhere you'd want to plan to spend a bit of time hanging out. If you're looking for a quiet area to recharge your energy and sink your feet into some earth, this is definitely the place to go. There are long concrete benches on either side of the plaza if grass is not really your friend. The place is pretty well lit but not so much as to strain your eyes against the dark night. This may very well become one of your favorite spots if you are fond of how peacefully vacant and open it is. Locate the Li Ka Shing Center.
Bears on the Balcony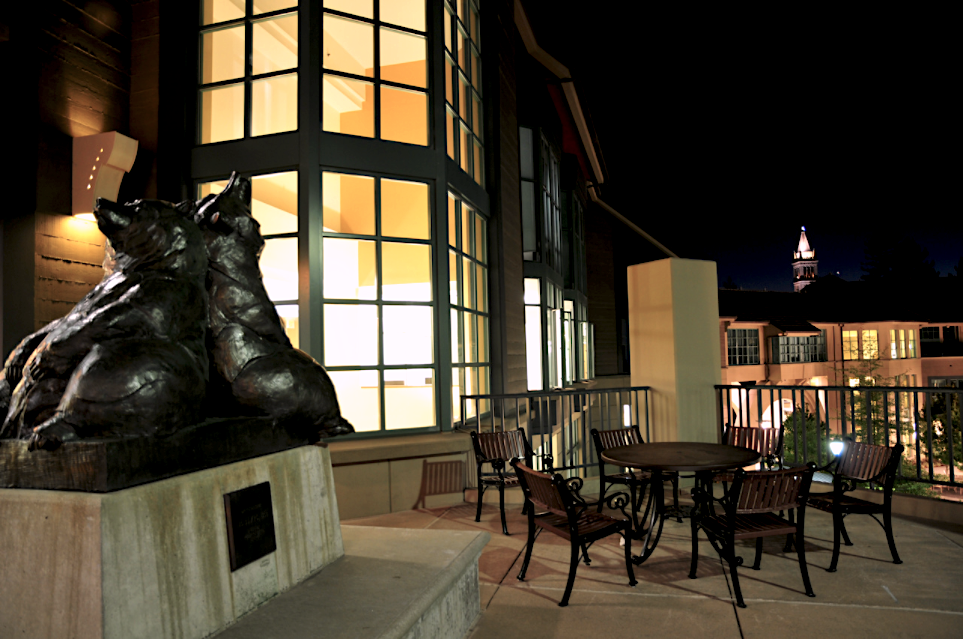 Photo by Keegan Houser
On higher ground. The balcony at the east entrance to HAAS overlooks an array of colorful trees and plant-lined walkways on the level below. The monument located at William F and Janet Cronk gate, titled "Les Bears," features two sculpted bears leaning against each other's backs, one in a stance that appears to be howling up at the sky while the other stares blankly forward. It is also near Memorial Stadium, making it the perfect post-game destination to hang out with your friends before heading back home.
The Entrance to Dwinelle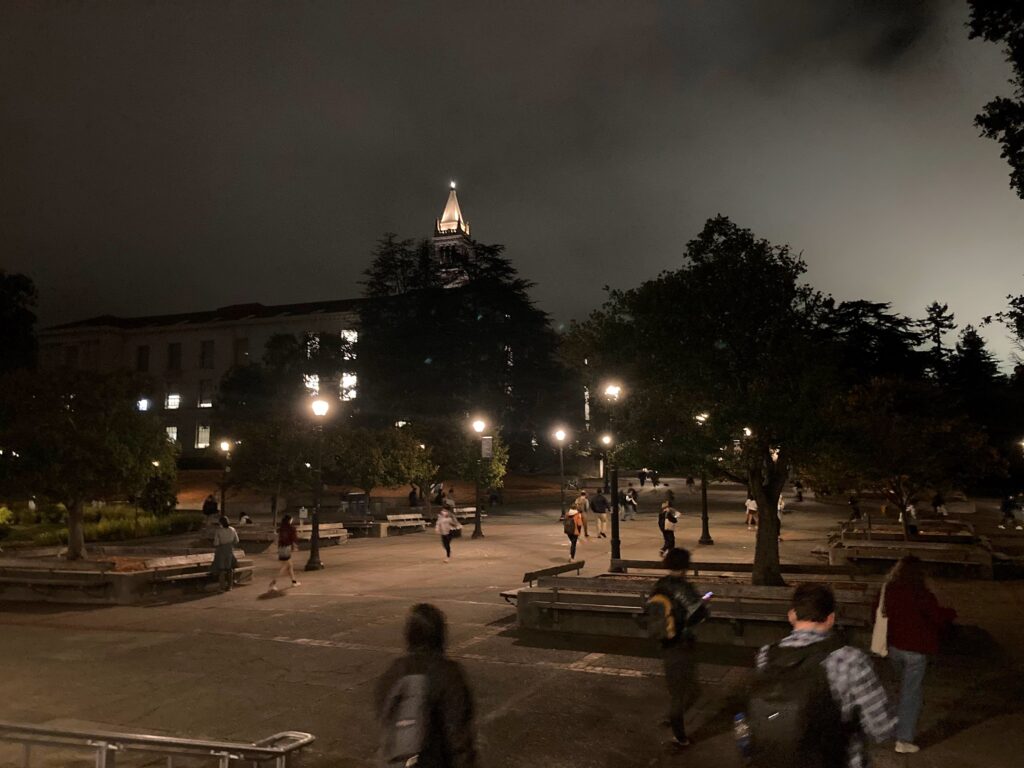 Photo by Student Affairs Communications
The courtyard had a particularly eerie feel on this cloudy night. The lamp posts outside of Dwinelle Hall form two linear rows on either side of the main walkway, either welcoming you in or guiding you out depending on how you perceive them. There is a bench on every side of the rectangular platforms rising just a couple of feet from the ground, each with a rather short tree plopped in the space filled with mulch. Though it's not a particularly still place, there is something subduing in the atmosphere that detaches it from external activity. It's an ideal place for sitting and conversing with someone or simply meandering through for a different sight.
Sproul Plaza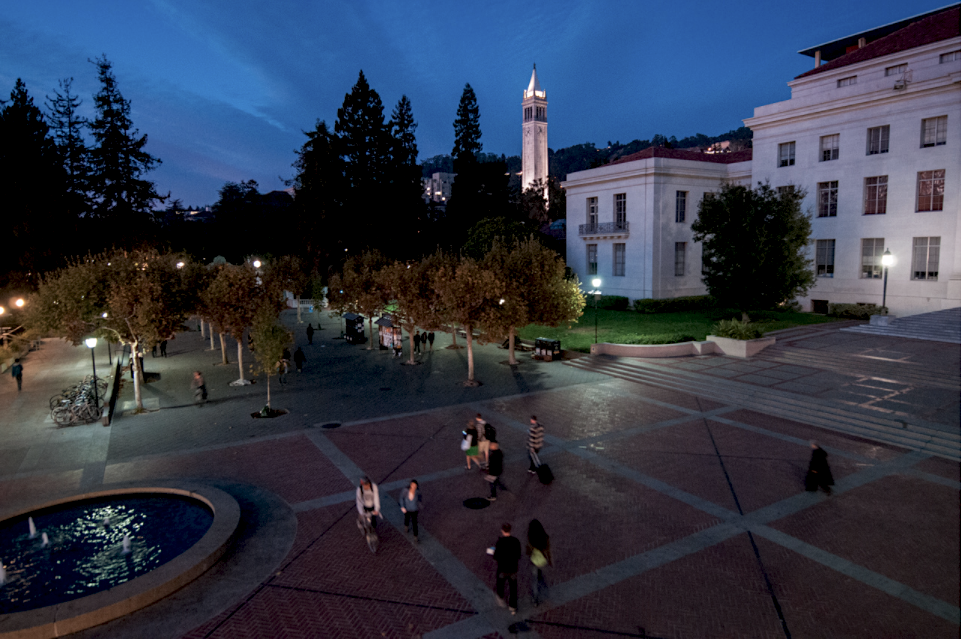 Photo by Keegan Houser
Always a magnet. At night, Sproul exchanges its non-stop stream of bustling students for a slow trickle of late strollers. Out of all the other spots, this one has the most open space of sky above, a pleasant pool to look up at after nightfall. As the area is quite large, there's no shortage of places to sit or areas to see the surroundings from a new angle. If people-watching is something you enjoy, definitely find some time to stop by Sproul at night—there's enough passersby to make it interesting but not overwhelming. Otherwise, it's a great location to meet up with friends before heading elsewhere on campus.
Familiarity can make even the most interesting sights feel mundane after a while. Going somewhere new can surely bring excitement to your senses, but getting away isn't always possible. By looking at what's become regular to you through a different lens, you don't have to travel far or wait for the weekend to get something striking from your day to day life. Sometimes just a change in perspective is all you need.
Looking for a more detailed view of campus at night? Here is a video from our Instagram of a night walk on campus!
Sahara Dittmar is a first-year student at UC Berkeley majoring in English.