Fund Your Berkeley education – Part 1 of 2
By Cruz Grimaldo, Director, Financial Aid & Scholarships Office, UC Berkeley
As the Director of Financial Aid & Scholarships at UC Berkeley, I help students from all socioeconomic levels and cultural backgrounds to fund their education. I'm connected to a large community of financial aid administrators, across the state and the nation. I've heard hundreds of stories and understand how unique each student is.
Based on my experience, here is my general advice for students to consider when funding their education.
1. Apply, apply, apply — for financial aid.
No matter what your situation is (and, if you are an applicant, no matter which colleges you select), you should apply for financial aid. I have come across situations where students fail to apply because they don't think they will qualify for grants or scholarships. Then at some point in the year, their situation changes — a parent loses a job or there is a medical emergency — and the student needs funding. Applying for financial aid early each year can expedite the process of awarding aid, especially when unexpected circumstances arise.
At UC Berkeley, your FAFSA or California Dream Act Application serves as the vehicle for scholarship consideration. We urge eligible students to complete the FAFSA or California Dream Act Application by March 2.
You can find out more about your eligibility and maintaining your financial aid on our website.
Even if you don't think you will be eligible for grants or scholarships, let us or other institutions determine your eligibility and record your information in the databases for future opportunities.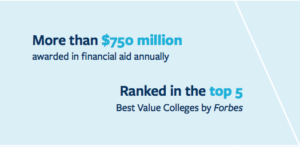 2. Apply, apply, apply — for outside scholarships.
Our philosophy is to help students achieve and afford a world-class education. This means that when you bring in an outside scholarship we first reduce your need-based loan(s) (loans based on your financial need) and work-study (federally or campus -funded part-time work while you are a student) before we reduce your scholarships and grants (gift aid). While there are some exceptions to this, this is ultimately our goal.
Therefore, at UC Berkeley, it is to your advantage to apply for and secure outside scholarships.
To put this in perspective, UC Berkeley students are awarded over $10 million in outside scholarships annually.
The other advantage of applying for scholarships is that it makes you more competitive for other prestigious scholarships, such as a Fulbright, in the future. Scholarships are awarded based on a wide variety of criteria, not simply a stellar GPA, so research early and often.
If you are an international student
Funding an education as an international student at a university in the United States presents a different set of challenges.
International students are ineligible for federal, state, or institutional funding at UC Berkeley.
We strongly encourage international students to research scholarship opportunities from private organizations both within the US and in their home country. We also encourage international students to research specific academic departments for awards or scholarships available to international students.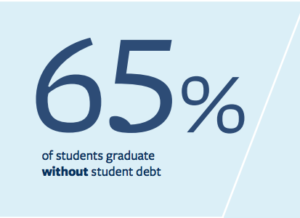 3. Consider all financing options to help you finance your education.
While you may have grants and scholarships in your financial aid offer, we encourage you to keep an open mind when it comes to borrowing some or all of your student loans, if you find borrowing necessary.
I hear many stories of students who didn't want to borrow loans because of family issues or other pressures.
Some students hear about a less than positive experience with loan debt and assume all borrowing is bad. Some students end up working multiple jobs or skipping meals to avoid borrowing loans. Others run out of money before the semester ends and struggle to get by rather than borrowing. Skipping meals and working a significant number of hours can negatively impact your overall wellness as a student, including your academic performance. These are the cases when I wish students would make an appointment with one of our Bears for Financial Success peer mentors. The Bears for Financial Success peer mentors can give you the tools for building a spending plan and teach you the basics on borrowing — when to borrow, borrowing only what you absolutely need, etc.
It might be helpful to know how much your fellow UC Berkeley students borrow on average. Only 40 percent of UC Berkeley's most recent graduating class borrowed loans. Of those students who did borrow student loans, the average loan indebtedness upon graduation was $18,000. This is well below the national average of $25,000.
I encourage you to consider your education at UC Berkeley as one of the best investments you could ever make. As an alum, I believe a degree from Berkeley will have lifelong returns for you and your family.
Read Financial Aid Basics, Part 2 here.
This article originally appeared in slightly different form on Medium.