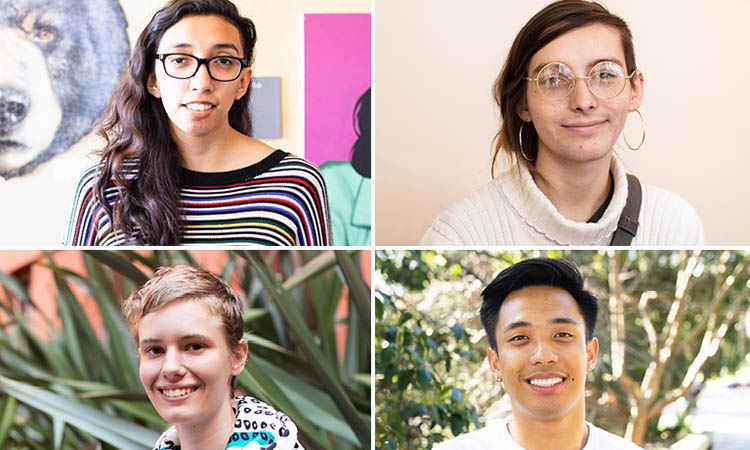 One Berkeley student's story.
When I entered UC Berkeley as a transfer student and an intended film major, I hoped to document my experiences in some way. Soon after the semester began, I started working as a video production assistant student at UC Berkeley's Student Affairs Communications team, which I knew would be an exciting opportunity to develop meaningful projects. For my first assignment, I was asked to make a short film about a community on campus that was important to me: the LGBTQ+ community.
My place at Berkeley
For most of my life, I've been in search of community, especially one that acknowledges my role as a member of the LGBTQ+ community. As a transfer student, it was daunting to dive into a brand new environment. I certainly felt that way when I got my acceptance letter to UC Berkeley, and I was nervous to begin my journey at Berkeley. Would I adapt and adjust to this new college experience? Would I find my own community and feel accepted? My identity as a queer person is something I cherish in myself, but it can be difficult to put yourself out there when there is still much progress to be made in terms of LGBTQ+ rights and acceptance. I chose UC Berkeley because I felt that it would offer me the community I sought out.
I was beyond excited to hear that I could develop a film project about a community I was deeply passionate about. Not only would I be able to provide visibility and representation for the LGBTQ+ community on campus, but it would also allow me to discover my own resources along the way and familiarize myself with the community!
Finding community resources
At first, it was a bit of a challenge to navigate the many resources that UC Berkeley had to offer, because as a new transfer student, I didn't know where to start. However, everyone I spoke with was welcoming and helpful. After sending a few emails and asking around however, I discovered a wealth of resources, including the following:
UNITY Theme Programming: While I didn't end up living in the UNITY Theme Programming floor, I found myself spending time there with several of the friends I developed during my first semester. I learned about the opportunities UNITY provides its residents, such as field trips and an LGBTQ+ educational course.
Gender Equity Resource Center: When I walked into the Gender Equity Resource Center to learn more, I was surprised by how many resources it offered. Not only does GenEq offer a space for students to visit, but they also host LGBTQ+ and women-centered events throughout the year, such as various workshops.
Queer Alliance Resource Center: QARC was an amazing resource for a new student like myself. Not only are they the umbrella organization for all of the queer-trans student clubs on campus, but they offer both a space to connect with others and they facilitate events on campus. My first semester here, I attended QT Pie, which was a vibrant community event filled with food, clubs, and performances. I even met some of my friends there!
Learning about student journeys
More importantly, the students I had the opportunity to interview for my video project helped me in my own journey towards community. Getting to hear each student's personal development in finding their place in UC Berkeley's LGBTQ+ community was inspiring, and I saw a bit of myself in each of their stories. It was an amazing experience to film this project, and I hope that it resonates with others as much as it did with me.
I knew from the start that taking on this project would mean a lot to me, and that I would learn so much about UC Berkeley and its resources along the way. However, I wasn't expecting to learn even more about myself, and how I fit into this community. While I'm still navigating both my own identity and my place in UC Berkeley's LGBTQ+ community, I know that I have the resources in place to help me.
And here's my video!
I hope that after watching this video, students who identify as members of the LGBTQ+ community can recognize themselves in the stories on-screen, and feel welcomed and accepted in the vibrant communities at UC Berkeley.
Noah Larsen is an author and a transfer student studying film.