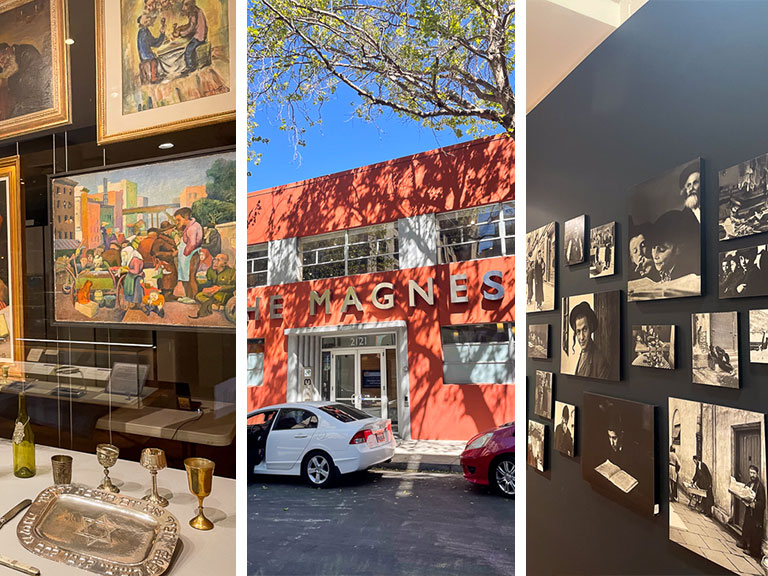 Visiting the Magnes Collection of Jewish Arts and Life
If you are looking for a way to celebrate Jewish American Heritage month, want to immerse yourself in a beautiful cultural experience, or are just an arts and history enthusiast, I highly encourage you to spend an afternoon at the Magnes Collection of Jewish Arts and Life in downtown Berkeley. Located close to the west side of campus, the museum is conveniently located, easy to find, and is open on Tuesdays, Wednesdays, and Thursdays for most of the late morning and afternoon. Admission is always free! A quiet, peaceful place with friendly staff, the museum routinely presents new exhibits. At the time of my visit, there were three beautiful traveling exhibits on display. You can see these through May 11 or discover more exhibitions.
Time Capsules
The Time Capsules exhibit explores Jewish life from a global perspective, displaying art, artifacts, documents, and objects from Jewish diaspora around the globe. Among my favorites that I viewed were Passover plate sets from all over Europe, a beautiful Torah Ark from South India, and the Torah Finials, which included a QR code where you could listen to the music made by these synagogue sound objects.
In Twilight
The In Twilight exhibit is a collection of paintings by Ori Sherman, a San Francisco Jewish artist. It features eighteen paintings illustrating the seven days of creation as expressed in the Hebrew Book of Genesis. The different days are laid out around the room so you can walk through and experience them in sequence. The paintings are stunning with ornate details and bold colors. This was my favorite exhibit to visit.
Archive of Archives
An Archive of Archives was the final exhibit on display. It celebrates the work of renowned Jewish photographer, Roman Vishniac. The wall was filled with photographs documenting Eastern-European life in the years directly after the Holocaust. The collection was donated to the museum in 2018, so we are incredibly lucky to be able to view this collection of powerful photographs.
I'm looking forward to attending the museum again in the future when they have new exhibits on display. After visiting the Magnes, I have a much deeper appreciation for Jewish arts and culture. I stopped by the museum after class in Li Ka Shing for a quick break before my next class which was a great idea! It is very close by, and you can stop by the museum for less than an hour and still get the full experience. The museum gives insight into the diverse backgrounds of our student body here at UC Berkeley. Attending the museum and showing your support and appreciation helps the collection remain open for years to come. If you find yourself near the Eucalyptus Grove or in downtown Berkeley on a Tuesday, Wednesday, or Thursday afternoon, consider stopping by the Magnes Collection for an insightful artistic experience.
Rachel Holmes is a freshman at UC Berkeley majoring in Media Studies.