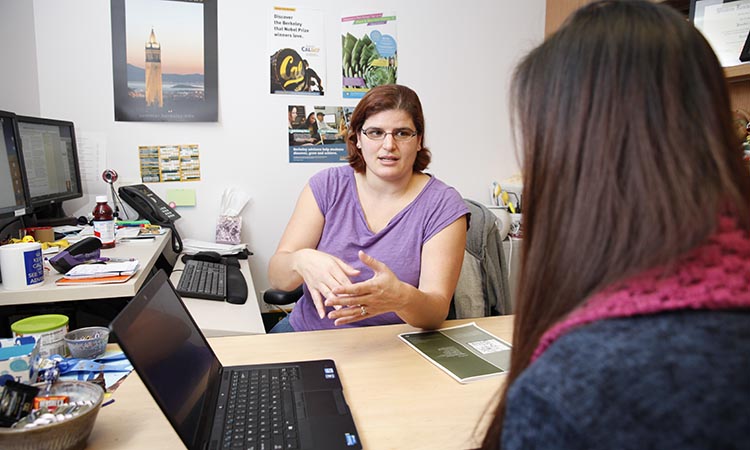 Answers for New UC Berkeley Students.
Did you know that more than $750 million is awarded in financial aid annually to UC Berkeley students? If you're a new student receiving financial aid (or a continuing student needing a refresher) , these questions and answers are a valuable starting point to learn more about your options.
How can I make sure my financial aid goes through?
Your first step is to be sure you meet all financial aid deadlines and eligibility requirements. Complete assigned tasks promptly. For instance, for your student loan to disburse, you need to complete your Terms and Conditions, accept your loan, and complete the Loan Entrance Counseling and a Master Promissory Note (MPN).
How do I submit my documents?
First things first. You will be able to access the Berkeley Financial Aid Forms website after you have accepted your offer of admission and created a CalNet ID.
When will I get my financial aid?
Your aid (excluding work-study earnings and some private loans) will disburse approximately ten days before the semester starts. Accepted financial aid will first pay your bill on CalCentral. For faster refunds, sign up for Direct Deposit (a.k.a. Electronic Funds Transfer [EFT]). You also can find out all about COVID-19-related financial aid updates here.
Will I have to pay money beyond my financial aid?
The amount paid out of pocket varies by student. You will be billed through CalCentral for costs you owe directly to Berkeley (tuition, fees, and housing if you live in University housing). If financial aid exceeds your CalCentral bill, you will receive a refund for the remainder. If financial aid is less than your bill, you must pay the balance. To estimate how much aid you could be eligible to receive and your potential refund or balance owed, try out the Cal-ulator and Calculate a Balance Worksheet, as well as other tools available on the Berkeley Financial Aid and Scholarships website.
Will financial aid cover my on-campus housing costs?
Housing costs are included in your cost of attendance, which is used to determine financial aid eligibility. If you select "on-campus housing" in a residence hall, financial aid can go directly to pay for housing, and can be automatically deducted from your account. Regardless of your housing choice, please note that the total of all your financial aid awards, including outside scholarships, cannot exceed your cost of attendance.
How can I share my financial aid information with my support network?
You are encouraged to talk about financial plans with a trusted family member or support person. The Family Educational Rights and Privacy Act (FERPA) protects the privacy of student records and Berkeley will only provide details to students. To share your financial aid package details, you will need to delegate access to specific people under "Profile" in CalCentral.
Want more? Go to the Academic Life category in our hub and filter on "Financial Aid & Scholarships." Or start exploring financial aid and scholarship tips, tools, and resources.