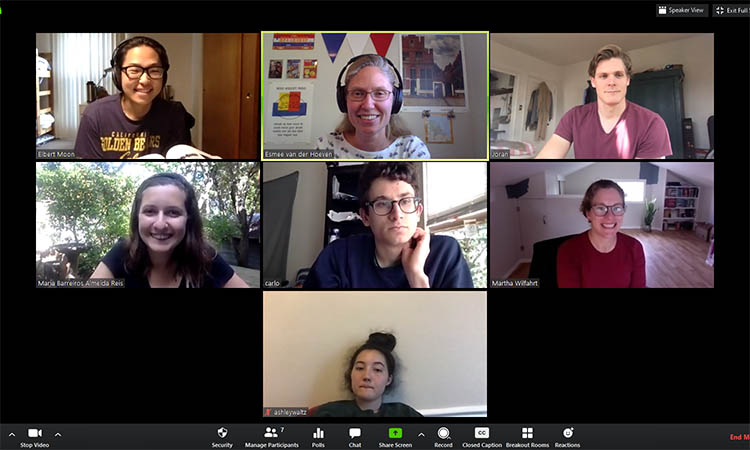 How Berkeley Pivoted in Spring 2020
When instruction at UC Berkeley shifted online this spring, everyone was uncertain to a degree. Not only did many faculty and students have little to no experience with the new format, but we were in the midst of a larger challenge due to the COVID-19 pandemic. Everyone was now juggling new responsibilities, new preoccupations, new worries on top of trying to get used to this new form of learning. However, many students found that the remote learning experience was still valuable.
Understanding and Flexibility
As people struggled to navigate this new terrain, understanding and communication went a long way. Many instructors acknowledged the climate and acted accordingly, providing the necessary accommodations and support. Some teachers adjusted their lesson plans and facilitated open discussions about how the pandemic was affecting students as individuals.
Some instructors also actively tried to accommodate students. Legal studies major Kaylie Chen noted that her professor "was very understanding of the sudden change to online learning, and was very accommodating to students who needed extensions on assignments because they had a lot going on in their lives due to the pandemic." The flexibility of her professors, Graduate Student Instructors (GSIs), and classmates was key to the semester's success, Kaylie says. She also felt that the infamous Professor Reich's humor still shone through the computer screen in his Wealth and Poverty class.
Time and class structure
Elbert Moon, a third-year student majoring in history, was grateful that Dutch professor Esmee van der Hoeven adjusted class time. "She reduced the class time from 2 hours to 1.5 hours, which helped out a lot especially since I spend a lot of time in Zoom calls because of my job anyway." Elbert also felt like his professor's attitude and help was what allowed the transition to be smooth and effective, and praised the structure of the class and its utilization of breakout rooms.

Elbert Moon
Professor van der Hoeven was excited about the possibilities that remote learning offered: "I've come to realize that both Zoom and Canvas (bCourses) offer a variety of opportunities for students to interact and practice with the language, both instructor-to-student and peer-to-peer."
Transcriptions, unlimited attendee opportunities, video recordings
One sociology class, "Contemporary Immigration in Global perspective," was looking forward to holding a symposium under UC Berkeley's Interdisciplinary Migration Initiative (BIMI), showcasing the culmination of the students' research. Ultimately, the symposium, as well as a big chunk of the research projects themselves, were conducted online.
There were a couple of technological silver linings: because the symposium was online, many of the students' relatives (as well as anyone with an interest in the topic) were able to tune in and witness the presentations. Since there were no geographical limitations, the symposium enjoyed a turnout of over 100 people, split into breakout Zoom rooms periodically to view a respective groups' presentation. The symposium was also able to provide real-time transcription of speech and was recorded for future viewing, maximizing accessibility.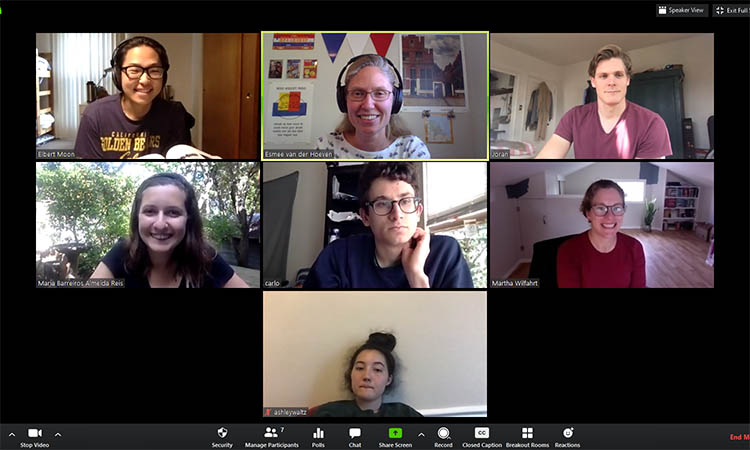 Dutch class on Zoom
Interdisciplinary studies major Anna Becker also admitted to feeling a bit grateful, because the platform of a Zoom meeting was much less nerve-wracking than presenting to a room of people (very, very few people enjoy public speaking!): "You can block out all the other participants in the call and just pin yourself and watch yourself speak."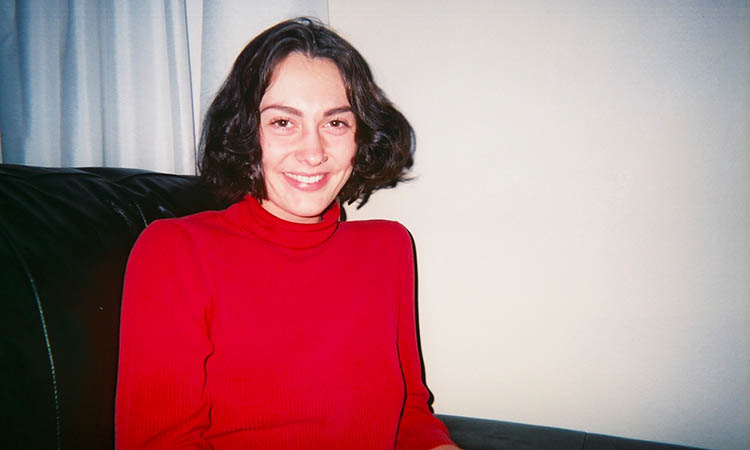 Anna Becker
Remote learning was not the same thing as the classroom setting that many of us were used to. But because it was different, it also offered different possibilities and different benefits that perhaps would not have been available otherwise.
Nancy Duong is a Vietnamese-American first-generation transfer student majoring in English.