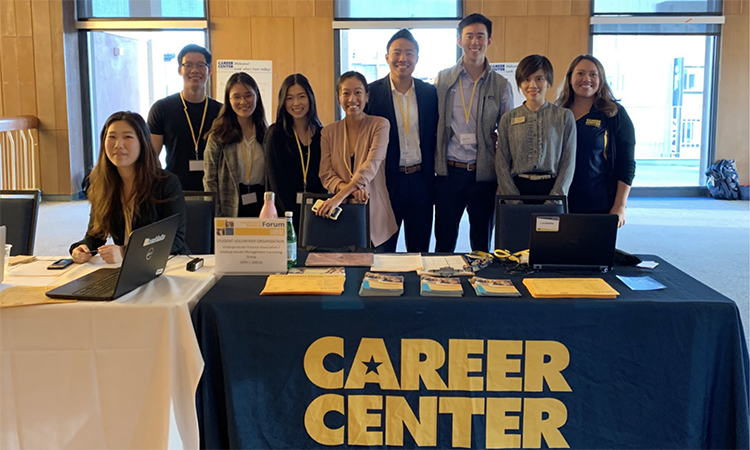 Curious about job and internship searching?
Recruiting season is here and Berkeley students are applying to jobs and internships. Finding a job or internship can be daunting. There are so many job searching sites that it is easy to become overwhelmed on where to look first.
We asked Berkeley alumni how they got their internships/careers and this is what they answered. Meet Elda, Martin, and Kaycee.
What is the internship/job and why did it interest you?
Elda, Data Analyst at ViviendasLeón: In this position, I analyzed incoming data from Nicaragua and Guatemala volunteers to help make the nonprofit's processes more effective. This included farming data, climate data, program success surveys, social media analytics and website management, etc. I chose this organization because I believe in their mission and I believe that I can make a difference in the lives of Central American families through them.
Martin, Software Development Engineer (SDE) at Amazon: The job creates software for businesses and customers to use. It interested me because coding is mentally engaging and the industry has a vibrant job market.
Kaycee, Software Engineering Intern at Petal Card: I helped the company's acquisition engineers with projects. This interested me because I am looking to see what life is like for a full-time software engineer. I'd like to get a sample of their workload to see if that's a good fit for my future.
How did you find this position?
Elda: Through the Career Center's Handshake platform.
Martin: Through Cal's Career Fair at the RSF.
Kaycee: I initially applied through a LinkedIn posting!
What would you recommend other students to do when looking for a job or internship this year?
Elda: I learned to give myself options and apply to almost everything that comes my way. I recommend that other students try a similar tactic and also apply to everything they can, including the big-name companies.
Martin: Start going to career fairs early (Freshman year!) and talk often with the recruiters, ask them what they are looking for.
Kaycee: Get as many applications in as possible! You really don't know which companies will be a good fit for you/vice versa until you try, and it doesn't hurt to overextend your options either! Just get your resume out to as many places as you can, and don't give up when rejection emails come in, it's all part of the process!
Job searching can seem scary and it's a universal feeling for all undergrads (myself included). It's not something you are going through alone. A lot of your fellow peers are also applying and going through the same process. I hope that this article and the experiences of these alumni can provide some direction on the recruiting process. The Career Center is always there to offer guidance. Good luck, Golden Bears!
Dixie Valle is a senior at UC Berkeley studying political science.
Melissa Mora-Gonzalez is a first-year at UC Berkeley majoring in English. 
Feature image courtesy of Shana Love shows Career Fair Volunteers at a Student Org Partnership Program.