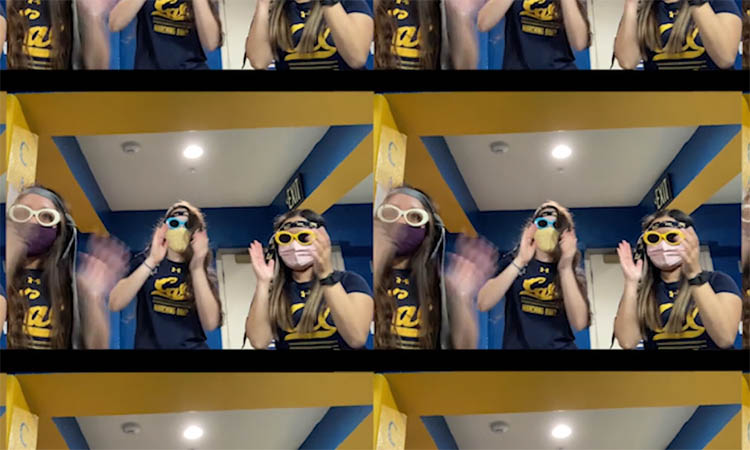 Ways to Enjoy Your Break, Online or by the Bay.
2021 started where 2020 left off, and pandemic and social distancing precautions still prevent us from traveling and seeing loved ones. However, there are still plenty of ways to make your 2021 spring break memorable while keeping yourself and others safe. Read on to explore some of the exciting volunteering, outdoor, and online opportunities offered online, on or near campus, and around the Bay Area this March.
Be sure to follow COVID-19 guidelines, particularly if you are using public transportation: Wash your hands frequently (or use hand sanitizer), wear a mask, and practice social distancing.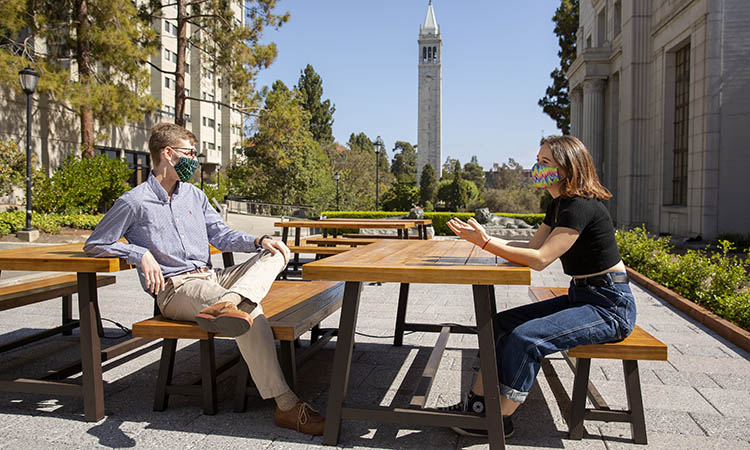 Online events
Weekly Virtual Comedy Show: Feeling the need for a laugh? Check out "Crazy Funny Asians," a weekly comedy showcasing top San Francisco comedians. Tune in every Friday at 8 p.m. to watch different lineups, hosted by K. Cheng (NBC's Stand Up for Diversity, Khmers of Comedy, and host of the San Francisco Chinese New Year Parade Preshow). Tickets are free with optional donations encouraged. RSVP for Crazy Funny Asians on Eventbrite to receive a Zoom link.
Great Gray Whale Migration: Every spring, gray whales migrate north along the California coast on a 10,000-mile journey towards the Arctic. The California Academy of Sciences is hosting a free NightSchool livestream on March 25 at 7 p.m., for a discussion on the cetology of gray whales and an exploration of their fascinating journey. Check out the California Academy of Sciences website for links to the event and more information.
Exploratorium's "After Dark Online:" Passionate about environmentalism? On March 25, author Nathaniel Rich will be participating in an online discussion about his latest book, Second Nature. The essay collection reports on environmental exploitation and shares stories of people involved in the struggle to save the planet. This free event will take place via Youtube at 7 p.m. Find out more on the Exploratorium website.

Source: Exploratorium, After Dark Online: Second Nature, March 25
Virtual Walking Tours: Walk the paths of Berkeley from the comfort of your couch with a Zoom tour from local authors Bob Johnson and Janet Byron: Cragmont Literary Lanes, Panoramic Hill, Tour of South Berkeley. You can find these on the self-guided walks page of Berkeley Paths.
Local outdoor activities
Rec Sports has a lineup of activities just for spring break (a few of which are also listed below).
Miles-to-Minutes Challenge: Rec Sports just added (March 17) its Miles-to-Minutes Challenge. Select a destination from the list of vacations and then make the journey with exercise minutes. Pick your favorite workout or discover a new one: hike, walk, run, swim, dance…any activity counts. For ideas, go to the Rec Sports Online web page and take a live streamed or on-demand fitness class.
UC Aquatics Center: The UC Aquatics Center and the Berkeley Marina both offer a host of activities to do on the water. UC Berkeley students and essential workers can sign up for kayak and standing paddleboard rentals at both locations, free of charge. Kayaks and paddleboards are available between 9 a.m. to 4:30 p.m. every weekend, and reservations can be made on the Rec Sports online store up to one week before hitting the water. Wetsuits are provided, but don't forget your sunscreen and water shoes!
Lap Swimming: If lap swimming is more your speed, Spieker Pool and Golden Bear Pool have you covered. Golden Bear pool offers free reservations for 45-minute lap-swim sessions between 9 a.m. and 4 p.m,, Mondays through Fridays. Spieker offers more limited sessions on Saturdays and occasional sessions during the week. Make your reservations up to a week in advance on the Rec Sports website…and hurry; the sessions fill up fast. Note that no-shows will incur a fine unless reservations are canceled prior to the session.
Self-Guided Outdoor Adventures: From the outdoors experts at Cal Adventures, here's a curated collection of local outdoor hikes, walks, and activities. Pair these activities with recommended local Black-owned restaurants and cafes to make a day of it. Packages vary in difficulty and distance from campus and there's something for everyone.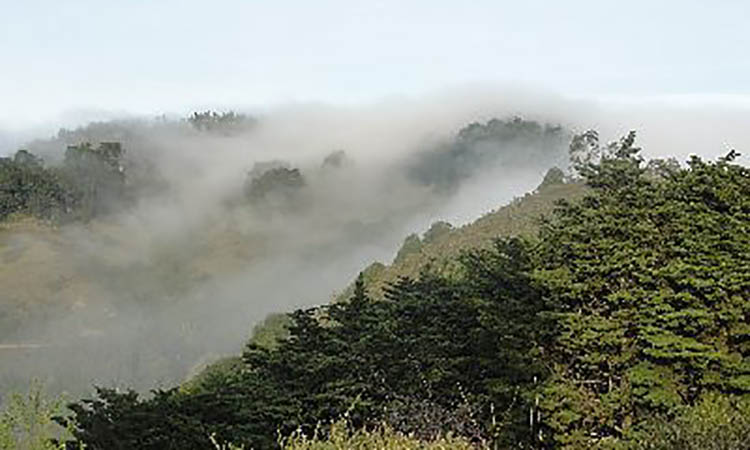 Source: Rec Sports, self-guided adventures, Claremont Canyon
UC Berkeley Botanical Garden: Get outside and take a stroll through one of the most diverse and beautiful landscapes in the Bay Area. UC Berkeley's Botanical Garden is offering free reservations for UC Berkeley students every day from 11 a.m. to 5 p.m., with a special Members Only hour from 10 to 11 a.m. While the glasshouses, water fountains, and garden shops are all closed during the pandemic, students can still admire plants and flowers from all over the world in the Garden's nine geographical regions. Make your reservations online here.
District Six Food Park: Feeling hungry? Make a day trip to San Francisco and enjoy a socially distanced picnic in a park full of pop-up food trucks. District Six by SoMa StrEat Food Park is open daily from 10 a.m. to 6 p.m. and offers everything from dumplings to lobster and stuffed jalapeño burgers. Follow @districtsixsf on Instagram or visit their SoMa StrEat website to see more.
Redwoods at Muir Woods: Just outside San Francisco lies one of the largest and oldest redwood forests in the Bay. Visit the Muir Woods National Monument and see towering redwood trees, flowing creeks, wild animals, and a host of rare and exotic plant species. Take a detox from your phone to hike, shop at the Muir Woods Trading Company, and dine at the café. While the park is open every day between 8 a.m. to 5 p.m.; parking reservations are required in advance and start at $8.50 for vehicles. Park entrance tickets are $15 for adults and free for children under 16.
Entwined Art Installation: Take a trip across the Bay and see Golden Gate Park's Peacock Meadow light up at sunset. Artist Charles Gadeken presents the "Entwined" art installation, a series of illuminated artificial trees that cast an ethereal, otherworldly glow upon park goers. Park entrance and the installation viewing are free.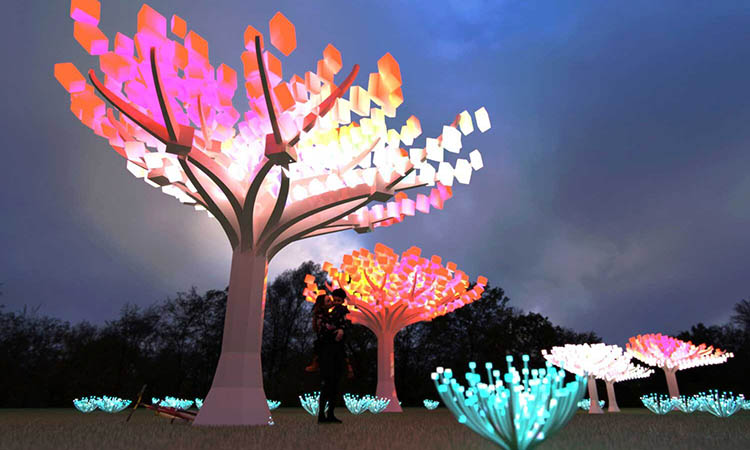 Source: Golden Gate Park, "Entwined" art installation
Berkeley Farmers Markets: Wear a mask and visit the local farmers market: Saturday, Thursday, and Tuesday.
SERC-recommended hikes
SERC (Berkeley's Student Environment Resource Center) offers some ideas for hikes, garden visits, or scenic views:
East Bay
Albany Bulb
Ohlone Greenway
Grizzly Peak
Tilden/ Redwood Regional/ Lake Anza
Sibley Volcanic Regional Park
Hidden staircases in Berkeley and Oakland
Oakland Redwood Regional Park
Caesar Chavez Park
Student Organic Garden Association
Further Afield
Inspiration Point (San Francisco)
Point Reyes National Seashore (Note: Several park areas currently are closed; plan accordingly!)
Do you have ideas on how Cal students can safely enjoy spring break this year? Share them with Berkeley Life via BL Instagram or via email: sacommunications@berkeley.edu
Lillian Marsh is a third-year UC Berkeley student from Los Angeles. She is majoring in English and minoring in education. Featured photo courtesy of Cal Band, Party of the Decade video