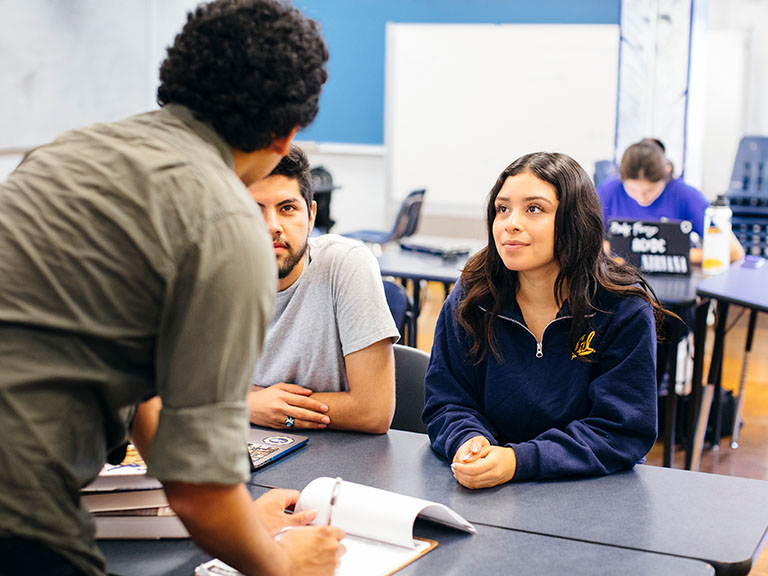 What is a GSI? And How to Make the Most of Them.
When I came to UC Berkeley, one of the first words I heard thrown around by my peers was "GSI." I eventually learned that this term stood for "Graduate Student Instructor," but as a participant in the Fall Program for First Semester during my first term at Cal, I didn't have any GSIs myself, and remained in the dark about what exactly they do. 
This semester, I had the opportunity to clear up this confusion by meeting with two current GSIs. To learn more about the ins and outs of what GSIs do, and how to best utilize them as an undergraduate student, keep reading!
Meet Katie and Leïla
Katie Funderburg is a fifth-year PhD candidate in English and Medieval Studies. This is her third time teaching sections of 45A, which is the earliest of the survey courses that are required by the English major. She's also taught R1A, which satisfies the first half of the Reading and Composition requirement at UC Berkeley. Her research focuses on the intersection of text, image, and reading practices in Middle English literature.
Leïla Njee Bugha is a fifth-year PhD candidate in the Agricultural and Resource Economics Department. She teaches courses in Environmental Economics and Policy and has previously taught a master's class at the Goldman School of Public Policy. Her research focus is development economics and labor economics. 
Understanding Office Hours
How should students approach their GSIs for office hours? 
Katie: "Your GSI will tell you when their office hours are either in their section policy sheet or during discussion section. If you need an appointment, you should go ahead and make that, but oftentimes, office hours are drop-in, so come by whenever you want. GSI office hours can be really nice for students who are just starting out at Berkeley. You can have a lower stakes entry into interacting with your instructor."
Leïla: "I think one of the perks of having GSIs is that you don't have to worry too much about how to approach them, as long as you are being polite and considerate of their time. Come as you are; we are literally paid to answer questions and to help support you in learning the material!" 
What questions can you ask during office hours?
Katie: "To get the most bang for your buck in office hours, whether it's with a GSI or the professor, you should come prepared with some solid questions. You can ask for clarification on assignments, recaps of lectures, and, depending on the GSI, even how to progress through your department's major. 
"In English 45A, if you want help with a piece of writing, narrow it down to a paragraph or a specific part of the passage that you want to analyze."
Leïla: "In addition to anything related to class content, I think it's totally fair game to ask your GSI about grad school or their path after undergrad if that's something you are interested in! Not all GSIs are super open to discussing their personal experiences during office hours, but if you tell them that you'd like to ask about their background and that you'll reach out by email, it's usually welcome in my experience."
What can you expect from a GSI?
Leïla: "You can expect that your GSI will be your main point of contact in a given course. You'll be seeing them in your discussion section, and, if they're actually teaching the class that you're in, they'll be primarily responsible for grading your work and giving you feedback. 
"You can also expect a lot of enthusiasm from your GSI. GSIs have the chance to get to know you as people because we teach smaller classes or sections compared to professors who teach larger lectures."
Professors & GSIs
In what ways do a GSI's work and a professor's work converge and diverge?
Leïla: "GSIs tend to have their finger more on the pulse of the class. We interact directly and more deeply with individual students during sections and office hours. When you have a one-on-one conversation with a student, you can ask very candidly about what is or isn't going well in the larger class—and, usually, the student is candid in return because it isn't technically 'your class.' I think many professors and GSIs have this unspoken understanding that it is easier for students to talk to GSIs than professors, although some professors are also very approachable.
"One way that our role might differ is that the professor is here to teach first and foremost, whereas I see my role as supporting the students first. This means making lecture content more accessible through my sections and offering hands-on assignment help for students, but also pushing back on class policies that might be too severe in a way that an individual student might not be able to."
What does a GSI offer that a professor doesn't?
Katie: "Professors and GSIs work together, but a GSI can normally get a conversation started with a student. The lecture for the class I'm teaching currently is over 130 students. Where a GSI comes in is that I only have 34 of those 130 students. This means I'm able to form closer relationships with them and give additional feedback that's just not possible from the professor. Additionally, I can look at their writing more often than a professor can."
Witnessing Growth
What do you love about being a GSI?
Leïla: "I really like being an intermediary role between the professor and the students. Having taken classes at Berkeley recently, I feel a sense of kinship with the students; I know the whirlwind that a semester can feel like. I really try to think of myself as both a bridge and a translator: How can I make this content speak even for the people who will never encounter it again after graduating? At the same time, how can I be a resource for students who will go into a master's or PhD program and might need this content more than they realize?"
Katie: "There are two things that I absolutely love about being a GSI. The first is that I get to see so much progress just in the course of one semester. From those first early writing assignments to that final paper, for every class I've helped with, there's been so much growth. 
"The second thing I absolutely love is that I've worked with students who were freshmen or sophomores three years ago, and now they're getting ready to graduate! Now that I've been here for a while, I've witnessed people go from the very beginning of their time at Berkeley to a point where they're about to head off into the world and put into practice all that they've learned here."
Making the Most of Your GSIs
It's difficult to overstate the importance of GSIs. In addition to serving as a lifeline of communication between students and a professor, GSIs offer one-on-one feedback and connections essential to undergraduate success. 
Ultimately, it's important to remember that your GSIs are meant to support you on your learning journey, not intimidate or overwhelm you. As Katie and Leïla suggest, don't hesitate to speak up during section or book an office hours appointment. This is usually the first step in building a relationship with your GSI, and in some cases, with your professor and the given subject as a whole.
Nina Takahashi is a second year at UC Berkeley majoring in film and minoring in Japanese. Feature photo is a medium close up by Student Affairs Communications of two students speaking with a mentor.
Want More?