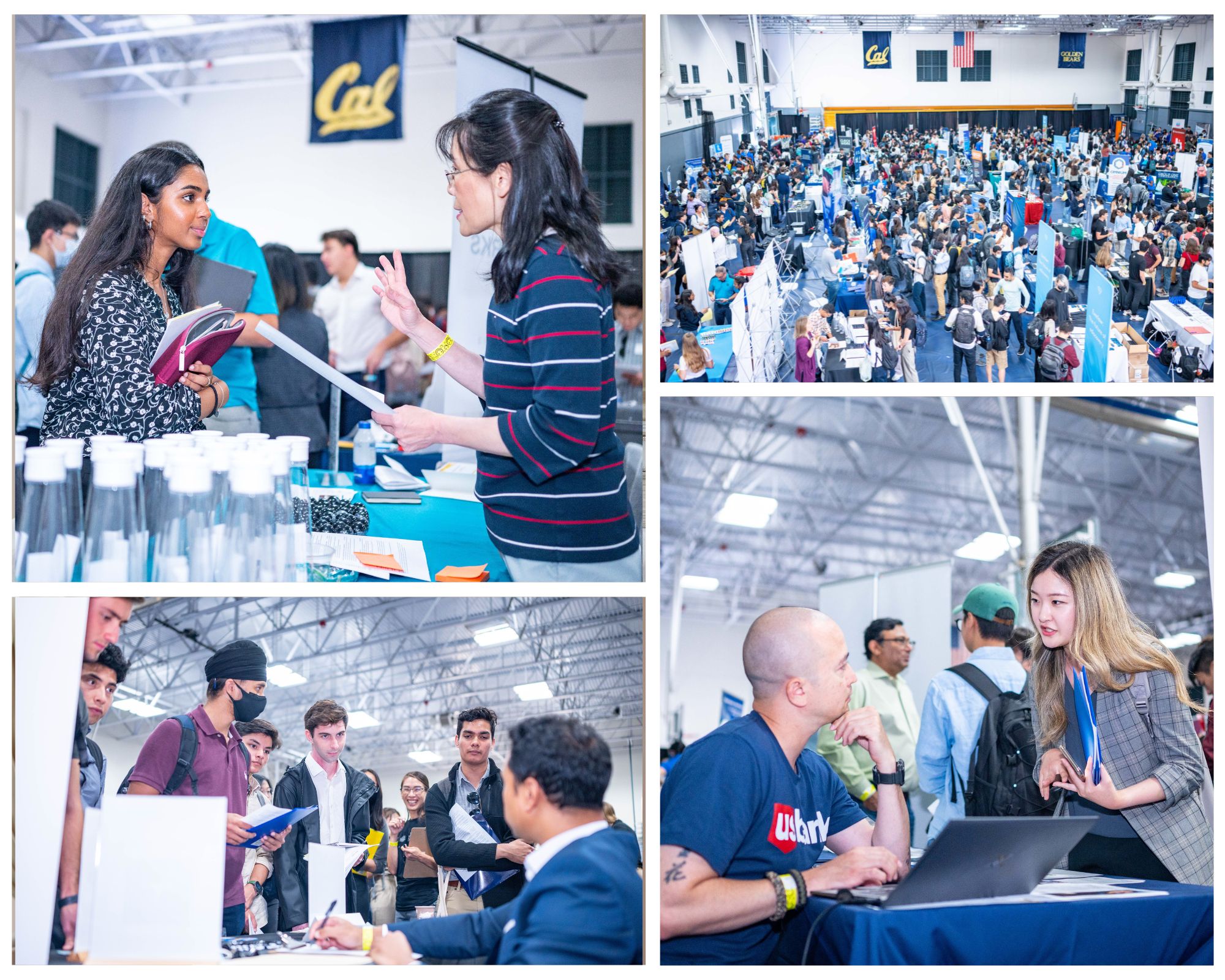 A Recent Alum Shares Job-Hunting Advice.
When I began searching for a job post-graduation, I asked the professionals in my life for their advice on how to get started. I often found their advice confusing, conflicting, or outdated. As a recent graduate, here are my four tips to effectively job hunt in the modern market.
1. Network, Network, Network
Though college students are frequently told the importance of networking, they are seldom told how to actually do it. Luckily, UC Berkeley provides its students with ample opportunities. Berkeley's Career Center hosts both in-person and virtual career fairs which are spaces to meet employers in fields that interest you. Note that virtual events require pre-registration to join, so sign up before the fair. These events are the perfect opportunity to solicit industry-specific advice from the people that make hiring decisions. Below are some ways to successfully network at a career fair.
Prepare a resume to be distributed to recruiters beforehand. While this resume won't be tailored to a specific job, it can be tailored to a particular industry. Plus, it's an effective way to get your work experience and contact information out there. If you've never created a resume before or need help updating it, the Career Center provides a guide to crafting your resume and has peer advisors who can review it when you're done.
Be prepared and open to connecting with recruiters. Even if a company doesn't have a position that is right for you at the moment, making note of a recruiter's email or social media (LinkedIn, Handshake, etc.) is a great way to both demonstrate interest to an employer and ensure you can follow up in the future.
Follow up with employers that interest you. After meeting with someone at a career fair, send them an email or message via social media. This is a great way to establish rapport, set up an informational interview, and help you eventually find a job. Informational interviews are simply conversations about life in a particular field with someone working in that field. The Career Center outlines exactly how to reach out to contacts with this five-point message format.
If you find that you can't make it to career fairs that interest you, don't fret. Networking opportunities are not limited to career fairs. Thanks to the power of online networking sites like LinkedIn and Berkeley Career Network (which is specifically for Cal students and alumni), it's easier than ever to find people in careers that interest you. Sending these people a brief message explaining who you are, what your goals are, and why you'd like to meet with them is a great way to get advice and information from experts in a particular field. Once again, follow the five-point message format to set up informational interviews and coffee chats. Keep in mind that it always helps to include some sort of mutual connection in the message if possible: went to the same high school, college, etc.
2. Tailor Your Application and Include Keywords
One mistake students often make is using the same resume and cover letter to apply to multiple jobs. While it can be tedious to tweak your resume and cover letter to fit each specific job description, it is extremely helpful. I've found that many employers either use AI technology (ATS) or simply skim through these documents to find key phrases that they've included in their required qualifications. If an applicant doesn't include at least some of the qualifications verbatim, they may be overlooked when employers decide who to interview. The Career Center has tips for creating ATS-friendly resumes. Mirroring the job description, quantifying your performance/tasks, and sticking to the Career Center's guidelines are sure ways for your tailored resume to stand out.
3. Prepare for Interviews
After all that effort, you wouldn't want to lose out on an opportunity because you come to an interview unprepared. It is vital to have a good understanding of what your potential employer does and what they are looking for in your role. With that information, you can prepare talking points that demonstrate how your experience will help them achieve their goals and mission ahead of time. As with resumes, it is important to come up with specific and quantifiable examples to mention. Check out the Career Center's interviewing guide and YouTube series for more guidance on what to do before, during, and after an interview. It provides a breakdown of everything from interview etiquette to "Thank You" notes to salary negotiation.
4. Be Patient and Be Kind
After graduating, I applied for dozens of positions over the course of four months before finally receiving an offer. The experience taught me how frustrating job hunting can be. It may take longer than you expected, and you will hear "no" more often than "yes."  Employers routinely took somewhere between a few weeks to a few months to respond to my applications; a pattern that repeated itself after each round of interviews and/or skill assessments. The key to staying motivated throughout the process is to know that this is completely normal. Don't let a few rejections frustrate you and don't beat yourself up. This process should not define your self-worth. Remember that it only takes one employer to say "yes" before you begin a career and enter the next phase of your professional life.
That's it! Visit the Career Center for a full list of resources available to students and alumni. Good luck, and happy job hunting!
Lucas Yen is a recent graduate of UC Berkeley who majored in Political Economy.
Want More?