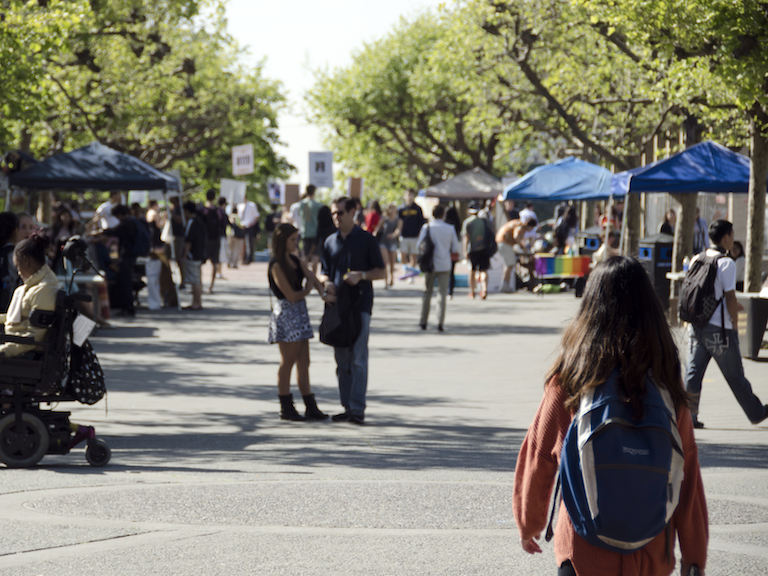 One Student's Club Journey
With over 1,200 clubs on campus, finding an organization at UC Berkeley can seem rather daunting; at least, it did to me as a freshman. I quickly found out that club culture can be just as intense as people told me; I often was intimidated by the application itself, was left scrambling in the middle of interviews as I had next to no idea how to respond to incredibly nuanced questions, and ultimately was not offered a place to every organization I applied to.
Although the time commitment and threat of rejection made this process rather stressful, I ended up committing to multiple organizations that provided a sense of community in the midst of an online learning experience. This article not only documents my own bizarre experiences of navigating Berkeley club culture in the middle of a pandemic, as well as steps to take for finding, applying to, and joining clubs and organizations on campus.
My Experience
As a Global Studies major who is interested in social justice, community service and development, and international affairs, there were endless opportunities for me to get involved on campus. Through Calapalooza, social media, flyers on campus, and simply word of mouth, I immediately began applying to different organizations that related to these interests, all of which had extensive onboarding and interview processes.
I am now a part of Cal ACLU, The Women's Network, Camp Kesem, Sage Mentorship, and the Global Citizen. I also ended up going through sorority recruitment and am proud to currently serve as Philanthropy Chair for the Chi Omega Mu chapter.
All of these organizations were incredibly different, representing a diverse set of people, missions, and work. The Women's Network, a professional and personal development association for female identifying college students, Sage Mentorship, a mentoring program for Berkeley Unified elementary schools, and Camp Kesem, a student-run summer camp for kids whose parent/parents have struggled with cancer, were open to as many members as possible through a simple application and training process. All three organizations wanted to engage as many Cal students as possible in order to provide ample resources to all womxn on campus, as well as guidance and tutoring services to the youth of the local community.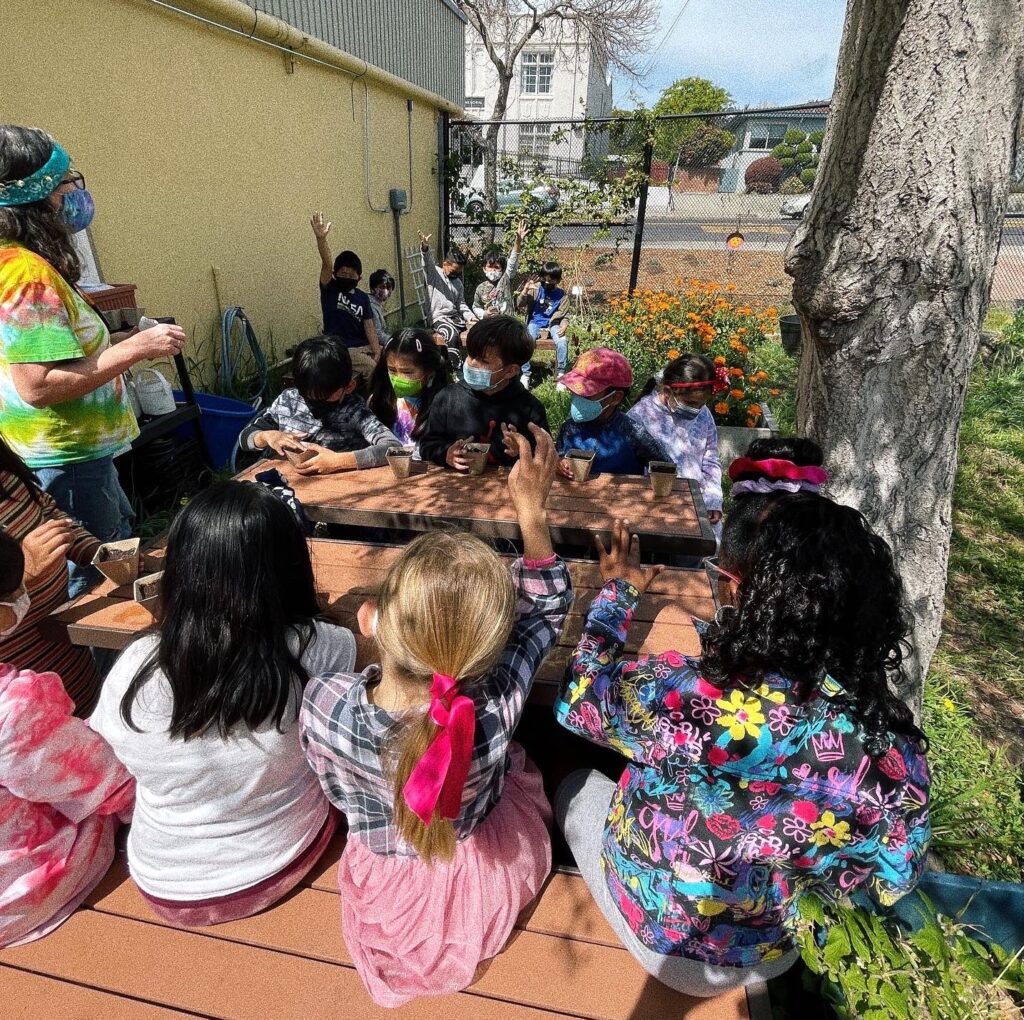 Children gathered for a Sage Mentorship event.
However, all three do have time commitments. The Women's Network meets most infrequently; from chapter meetings to national resume workshops, the organization is what you make of it.
Camp Kesem and Sage each require more involvement with weekly meetings. Sage also requires transportation time to the elementary school you are partnered with. Kesem supports children through and after their experience with cancer, allowing college students to plan a wonderful, week-long summer camp to celebrate them as individuals, as well as have an emotionally supportive and safe environment to express themselves. Considering Berkeley Unified school has a rather low graduation rate, Sage Mentorship works to encourage students from a young age to find their love of learning; their partnership with a Cal student is intended to foster a positive relationship with school through educational and personal support during this formative period.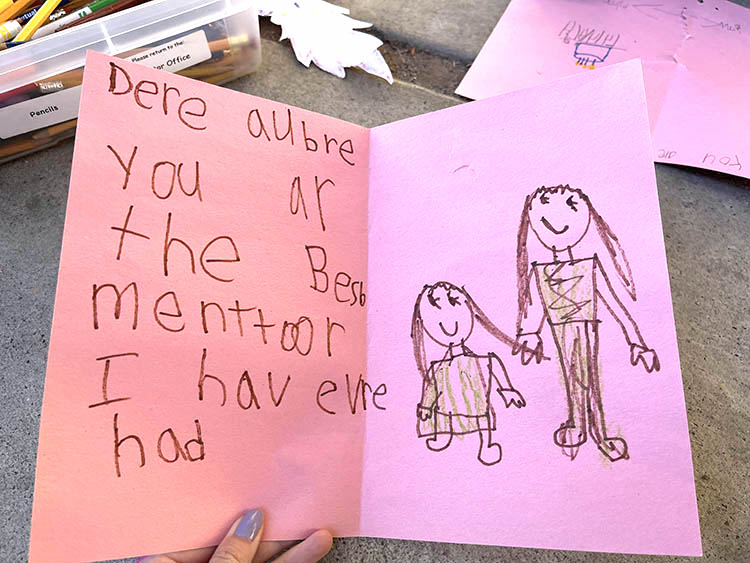 A card written by a Sage Mentorship mentee.
Cal ACLU was slightly more competitive with a more in-depth application, as well as a separate application for specific committees. I have been part of the immigration committee since freshman year and attend weekly meetings, as well as any interviews, workshops, or events the organization might be conducting.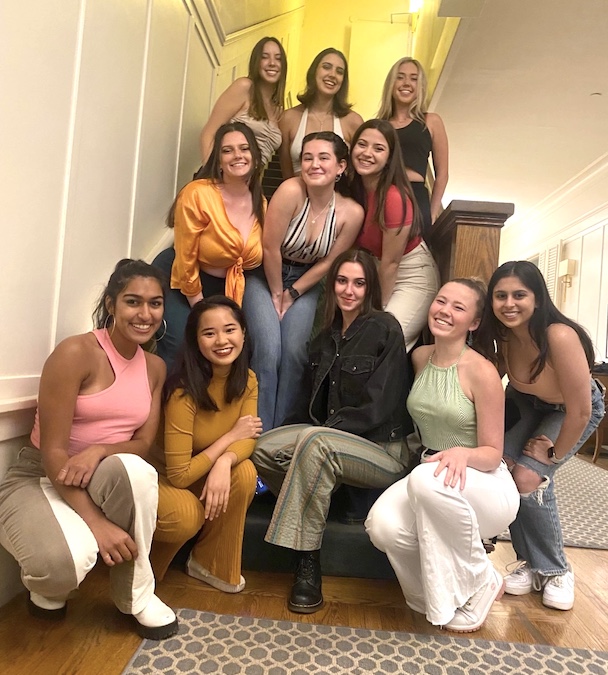 Members of the Chi Omega Mu chapter.
From bailouts to letter writing campaigns, Cal ACLU allows students to learn about the legal process, as well as actively support and participate in local policy work and fundraisers. The Global Citizen is the organization I most recently joined as a sophomore and is rather similar in its mission to ACLU. As an international affairs magazine, Global Citizen covers a myriad of topics ranging from global politics to arts and culture for the sake of providing a holistic perspective on topics Berkeley students are passionate about.
Finally, Chi Omega was the first organization I joined through formal, online recruitment in the fall of 2020. Through a week-long recruitment process that involved meeting each chapter on campus until I was certain I had found my fit, Chi Omega allowed me to find sisterhood in the middle of a pandemic and surround myself with intelligent, bright, and supportive individuals. I had no intention of joining a sorority considering all I knew about Greek Life came from watching Legally Blonde. However, I succumbed to peer pressure the night before the application deadline, and I am so grateful I decided to do so. The womxn I talked with were yoga instructors while also interning for notable politicians including Bernie Sanders and Nancy Pelosi, startup founders as well as social chairs, and experienced coders that were on track to work for NASA.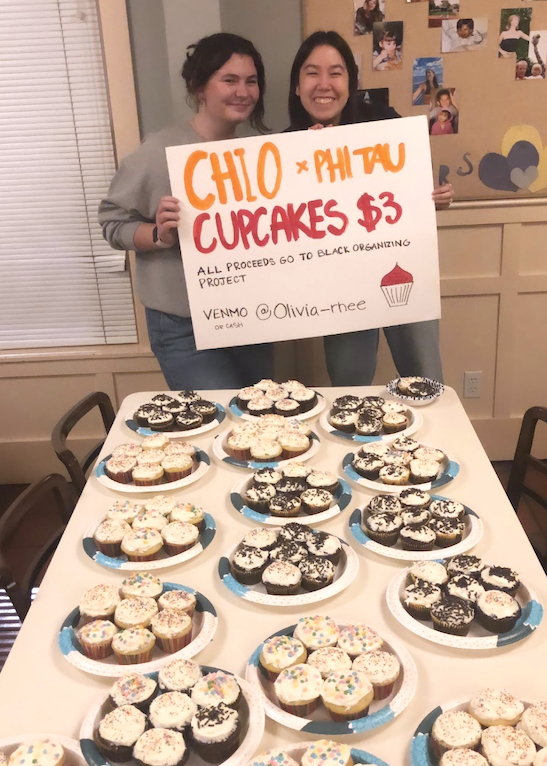 Kelsey (left) getting ready for a Chi Omega Mu fundraiser.
While this is the biggest time commitment, I have loved getting involved with the organization and now am in charge of internal philanthropy. While we are partnered with Make-A-Wish and fundraise for them multiple times throughout the year, I also am profoundly proud of the work that we have done with Bay Area nonprofits to directly support the local community, including the Black Organizing Project, the Marsha P. Johnson Foundation, and the Ella Baker Center.
Overall, clubs and organizations are the reason I feel fully integrated into the Berkeley campus, despite beginning my college career online. Despite possible rejection and the stress of the application process, allow yourself to put your name out there and see what happens. These opportunities and people are what make Berkeley so amazing!
Kelsey McIvor is a junior at UC Berkeley majoring in Global Studies and minoring in Spanish and Journalism. Feature image by Public Affairs.