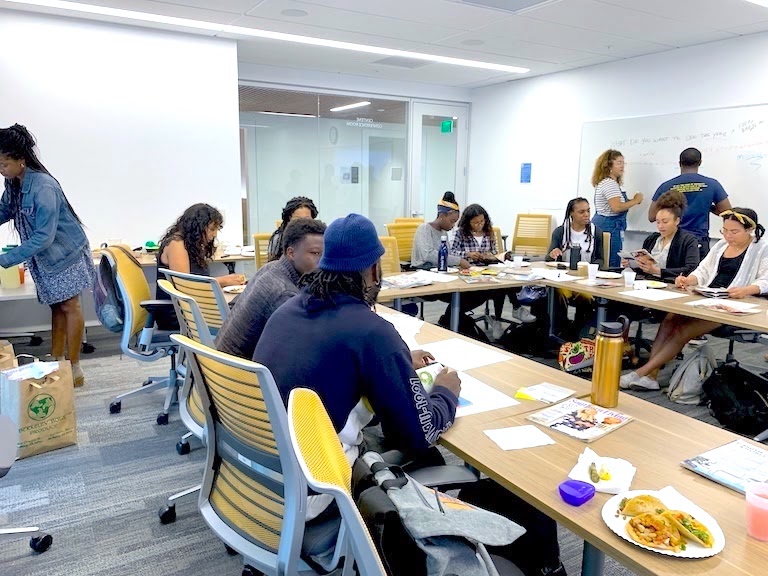 Upcoming Events & More
In Meet Black Student Orgs at UC Berkeley, we asked two students to share their experiences with student groups they help lead, along with any advice and resources they wanted to share with other students. To continue the theme, we've outlined upcoming events and ways to celebrate Black History Month at UC Berkeley.
Events in February
We asked student leaders what events they were looking forward to, and if their organizations would be hosting any events this February. Lez'li Waller is the Operations Manager for the student-run BRRC (Black Recruitment and Retention Center), and Erika Neal is Vice President of BAEH (Black Advocates for Equity in Health), a graduate student organization in the School of Public Health (SPH).
Lez'li: I'm actually looking forward to all the events hosted in honor of Black History Month! BRRC will be hosting two general body meetings during the month of February to allow students more time to be in community with one another. We are also hosting the Ebony Ball, which is basically a prom-like event, so we're super excited about that, and that will be in the early Spring—February or March. 
Erika: This year we are committed to creating spaces for healing and rejuvenation for our students. We plan to continue that for Black History Month by hosting a healing circle where students can share their experiences in a safe space. Other February events will be announced at the beginning of the spring semester through our listserve. If any student is interested in joining our mailing list, please email baeh@berkeley.edu
Virtual events. UCNet has a list of virtual events being held across the UC campuses in honor of Black History Month. Featured on the list is the Cal Black Alumni Speaker Series. Explore the full list of UC celebrations of Black history, culture and social justice.
ASUC Student Union. The Student Union's Black Excellence page highlights many important topics, including the history behind the naming of the MLK Student Union Building. The page features more Black student organizations as well as a Black Community Resource Guide that is updated accordingly. The ASUC Student Union will be featuring the story of a Berkeley alumni each week on the ASUC Instagram, so make sure to check that out as well!
Black National Anthem. Black Staff & Faculty Organization in partnership with University Carillonist, Jeff Davis, will play The Black National Anthem from the Campanile carillon every Wednesday in February. The melody will match that of the more original version.
Black Health and Wellness
The importance of health. The pandemic has changed how we perceive our health, in all of its many forms. The theme for this year's Black History Month, Black Health and Wellness, matters now more than ever as we begin to heal from the pandemic. University Health Services (UHS) highlights health resources available for the Black community to help students with both their physical and mental health.
UHS services. Black Health Matters from UHS outlines many resources, including recreation and sports activities offered at the RSF and Let's Talk consultations offered through Counseling and Psychological Services (informal and brief consultations with UHS mental health counselors who have expertise working with underrepresented students). It also highlights more health service resources offered, such as Be Well at Cal, which provides tips to support students in taking care of themselves in all aspects, including sleep, exercise, social connection, and more. For a full list of events planned for the spring, please visit the UHS calendar.
Black Voices in Media
Read a book, watch a film. Celebrate Black History Month with media created by Black artists. 
The Berkeley Public Library highlights media focused on Black voices and stories, including books and movies through Kanopy. Kanopy offers free accounts to Berkeley Public Library members and to college students. 
The UC Berkeley Library has a list of recommended books to celebrate Black history and culture this February. The list includes rising star authors and their books and poetry, all available through the UC Berkeley Library. They also have more ebooks and audiobooks available in their Black Lives Matter collection. Don't see a book you think the library should have? You can recommend titles.
The Division of Equity and Inclusion also recommends what to watch and read in honor of Black History Month. The list includes documentaries, films, essays, and books, including The Yellow House, a memoir by Berkeley Alumna and New York Times bestselling author Sarah M. Boom.
Support Black Owned Businesses
Shop somewhere new. Explore some of the Black owned businesses around Berkeley, including Telegraph Avenue's very own CupCakin' Bake Shop, the perfect and closest place to campus for those with a sweet tooth. The shop donates to a different local organization each week, which is announced on the CupCakin' Instagram page. For trips into San Francisco or the surrounding Bay Area, here is a comprehensive list of Black owned businesses around the Bay. 
This February, let's acknowledge the impact Black people have had in history and continue to have today—and keep this discussion going long after the month has ended. We hope this two-part article has inspired you to get involved in an organization, read a new book, watch a new film, or explore resources offered on campus. 
Melissa Mora-Gonzalez is a first-year student at UC Berkeley majoring in English.