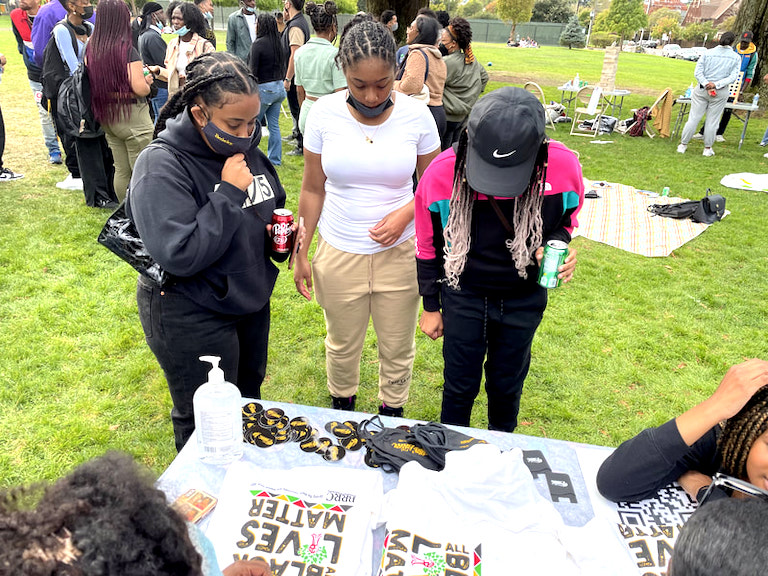 Students Share Resources, Clubs, Advice
February is Black History Month, making it a time to celebrate achievements by Black people and recognize the significant roles they have had, and continue to have, in history. We asked students active in Cal's Black community to discuss their experiences in different organizations and share their insights about the Black community at UC Berkeley.
We spoke to Lez'li Waller, Operations Manager for an organization run by Black students, and Erika Neal, Vice President of a Black graduate student organization in the School of Public Health. Read their responses below!
Clubs and Organizations for and by Black Students
What is the BRRC and its mission?
Lez'li: BRRC actually stands for Black Recruitment and Retention Center, but we go by BRRC because that's a mouthful. It's a student-initiated and entirely student-run organization here at the University of California, Berkeley. We were founded in 1983, and overall our purpose and our mission is to supplement, expand, and create efforts on campus within our community to recruit and retain Black students here at Cal.
What is the BAEH and its mission?
Erika: BAEH stands for Black Advocates for Equity in Health and is a graduate student organization in the School of Public Health (SPH) that serves students from the African and African American diaspora. We aim to foster community, create networking opportunities, and connect with fellow students at SPH across disciplines. BAEH exists to promote health equity and address/dismantle structural anti-blackness on campus and beyond. Our vision is that the UC Berkeley School of Public Health and the field of public health at large are more diverse and representative of Black communities in the United States. We see a future in which Black-identifying individuals are empowered to be leaders in the field of public health and racial/ethnic health disparities are eliminated.
Paths to Finding Community
How would you describe the Black community at Cal, and how has your involvement in organizations helped enrich your experience on campus?
Lez'li: The Black community here at Cal is small but mighty. Where we lack in numbers we definitely make up for in our organization efforts and our interorganizational support of one another. At any time when there is an event that centers the Black student body here at Cal, you'll find student leaders from different organizations there helping and supporting the hosting organization. I think this offers students the ability to know that wherever they are, they have the ability to reach out to a student leader or advisor and know that they will have resources to support their needs.
Erika: We are a small but mighty community! Being a Black grad at Cal comes with its challenges, but joining BAEH and other identity groups has helped me find my place in it all. For a while, it was very difficult to see myself as a researcher, public health practitioner, epidemiologist, or anything else in my field because I rarely saw Black women in those kinds of positions. BAEH has opened up my network to amazing Black individuals that constantly inspire me and other students to continue our progress and reach back along the way. A lot of the projects and issues that we are seeing in public health and medicine are ones that directly impact communities of color. We know that without adequate representation in this field, intervention plans and methods will fail because community members are not able to see themselves within the solution. What BAEH represents is a space where we can discuss these issues openly and really dive into appropriate interventions that are culturally relevant for the communities that we hope to serve.
How important is finding community at Cal?
Lez'li: I would say it's crucial finding community at Cal for all students, but especially for the Black student body. There have been numerous studies and research for decades that tackle the perseverance of anti-blackness in spaces of higher education. So finding a community on a campus where Black students make up about 4% of the total student body is a necessity. That 4% equates to about 1,500 students total, graduate and undergraduate combined, so finding community as a Black student is not a matter of leisure or fun: it's one of survival and mental and physical restoration. Finding community allows students of color to see themselves represented within this institution, offers a safe space, a place for resources, support, and protection when needed. Finding community allows students to be free and walk the campus knowing they are not alone in their journey here at Cal.
Erika: Community is everything no matter the school or desired career field. What we hope to accomplish at Cal with BAEH is providing a safe space for Black students to explore the world of medicine and public health. We know that navigating classes, practicums, internships, and other career and collegiate opportunities is overwhelming, especially during a pandemic. The importance of community is critical for our development and reassures us that we aren't alone in our experiences. That in itself is empowering and can really shape the trajectory of a student at Cal.
Resources and Advice
Navigating campus can be challenging. And despite the many resources offered, students are sometimes unaware of what's available to them and what they can gain from taking advantage of these assets. To help spread the word, we asked Lez'li and Erika to share any resources they have used in their time at Cal. They also offered advice for other Black students at Berkeley.
What other resources at Cal have you found helpful?
Lez'li: I've used the Transfer Center, Student Parent Center, African American Student Development Center, Black Student Union (BSU), and CalLink; there's so many resources that are available for all students here at Cal, but these particular resources speak primarily to my journey here and they've really helped support me through it.
Erika: The Basic Needs Center has been a vital resource for my experience at Cal. I work full time at a community clinic in the South Bay and the Basic Needs Center helped me understand my health insurance options, find housing in the Bay Area, and even introduced me to food and meal options when I needed them the most. I highly recommend any student that is struggling with having their basic needs met to reach out to the resource center.
Another resource I use is the app HeadSpace, which helps me take care of my mental health. The school provided a certain number of free subscriptions to students and the app has certainly helped to improve my mental space around balancing school and work.
What advice do you have for other Black students at Cal?
Lez'li: My advice for other Black students is to stand firm in the recognition of your abilities. You're not here by chance or mistake—never allow imposter syndrome to enter your sphere. There are so many battles that we as students of color must face, and doubting ourselves is a luxury that we cannot afford. Find your community, it will make your journey here that much smoother. Know that there are people, organizations, and resources available, and they're designed with your success in mind, so utilize them. If you are interested in getting involved, don't be afraid—get involved! Just go to different organizations' meetings, look for open positions on different boards, and do it, get involved. And that's a good way to find community.
Erika: The best advice someone gave me before I started my journey at Cal is after finding my community I have to remember why I am here. It can be a little too easy to get distracted and forget who we are doing this program for and what we hope to accomplish afterward. I use a goal tracker to keep myself accountable at times, but I also lean on my community and attend the events that I can to stay connected. It's a reminder that you don't and shouldn't matriculate through your program alone, and to have an end goal somewhere that you can see on a regular basis to remind yourself why you do what you do.
Ways to Get Involved
How can students join these organizations?
Lez'li: Like any other organization, we post our open positions for the executive board, but we also always host intern classes: we do an intern class in the fall and one in the spring, and they do rotate, so there's more than optimal time and opportunities to apply and become an intern for BRRC. We also look for general volunteers to help us with BRRC programming, especially some of our larger recruitment programming, like the Bay Area College Tour and Highway 5 to Higher Education recruitment events. Those are big events that we hold annually and we need as many hands on deck as possible, so that would be a great way to introduce people to BRRC.
Learn more about the Black Recruitment and Retention Center online and on BRRC's Instagram.
Erika: BAEH has monthly events where graduate students in the School of Public Health can join us. We have open executive board positions for students looking to develop their leadership skills. For those who are interested in joining, please reach out to our email: baeh@berekeley.edu.
To learn about upcoming events in honor of Black History Month and to hear more from Lez'li and Erika, check out part two of this article: Celebrating Black History Month.
Melissa Mora-Gonzalez is a first-year student at UC Berkeley majoring in English.
Want More?