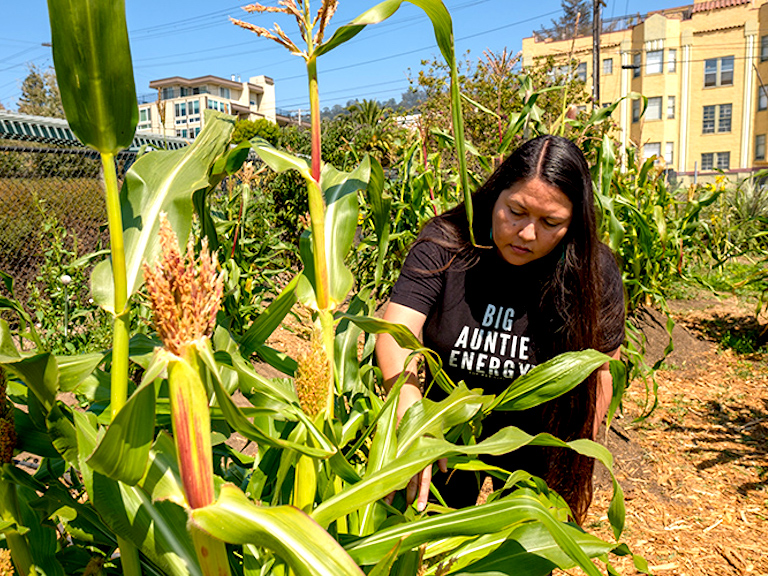 Celebrate and Support Native Culture at Berkeley
In a previous article about Native Heritage at Cal, we asked two members of the Indigenous and Native Coalition, Nathalie and Emily, to help tell the community's story. To continue the celebration of Native Heritage month, we're featuring some of the new and ongoing Native owned and oriented places, events, and opportunities linked to UC Berkeley.
First, here's what students want you to know about the Indigenous campus community.
Emily: Although we are small, we are here! Native and Indigenous students are proud to be at a great university, but we hope that UC Berkeley and its community begin to acknowledge the history the university has with Native people and start to make amends.
Nathalie: We are an ever-present and growing portion of the student body, we are STILL HERE and our presence should be recognized and respected on this campus. We welcome all individuals who identify as or are re-connecting Indigenous and Native people.
We take a moment to recognize that the land on which UC Berkeley campus sits is also known as Huichin, the ancestral and unceded land of the Muwekma Ohlone Tribe and other descendants who are successors of the Verona Band of Alameda County. We recognize the continued importance of the Berkeley campus to Ohlone people today, and strive to be the best stewards of the land that we can be. To learn more about this, read the full UC Berkeley Ohlone Land acknowledgement, which was co-created with the Muwekma Ohlone Tribe and Native American Student Development, and is a living document.
Indigenous Community Learning Garden
Connecting Through Plants and Ancestry. This project started in May 2021—a garden to grow Native food plants using the agricultural practices linked to their Indigenous heritage. Many bring stories and farming knowledge passed down to them by their families, making this a space where they can share their own insight and learn more about Native heritage while experiencing the history hands-on. Much of the garden is oriented around crops known as the "three sisters," corn, beans, and squash, in addition to the numerous other species thriving there that have long been grown on this Native land. It's currently located in the Oxford Tract but it has not been promised a permanence there—they must go through an application process every year for the project to continue in this space. For more information about the garden, check out the Indigenous Community Learning Garden article by Berkeley News.
Cafe Ohlone
First Ohlone pop-up reopened as a permanent restaurant. It started in the back of University Press Books, offering meals three days a week. Cafe Ohlone's newest iteration, 'oṭṭoy: A Collaboration Between Café Ohlone and the Hearst Museum at UC Berkeley, is located outside the Hearst Museum of Anthropology on the UC Berkeley campus, at Bancroft on College Avenue. (The Hearst Museum has set up a fund dedicated to supporting 'oṭṭoy and the cultural activities held there; please consider making a contribution.)
The Powwow and More
Looking to attend events about Native heritage? You may be familiar with UC Berkeley's annual Powwow, which went virtual last year due to the pandemic, but there are many other Native events that take place on campus throughout the year. On their website, Native American Student Development's event calendar shows Cal's Indigenous community happenings for each month. In November, there's the American Indian Film Festival, bi-weekly movie nights at the Native Community Center, and much more. Another significant event to mention is "Crossing Paths," an exchange of Indigenous research by Berkeley undergraduate and graduate students through a lecture series that's held six times each academic year.
We also asked Nathalie and Emily what important events for the community on campus they wanted to highlight.
Nathalie: There are retreats, community feasts, UC Berkeley Powwow, the Sunrise Ceremony on Indigenous People's Day, Transfer and Senior Weekends as well as Natives Transcending and Native Jumpstart.
Emily: Every year INC participates in Senior Weekend and Native Jumpstart which bring high school students and transfers students to campus and prepare them for higher education at Cal or other institutions. This is really important because we want prospective students to know that they will be supported at Cal. We also celebrate Indigenous People's Day as a group by attending the Sunrise Ceremony on Alcatraz Island. Additionally, INC hosts an annual retreat for members to enjoy a weekend away, usually at Lake Tahoe, and be in community together outside of an academic setting.
Learn More
Wondering where to find educational resources? NASD's website is a good place to start, as there are many links to informational documents and other useful pages. One especially helpful resource can be found under "Educate Yourself," a vast list of Native media including books, podcasts, news sources, movies, articles, and more. There's no better way to learn about Native American heritage and experiences than from people within the community themselves. The organization also has their own podcast called "Indigenous United" where students can intern as a host and gain experience in the radio and media industry. Perhaps not a learning resource on its own but important nonetheless, there is a document on NASD's website where they compiled a list of Native owned businesses to support. 
Want to know how you can connect with the Indigenous community at Berkeley? Luckily Emily and Nathalie provided answers—and an inviting welcome too.
Emily: We encourage any Native/Indigenous identifying students at Cal to join INC! We meet every other Thursday at Anthony Hall to enjoy a meal together and be in community. Allies are welcome in our space as well. For more information, please check out our Instagram @inc_rrc
Nathalie: Come to our community gatherings every other Thursday evening at Anthony Hall! We foster a welcoming and creative space for Native and Indigenous students to channel their love and passion for the community into many forms such as hosting events, art, workshops, wellness gatherings etc. You can also feel free to reach out to us at natives@berkeley.edu or message us on IG (@inc_rrc) or FB (Indigenous and Native Coalition Recruitment and Retention Center). We can't wait to meet you!
One last word… It's necessary to note that this month is not a conversation about a history that has long passed, but that the Indigenous community is still alive and thriving in the culture passed down by their ancestors. Hopefully this article has brought something new to your attention, inspired you to attend an event or look into a campus group, or helped you find a resource you've been seeking.  
Sahara Dittmar is a first-year student at UC Berkeley majoring in English.