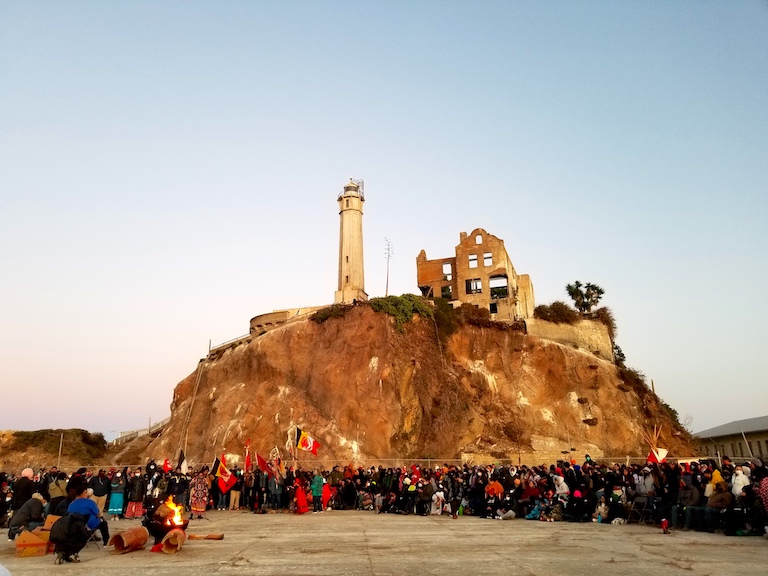 Meet Students from the Cal Community
November is Native American Heritage month, making it a time to honor the culture, community, and contributions made by Indigenous people. As UC Berkeley sits on the land of the Ohlone people, it's important to recognize that this university has prospered by occupying this Native land since its foundation many years ago. Although this month isn't the only time that Indigenous roots should be learned about and appreciated, holding these weeks in the calendar gives it a space to be intentionally observed widely. We asked two involved students to help introduce the Indigenous community at Cal along with some of the Native organizations and resources affiliated with UC Berkeley. Meet Emily and Nathalie:
This is how they described UC Berkeley's Indigenous community, from their firsthand experience.
Emily: The Native/Indigenous community on campus is pretty lively considering how small we are. There are usually INC/NASD events held every week and people to talk to at all hours of the day. We all value everyone's presence and encourage members of our community to stop by and get involved.
Nathalie: We are a tight knit community of incredibly powerful and diverse individuals. Community connections and support are intrinsic in this space, everyone is always ready and willing to lend a helping hand.
Indigenous Organizations
Staying student oriented. There are a number of Indigenous-focused organizations at Berkeley, perhaps the most well known being a campus office called Native American Student Development (NASD) and the student-led, student-initiated Indigenous Native Coalition Recruitment and Retention Center (INC-RRC). NASD is a campus department that oversees certain Native programs and collaborates with other organizations to support the Indigenous population at Cal in a variety of ways. INC-RRC works to aid students interested in attending UC Berkeley as well as assisting current students to keep higher education reachable to the Native community. You can find more about INC-RRC's mission on their CalLink or visit the INC Instagram or INC Facebook page. 
In addition to these, there are student organizations tied to a more specific academic group or purpose, including the American Indian Graduate Student Association, American Indian Science and Engineering Society (AISES), Native American Law Students Association (NALSA), and the Intertribal Student Council.
For insight into what it's like to be a part of these spaces, we handed it over to the students who are both committed to one of these organizations: INC. 
Emily: INC stands for the Indigenous and Native Coalition, an RRC (recruitment and retention center) under the bridges organization on campus. Our goal is to enhance the life of Native and Indigenous students at Cal academically and personally. I first heard about INC by attending senior weekend as a senior in high school. INC is the reason I chose to come to UC Berkeley because it really felt like I would have a supportive community here. I have since been involved with INC beginning my first semester on campus, and took on the role of a coordinator the following year after being a shadow (intern) for one semester.
Nathalie: INC is one of the Recruitment and Retention Centers that forms part of the bridges coalition. We facilitate culturally relevant events, workshops, community gatherings and the like that serve to strengthen and grow a Native presence on campus. My first interaction with INC was as a Transfer Weekend participant in the spring of 2019, other incoming Transfer students and I took part in an immersive Berkeley experience where we were introduced to the Cal community.
A Collection of Resources, Programs, and Offices
Navigating college life can be hard. It can be even harder if students' identity needs outside of the academic realm aren't being met. If you're a member of the Indigenous community who's struggling, needs resources, or simply wants to connect with other people, NASD's website includes information about the Native programs, offices, and resources available to you at Cal. There are links to sites about NASD internships, the Native American Theme Program, different groups and associations, the graduate program, disability services, the Educational Opportunity Program, and many others. 
Nathalie and Emily also discussed how getting involved in the community has enhanced their Berkeley experience. 
Nathalie: It has helped me create some of the most incredible friendships ever, and further explore my Indigenous identity. It has made UC Berkeley a more welcoming place for me knowing that I have a community to rely on and a safe space on campus to interact with my peers.
Emily: I have really enjoyed having a community of other Native/Indigenous individuals on campus. There are usually fun gatherings and events that bring everyone together and allow some time to relax between our busy Berkeley schedules. It's also nice to have a place to gather on campus at the Native Community Center (NCC) at Anthony Hall and feel like we finally have a place of our own.
As we heard from Nathalie and Emily, the Indigenous community on campus is an active and connected space for students to engage in Native Heritage at UC Berkeley. While these organizations are geared towards students from within the community, everyone is encouraged to participate and learn, and there are several ways for allies to get involved in recognizing this community outside of these resources.
Sahara Dittmar is a first-year student at UC Berkeley majoring in English.
Want More?