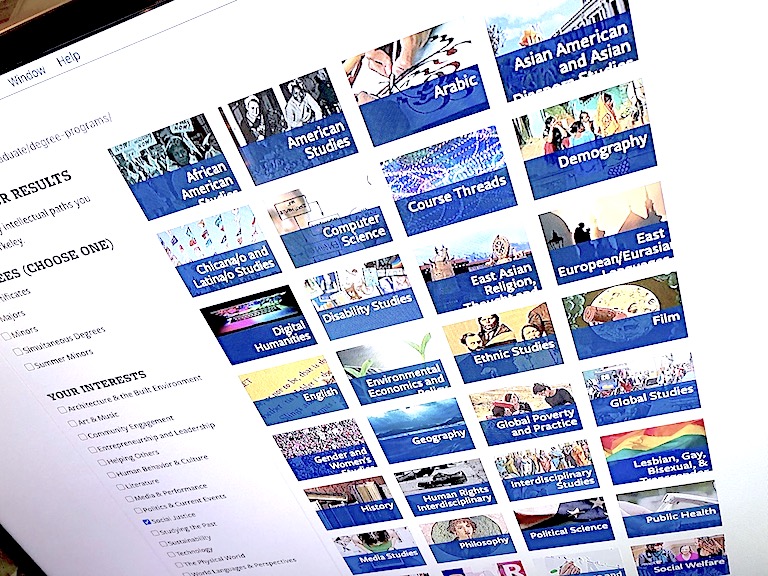 Student Guide for Planning a Semester at Berkeley
What do you do when you're selecting courses for a new semester? For many students at UC Berkeley, choosing classes can seem daunting at first. There are thousands of classes to select from, some with conflicting times, and it can be hard to know which ones to prioritize. As a student who has gone through this process many times, I hope the following tips will make it easier for you to choose classes when the time comes!
1. Know When Your Enrollment Time Is
The first thing to know when signing up for classes is when you can start! If you go to CalCentral and click on the My Academics tab, you can find your enrollment times under Class Enrollment. Enrollment is split into Phase I, Phase II, and an Adjustment Period. Students can enroll in up to 13.5 units for Phase I, and 17.5 units for Phase II. During the Adjustment Period, students can enroll up to their college's unit maximum. Since there are these unit limits, it's helpful to consider which classes are a higher priority for you and enroll in those first.
2. Figure Out Your College-Specific Requirements
Depending on your college, you will have different breadth requirements to fulfill. For example, in the College of Letters and Science, there are seven breadth classes students have to take to graduate which you cannot use AP credit to opt-out of. Many Letters and Science students end up spreading their breadth courses out over multiple years, but for the College of Natural Sciences, on the other hand, there is only one breadth requirement. So be sure you know what your college requires and don't forget to check for special programs, like the Haas Breadth Guidelines, which have exceptions to the standard Letters and Science requirements. There is also the university American Cultures requirement that all students must complete, regardless of college.
3. Utilize Your Major or Minor Website
To figure out which classes you need to take, use your major and/or minor website! (If you have an intended major, you can still check that major's website.) As a Legal Studies major, I used the Legal Studies website and found out which classes I needed to take as prerequisites and which classes I needed to take to graduate. Depending on your major, you can also waive some of your prerequisites with AP credit! Many major websites also include sample schedules that students can follow to graduate in four years.
After figuring out which classes you need to take to fulfill your major/minor requirements, use the Berkeley Academic Guide to find out which of those classes are being offered in the upcoming semester, and choose the ones that fit best with your schedule!
4. Reach Out To Your College Or Major Advisor
Deciding between majors, or want advice on what classes to take? Reach out to an advisor! If you're in the College of Letters and Sciences (L&S), you can find an advisor to talk to by figuring out your Advising Neighborhood. Depending on your major, you will have a different set of advisors you can reach out to. For example, as a Legal Studies major, my L&S Advising Neighborhood is Social Sciences D. Once you figure out which advisor you would like to talk to, you can make an appointment online! You can check in with an advisor as often as you want, and you can select the same one every time.
If you want to reach out to your major advisor for more specific information, you can find their contact information on their website. I emailed my Legal Studies advisor through the contact information she had on the website, and I was able to make an appointment with her really quickly and easily.
5. Try Out The Degree Planner On CalCentral
If you're interested in seeing what your college path could look like for the years you spend at Berkeley, use the Degree Planner located in the Academics tab on CalCentral. This tool recently launched, so some major pathways will still be added, but it's still a valuable resource for all students to plan out their university and college requirements. It's essentially a tool that lets you see how many classes you would have to take for a certain major/minor and the target units you want to take per semester. For example, if I was a psychology major, and wanted to think about getting a minor in public policy, I could add that "path" to my Degree Planner and see how that would work out!
6. Find Classes You Want with the Academic Guide

An easy way to see all the classes being offered in a certain semester is with the Academic Guide! Before your enrollment time, you can use this guide to find classes you want to take for that semester. The guide has various filters you can use to see which classes would work best for you; for example, viewing only upper division courses, or courses offered on Monday/Wednesday/Friday rather than Tuesday/Thursday. You can also search for classes using a professor's name or the class name.
7. Use Your Schedule Planner
Once you figure out which classes you potentially want to take, use the schedule planner found in CalCentral. You are able to input all the classes you are interested in, and see how they would fit together in a weekly schedule. If you are planning to work during the semester you are signing up for classes for, you can create "breaks" in the planner to make sure that none of the potential classes will conflict with your shifts. You can also do this with club meetings and other non-academic commitments. I use this every semester, and find it super helpful to see when I would like my discussion sections to be, or to make sure that I don't have four hours of lecture back-to-back.
8. Bring it All Together to Enroll
When I am preparing to sign up for classes, I figure out which requirements I want to fulfill that semester, and find the classes that fulfill those requirements with the Academic Guide. I then rank the classes based on a number of factors, like my interest in the course topic, what requirement it fulfills, and how it fits into my schedule, to decide which classes I want to enroll in. To finish, I add my top-ranked classes to my shopping cart on CalCentral, and I'm ready to click enroll on my enrollment day! If there are classes or discussion sections that fill up before my enrollment period, I refer back to my ranking list, and sign up for the next class or discussion section that works for me.
Kaylie Chen is a junior (Class of '21), majoring in legal studies.
Want More?