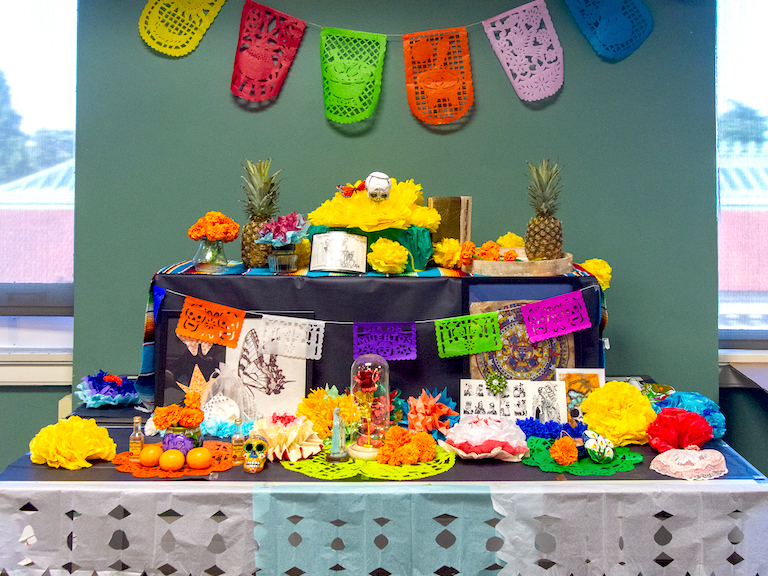 Enroll in Big Ideas for a Big Change.
One of my favorite parts about attending UC Berkeley is being challenged to learn and think in fun and unexpected ways. There are so many opportunities for this, including one I particularly enjoyed: Big Ideas Courses from the College of Letters & Science (L&S). One of the university's many hidden gems, the Big Ideas series provides a creative way to intersect multiple subject areas which are normally taught separately. This encourages new conceptual collaborations between what seem to be very different subjects. What does that look like for Berkeley students?
Big Ideas About History and Literature
When I was a third year student, I had the opportunity to take the Conversion and Negotiation Big Ideas course taught by Professor Ivonne Del Valle and Professor Todd Olson. This hybrid course merged art history and Spanish literature to paint an interdisciplinary picture of the conquest and colonization of the Americas. Throughout the semester, we studied art and literary works to analyze the cultural and religious conversions that Europeans implemented, along with the subsequent negotiations by the indigenous peoples in their struggle to preserve and represent their beliefs and way of life.
How I Found My Big Ideas Course
Professor Del Valle introduced me to this opportunity when I was enrolled in her course on Colonial Latin America Texts. (Special thanks to Professor Del Valle for being a wonderful mentor during my time at Cal!) The Big Ideas courses, which fulfill L&S breadth requirements, truly highlighted that the wide variety of subjects at Berkeley are all interconnected in some way. It was easy to sign up for this Big Ideas course when I registered for my other classes. I enrolled in the course fascinated with what I had learned about the history and interactions within the Americas and eager to dive deeper into the material, especially given that the course would allow me to connect the subject's literature to art history.
Exploring With an Interdisciplinary Lens
The Conversion and Negotiation course created a great balance for me by connecting a subject that I was familiar with and another that I was not. By creating this link, I was more comfortable participating in discussions regarding both subjects and had the chance to really explore! We engaged in fruitful discussions as students from both the Spanish and Art History departments. These discussions and collaborations allowed me to dive into thought-provoking conversations that helped me to build rapport with peers who I had previously met in past Spanish classes and other breadth classes. 
I loved gaining insight into the field of art history while solidifying my studies of Spanish literature. Moreover, I built up an interdisciplinary perspective and approach to learning material.  I saw firsthand the importance of growing connections between both seemingly related and unrelated aspects into big ideas.
Perk: Insider Access to BAMPFA
I appreciated that this course was held in the theater of the BAMPFA (Berkeley Art Museum and Pacific Film Archive). This gave us the opportunity to access many of the archives within the museum and speak with leading experts while engaging with original works from the time periods we studied. Not to mention the theater had an absolutely amazing projector and very comfortable seats that allowed us to really get into the details of the artworks!
Favorite Moment: Honoring Traditions
One of the most memorable moments was when we teamed up and built altars to honor and celebrate the Day of the Dead. We read and analyzed different writings and images surrounding the history and interpretation of this event both from an indigenous and European point of view.
We then took what we learned and recreated many of the traditional designs, decorations, and food items into our altars. This unique activity allowed me to exercise my creativity while experiencing this historic celebration and gaining a better understanding of the value and meaning it holds to those who celebrate this day.
What's Your Big Idea?
Having had this experience, I would highly recommend that my peers explore the Big Ideas Courses when considering what to register for your classes. The Big Ideas course offerings change each semester (some repeat periodically), so you can find new learning opportunities each year. For example, while looking into the overview of the Conversion and Negotiation class, I encountered another course, Sense and Sensibility in Science, that also interested me as a Molecular and Cell Biology major.
From sparking my curiosity and enhancing my way of thinking, to satisfying an L&S breadth, this Big Ideas course created a learning experience and environment that helped me become a better scholar. I appreciated how it allowed me to focus on my area of study while creating space to explore another field. Approaching familiar topics through a new lens definitely enhanced my understanding and how I think about both subjects. I hope you're able to explore one of these Big Ideas, too!
Emily Wang graduated from UC Berkeley in Fall 2020 and double majored in Molecular and Cell Biology and Spanish Literature.