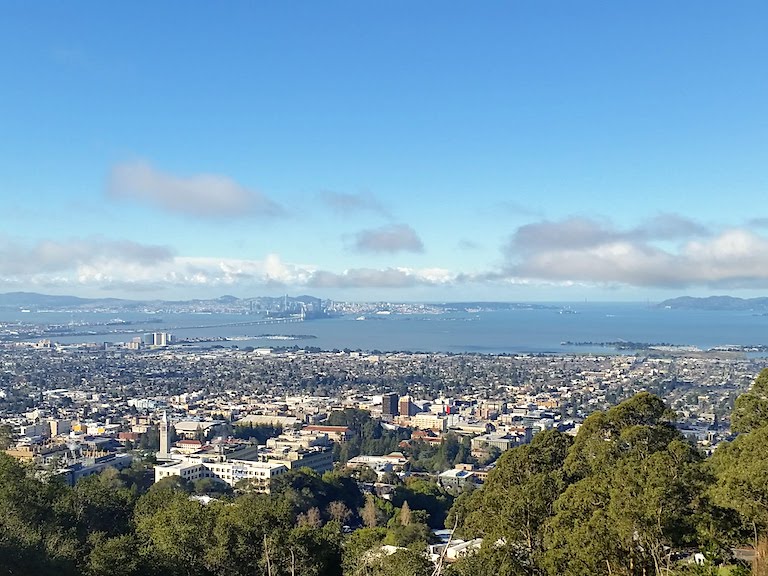 Living On or Off Campus?
Whether you're about to start your first year at UC Berkeley or your last, you face that question—where am I going to live? Particularly, many students wonder if they should live on or off campus, especially after their first year at Berkeley. To help aid in answering that question, here are some things to consider.
On Campus Housing
Most students live on campus for at least one year of their time at Berkeley, if not longer, and with so many benefits, it's easy to see why. Living on campus is super convenient—you don't have to worry about having landlord or unresolved maintenance issues, you can use your financial aid to make payments directly through CalCentral, and all residence hall locations are close to campus! Resident Assistants (RAs) are also in each residence hall building to help facilitate an inclusive environment and host events for you to attend. (If you just thought, "what's an RA?"— check out my blog post about being an RA to find out!) There are also specialized theme programs that students can participate in to further feel a sense of belonging and community within their living space. Residents can take advantage of the many resources offered by Residential Life, like the Academic Service Centers that have desktops and printers available, or music practice rooms in residence halls.
While I hope all students enjoy the on campus community at some point in their time at UC Berkeley, many students will live off campus for at least one semester. So, here's some advice and resources from fellow students on how they found housing off campus to fit their needs!
Student-Organized Living (by Lillian Marsh)
Interested in communal living? The Berkeley Student Cooperative (BSC) is a fantastic off-campus housing option for Berkeley students looking for low-cost housing close to campus. This non-profit organization runs seventeen different houses and three apartment complexes on both northside and southside, and are a great way to meet lots of new friends. 
Each house has its own individual personality and amenities, but there are several themed housing options available, including: Afro House, POC House, Oscar Wilde House (LGBTQ+ themed), Cloyne Court (substance-free), Hoyt Hall and Sherman Hall (for female-identifying students only), The Convent (for 25+ and re-entry students), and Lothlorien House (meat-free). There are homes of all sizes, too. If you want to keep your social circle small and cozy you could live at Kidd Hall, which is only 17 members strong; if you'd rather branch out and meet tons of people you could live at Cloyne Court, which is a former hotel and houses 140 students. 
One benefit of living in the co-ops is that food service is included in the rent budget. The Central BSC office delivers weekly groceries, and each house makes a house-wide dinner five nights a week. All co-opers are expected to complete five hours of work shift per week as part of their contract, but there's a wide array of tasks to choose from and a house-level work shift manager works with you to find shifts you enjoy that fit with your schedule. For example, if you like to cook, you might be part of your house's cookshift team, or if plants are your passion you could get hours for maintaining the house garden!
Interested students can visit the BSC website to make an account and add themselves to the waitlist. While the BSC prioritizes EOP, undocumented, DSP, and transfer students, all full-time Bay Area students are able to apply for a spot in these lovely homes. All applicants are considered in the order they apply, and you can actually transfer your application to another semester if needed, so register early to better your chances.
UC Berkeley's Greek community is another off-campus communal living option. Many sororities and fraternities have houses around campus where members may be eligible to live, but these vary widely by Greek life organization and each chapter may have their own rules and requirements as to who is eligible to live in the houses.
Living Off Campus as a Grad Student (by Mathew Miranda)
As a first-year graduate student new to the Bay Area, I initially struggled with where to find housing resources. But luckily, thanks to UC Berkeley's free off-campus rental listing service Cal Rentals and other websites like Zillow, Apartments.com, Craigslist, and Facebook, I found a welcoming apartment in North Berkeley. In particular, Cal Rentals offers the ability to compare favorite listings, search for roommates and use virtual tours. If you're searching with roommates, be sure to speak with each other about topics like shared budget, when the lease starts, sharing rooms, and how close you'd like to live to campus or public transportation.
International graduate students and transfer students can also look to UC Berkeley's International House which includes students, scholars, and researchers from over 70 countries. Known as the I-House, Cal students receive a unique mix of conveniences, entertainment, and social activities while living in this remarkable housing.
Off-Campus Resources
Knowing how rental agreements and leases agreements work is a life skill that can serve you for years to come. Try to take advantage of all the housing information and resources provided by UC Berkeley, including COVID-related lease guidance, tip sheets on leases, Basic Needs Center support, and Student Legal Services (which provides resources involving landlord-tenant disputes and evictions). The city of Berkeley's COVID-19 tenant and landlord information, rent stabilization board guidance, and California tenants rights are particularly helpful for students who are new to leasing.
You might also want to check out Cal Rentals' Resources. A few key takeaways: late June to early July is a great time frame to travel to Berkeley and view various housing options (make appointments ahead of time), and you're invited to contact Cal Rentals at homeinfo@berkeley.edu for a list of private rooming options that are available, which include dorm-style, suite, and apartment housing.
Overall, I recommend students research extensively when looking for housing, start looking months before the semester begins and have a conversation with potential roommates before signing any lease to see if there's a proper fit. Leases are long-term commitments and should be taken seriously! Good luck on your search!
Kaylie Chen is a senior (Class of '21) majoring in Legal Studies.
Lillian Marsh is a third-year student from Los Angeles majoring in English and minoring in education.
Mathew Miranda is a first-year graduate student at the School of Journalism.
Want more?