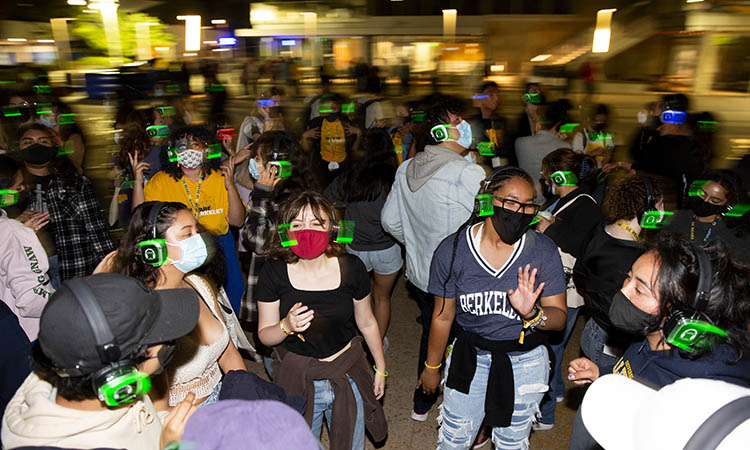 A Peek into the GBO Leader Experience.
Golden Bear Orientation (GBO) is made possible every year because of students who volunteer to take the lead in helping new students get their bearings at Berkeley. We invited two students to share what they learned and gained from being GBO leaders and what it's really like to be one. They provided insight into their time as GBO leaders so you could learn more about this worthwhile experience and consider signing up to be one for a future year.
Meet Christine and Stefany:
What's it like to be a GBO leader?
Christine: As a GBO leader, I was not only able to support incoming students in kick starting their Berkeley journey but also help to foster the sprouting of friendships for these new students and see Berkeley in a new light as I, too, was able to participate in fun events.
Stefany: To me it was commitment. To be a GBO leader was to be committed in time and mind to give my students the support and resources that they needed to start their year as prepared as possible. It also meant to be a well of information; as a GBO leader I wanted to know and be aware of any resources that the incoming students could take advantage of and I made it a goal to be informed of these opportunities.
Why did you decide to become a GBO leader?
Christine: I decided to become a GBO leader because I found my closest friends through my GBO group and my orientation leaders were so inspiring in how they truly loved Berkeley and hoped to foster a sense of belonging for new students at Cal.
Stefany: I decided to become a GBO leader because I wanted to give a good welcome to the incoming students. And, to be what I wish I had when I experienced GBO. My experience with GBO when I transferred was not a pleasant one as my leaders chose to not be present, so when it was my turn to be a leader, I wanted to become one that stuck around for her students.
What is something you learned from your experience as a GBO leader?
Christine: I learned that when you focus on loving the ones you're with rather than fixating on those who have left the program, you can find the most genuine and committed people and develop friendships you never would have expected.
Stefany: Something I learned from my experience as a GBO Leader is that I won't always have the answers and that is okay. The goal is that when I don't have an answer to something, I'll go and search for it so that I am more knowledgeable and will be able to pass on that information the next time I am asked.
Why is this a rewarding experience?
Christine: My favorite part of GBO is Bear Foundations where we learn that we deserve to not only feel like we're included in Berkeley culture but that we also have the agency to create the culture of Berkeley. Once you join the GBO team, you begin to truly feel that Berkeley is your home and you have a responsibility as a part of this community to make the campus as best as it can be.
Stefany: I personally think this is a rewarding experience because it gives you the opportunity to take part in something of a larger scale and yet, your contribution means a lot to the small group of new students as well. They see you first, look up to you, and rely on you to guide them and show them what life at Cal can possibly be like. You get to meet many people from many different backgrounds and with stories that differ from your own — you feel as though you have seen the world through many others' eyes. Apart from feeling like you have the world around you, you get the opportunity to network with others that can serve as a guide to you as well.
Why should other students sign up to be a GBO leader?
Christine: Every Cal student should be a GBO leader at least once in their college career because it is an integral part of the Berkeley experience. Starting off the year with a reminder of how you got into Berkeley, what the university means to you, and how you want to continue to foster the type of community you envision makes you appreciate your college experience so much more!
Stefany: To experience for themselves what it is like to give back to incoming students, to represent the school they love, and to meet new people (and maybe even friends).
How can you be a future GBO leader?
Ready to become a community builder? Step one: Fill out a GBO Leader Interest Form during leader recruitment, which begins in early January and ends mid February for the following fall semester. Step two: Sit back, wait for New Student Services to reach out, and prepare for a fun adventure.
Sahara Dittmar is a first-year student at UC Berkeley majoring in English. Featured image is GBO Silent Disco event from fall 2021.
Want More?