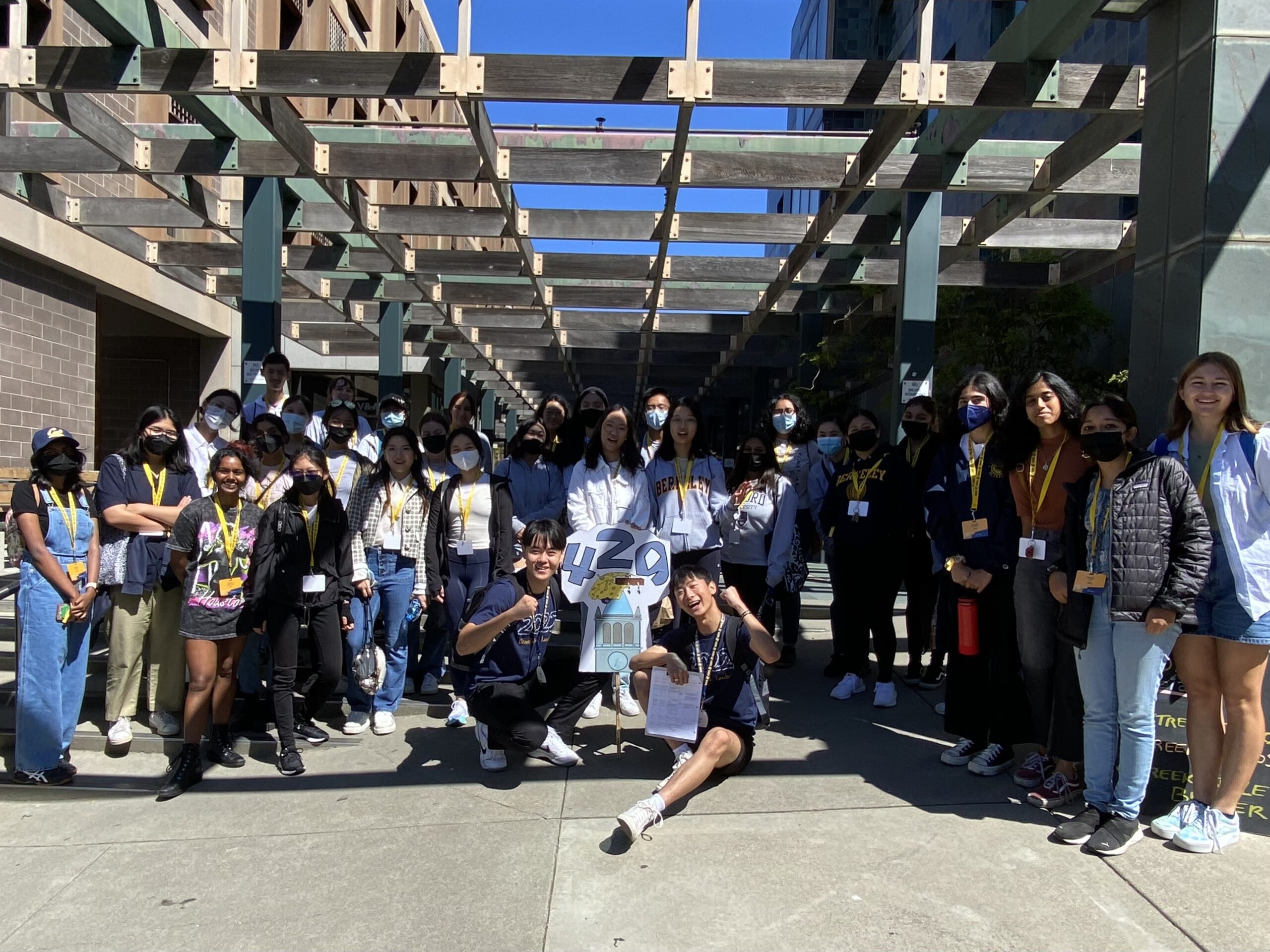 My GBO Experience
Being an Orientation Leader (OL) Golden Bear Orientation (GBO) was a fun and inspiring experience that I look back on with fondness. Since my GBO was online during the COVID-19 pandemic, I applied to be an OL wanting to see what in-person GBO was like, with no idea of what to expect. The experience turned out to be very eventful and enjoyable, unlike anything I've encountered at Cal. By the end, I left with heartwarming memories, relationships, and experiences that were valuable to my growth as a leader and person.
Getting Started as an OL
After applying to become an OL in January, I had a few check-in meetings with my Orientation Mentor (OM) and then training sessions in April and August before GBO started. During these sessions, I was introduced to my pack (a group of OLs, under an OM), paired with my OL pair Michael, and assigned to lead Group 429. Our pack became pretty close as we learned about each other through activities that helped us develop ourselves as leaders and prepare for our GBO experience. For example, making our group signs together was a lot of fun; Michael's vision for our sign was levitating SpongeBob over the Campanile. Overall training sessions were fun and casual, with free food and giveaways being the cherry on top!
It wasn't until the first day of GBO that Michael and I got the roster for our group. Group 429 was made up of around 40 first-years from Foothill, Stern, and off-campus housing. Although Michael and I planned our schedule, there was no way to anticipate all the adventures, talks, and special moments filled with hearty laughs that comprised our next five days.
During GBO
Group 429 at Haas Pavilion for a talk on Bear Foundations.
GBO's events were planned down to the hour, like clockwork, but there were also many OL-planned (and at times improvised) chunks of time called "OL Choices" that made each group's experience unique. For our required activities, we took our group to assemblies on campus culture, resources, and values, and facilitated talks on safety, inclusion, and community. It felt meaningful for Michael and I to introduce the campus culture to our first-years, and share insights and tips from our time at Berkeley. For meals, each group was assigned to eat at least once in each dining hall and the visiting food trucks next to the Campanile.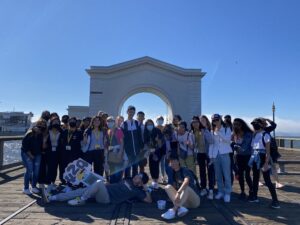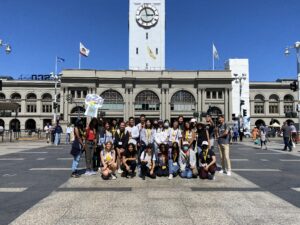 Group 429 in San Francisco!
For our OL Choices, my pair and I made sure our group made the most of their GBO. We gave campus tours and shared with our group fun facts and stories at the different places we went to. We made space for Q&A sessions, chill sessions, and games through which our group bonded with and learned about each other. It felt refreshing and nostalgic to be able to play games like Sharks and Minnows, Hot Takes, and Song Associations competitively in college.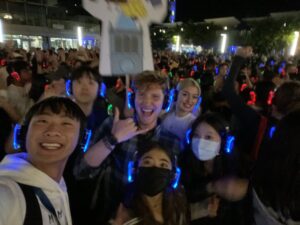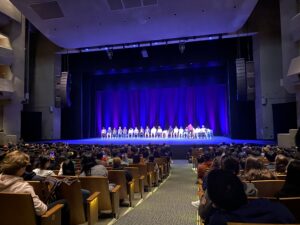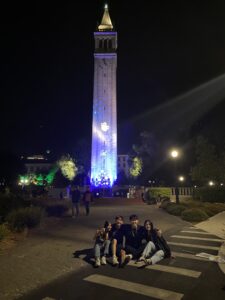 Group 429 at Late Night activities.
We went on day trips to San Francisco, the Berkeley Marina, and the Oakland Museum. But we didn't need to be somewhere else to have a good time. Every night there were many events on campus as part of the Late Night programming: the iconic Silent Disco, karaoke at Jaguar, shows, the carnival, and Paint the Night. There were also spontaneous moments like lying on the ground near the Campanile to try to see stars drowned out by the streetlights.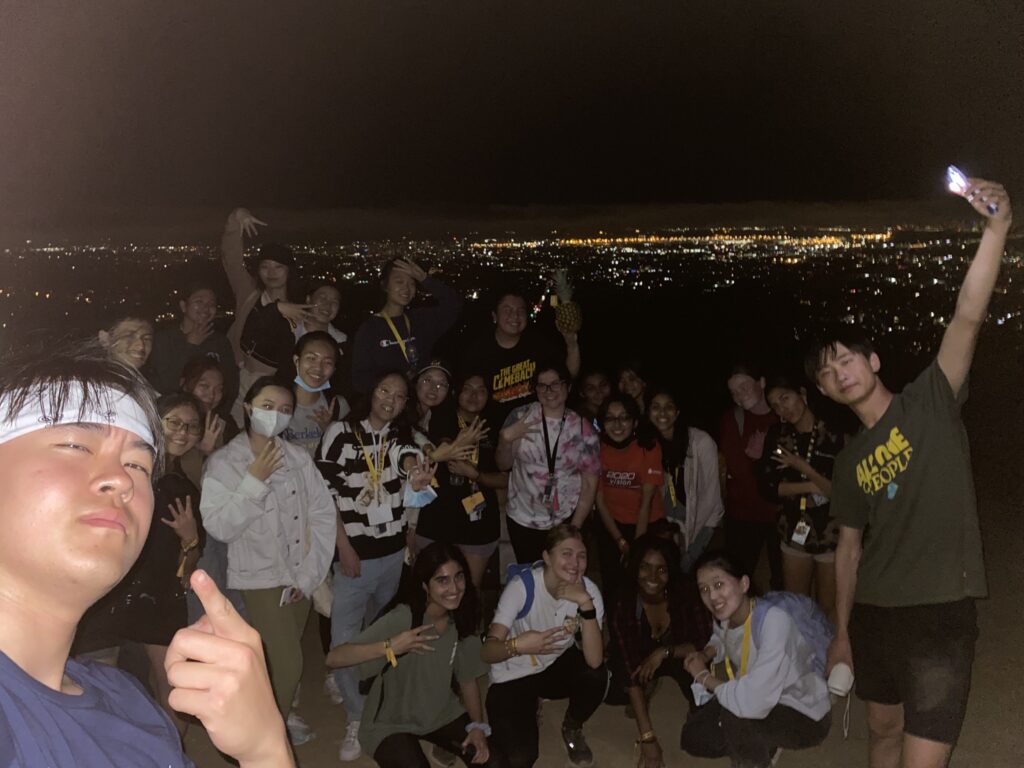 Group 429 at the top of the Fire Trails at night.
My favorite memory of GBO was our late night hike up the Fire Trails, our last activity as a group. The view, music, company, and collective struggle on some parts of the hike — the vibes were immaculate. When our group reached the top, we swayed to "Thinking out Loud" by Ed Sheeran while waving our phone flashlights, and screamed one word that described how we were feeling about the upcoming semester at the same time. It was quite a beautiful night to remember.
What GBO Meant to Me
In the process of becoming an orientation leader for incoming Berkeley students, I grew a lot personally. I became a lot more confident when meeting people and presenting myself to others. I also practiced being decisive and adapting to how everyone was feeling.
Being a part of new college students' journeys, as that first mentor who helps prepare them for their Cal adventures, was very fulfilling. What I didn't expect was hearing back from our first-years that the experience was really memorable, enjoyable, and helpful, especially since it was the first time so far away from home for many of them. It was exciting to see people make some of their first friends at Berkeley — and even more exciting to see where those relationships go after GBO.
I would highly recommend becoming an orientation leader at least once because you get to share and inspire others with how you've made Berkeley feel like home. There are so many amazing people who make GBO possible, and I hope to see you there next year welcoming and orienting our new Golden Bears to the Cal family.
The GBO volunteer application opens in January. New Student Services will hold info sessions at the beginning of the spring term, so keep an eye out for dates and times. And, you can read more GBO leader stories here.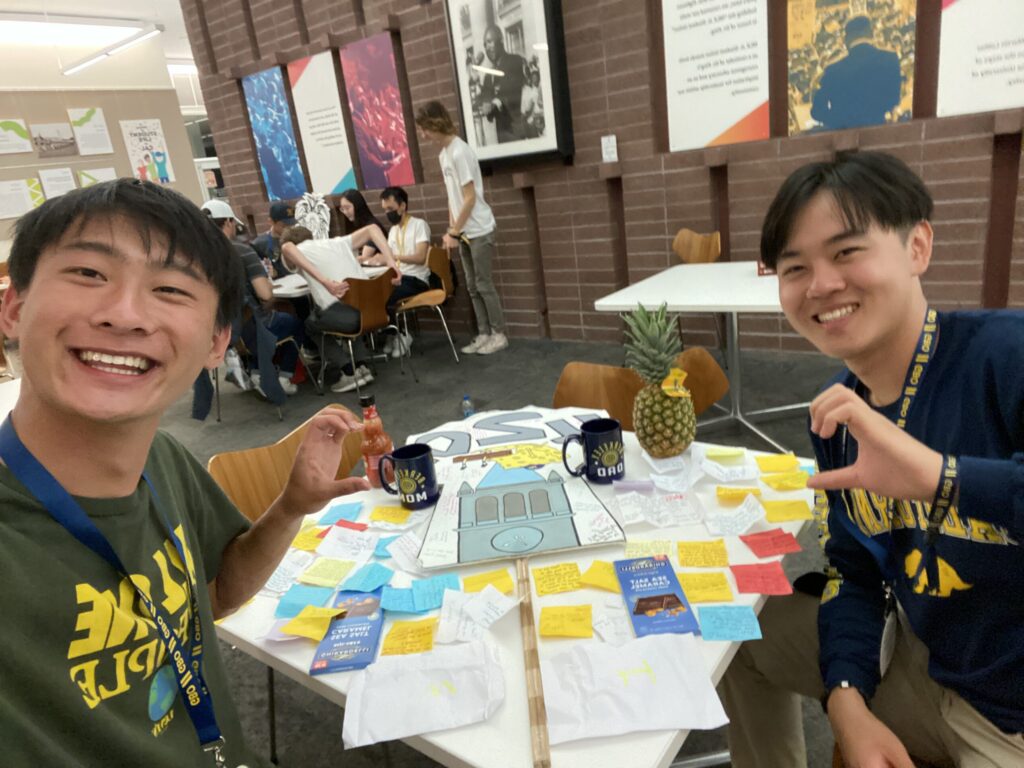 Michael and I with the gifts our group gave us!
Hosea Chen is a third-year at UC Berkeley majoring in cognitive science and minoring in creative writing and data science.