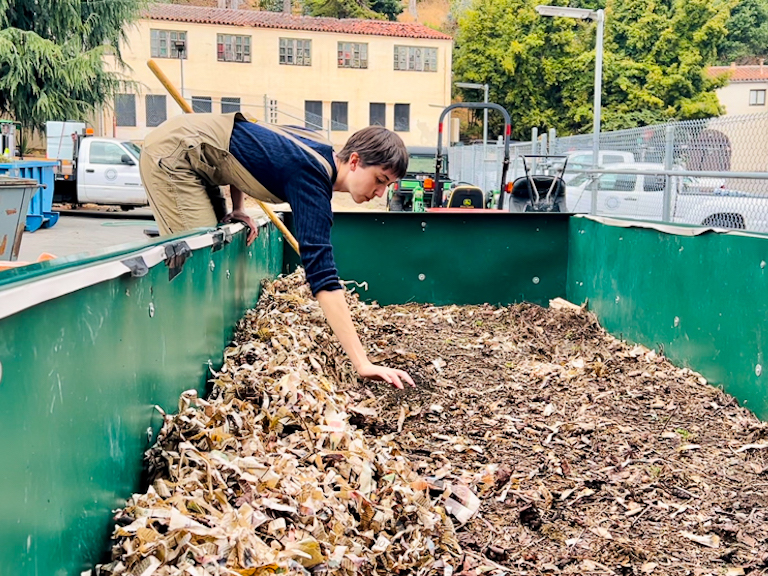 Meet the Student Environmental Resource Center (SERC)
The Student Environmental Resource Center (SERC) provides resources and support to the environmental community on campus by leading teams and initiatives, and cultivating a collaborative space for students interested in environmental issues. Berkeley Life recently had the opportunity to speak with Lucy, a student involved with SERC, about her experiences in the organization.
What is your position within SERC? What are some of your responsibilities?
"I'm a vermicomposting co-supervisor at SERC. My coworkers and I take care of what is basically a big dumpster bin full of worms. We collect food waste from the dining halls — things like the ends of asparagus and unused cauliflower. We chop it up and feed it to the worms."
Are there ongoing research or development projects related to composting and recycling that SERC or its members are involved in?
"We have the vermicomposting project which I'm a part of. It happens at Clark Kerr and we have a composting bin with a continuous harvest system where we work with the Clark Kerr dining hall to collect food waste, especially with foods that don't have salt and oil on them. With this type of composting involving worms, the worms can't handle a lot of processed food or salts and oils. This helps us direct some of our green waste from landfills. We're hoping to connect with more dining halls, and then when we have our finished vermicompost, we can give it to the landscaping team and different members of the community to spread around and complete that cycle of compost and regeneration.
We also have an e-waste Recycling project — some SERC staff did an e-waste collection drive recently. There's also the Cooperative Reuse program that happens every year, where community members can drop off and pick up furniture and household items for free."
How is SERC working to make sustainability more accessible to students at UC Berkeley, especially for students who hold misconceptions about the subject or are unfamiliar with it?
"We have a DeCal that I co-teach! Students can take a course called "Intro to Composting and Permaculture" and learn more about the vermicomposting project and get involved with it. We also have membership teams, so people can come and volunteer with SERC. But for people who are more skeptical about sustainability and all of that, SERC is working on putting on different events. We have a newsletter and a Slack for the environmental community, and there are lists of environmental clubs on campus on the SERC website that you can use to find more people to have conversations with about different sustainability projects."
What inspired you to get involved with SERC? How can other students get involved?
"I was inspired to join because I heard about the vermicomposting project. I'm really interested in composting and have enjoyed working on projects with it before, so I was excited that Berkeley had something like that too. And I knew that I wanted to be there once I talked to some of the people who were more involved with the project. They also told me about how friendly SERC is as a community, and that was kind of the thing that made me really want to join. If you want to connect more with SERC, you should come to the SERC space at the MLK Student Union on the lowest floor. Come say, 'hi'!"
You can watch a video of Lucy's interview on our Instagram, @ucberkeleylife.
Melissa Mora-Gonzalez is a third-year student at UC Berkeley majoring in English and minoring in conservation and resource studies.
Want More?