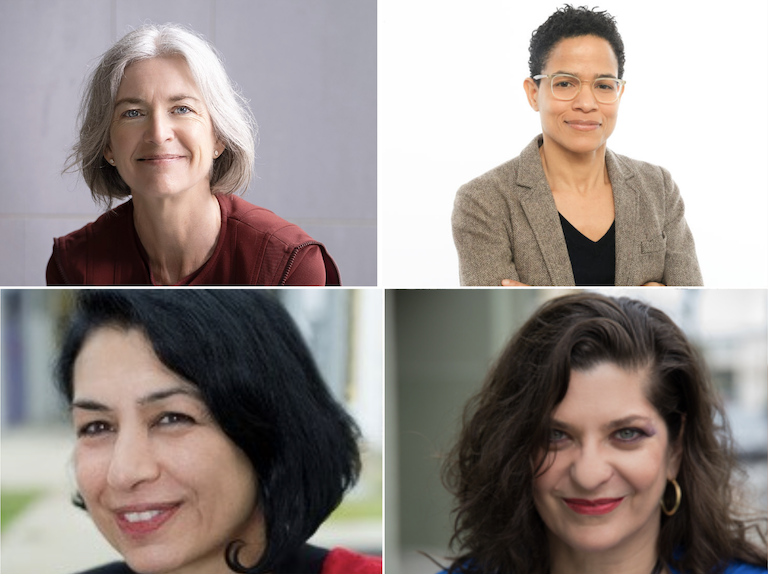 A Berkeley View of Women's History Month
This March, I've been thinking about the campus leaders and groups that champion women and their contributions to the Berkeley community.
What is Women's History Month?
Since 1987, the month of March has been dedicated to the celebration of Women's History Month. The presidential proclamation of a women's history week was passed congressionally in 1981 and nationally declared. However, the National Women's History Project persistently fought for the whole month. After years of congressional appeals and legal resolutions, the entirety of March was finally nationally recognized as a celebration of women.
This fight began in Santa Rosa, California — just an hour north of Berkeley. Women's History Month started as a local celebration in Sonoma County. These protests resulted in the Education Task Force of the California Commission on the Status of Women (a California government initiative for gender equity) to achieve legal approval of "Women's History Week" in 1978, and the recognition of March 8 as International Women's Day. This sparked a national movement as other communities strived to initiate their own week-long celebrations, culminating in Carter's presidential proclamation of National Women's History week in 1980.
UC Berkeley was an adamant supporter of this movement. Although Berkeley had been admitting women since 1871 (two years after the university opened), complete integration and support of women for both students and staff alike took decades to realize. Now, UC Berkeley proudly highlights the work of Cal women of both past and present, encouraging increased representation and diversity to encapsulate the profound diversity the campus bolsters.
Spotlight on UC Berkeley Women
Berkeley faculty and community members should be recognized for their accomplishments and contributions to the university and beyond, and we wanted to take this opportunity to highlight a few women on campus! 
She is an integral member of UC Berkeley's Gender & Women's Studies department, focusing on transnational feminist, queer, decolonial, and critical theories. In addition to being a renowned academic, Professor Bacchetta is the Co-chair of the Political Conflict, Gender, and People's Rights Project based at the Center for Race and Gender; an executive member of the California Center for New Racial Studies; and an Advisory Board member of UC Berkeley's Center for Race, Gender, and Right-Wing Studies. Outside of the G&W department, she is a faculty member at the UC Center for South Asia Studies; Center for Middle Eastern Studies; Center for the Study of Sexual Cultures; and Graduate Group in Dance, Theater, and Performance Studies. In particular, Bacchetta's literature focusing on Hindu nationalism and gender has been nationally accredited for its research-based, multi-faceted approach to intersectionality. 
She has received international attention as the winner of the 2020 Nobel Prize in Chemistry for her discovery of CRISPR/Cas9. The UC Berkeley professor of Chemistry pioneered the creation of a genome editing system, allowing for precise modifications of any DNA within a living organism. Doudna specializes in RNA machines, hepatitis C virus, RNA interference, ribosomes, X-ray crystallography, and cryo-electron microscopy. In a recent Berkeley News article regarding her status as the first woman on the UC Berkeley staff to win the award, Doudna found her Nobel Prize to symbolize a milestone in STEM fields for women everywhere. "It makes a strong statement that women can do science, women can do chemistry, and that great science is recognized and honored," Doudna said.
She is a Comparative Ethnic Studies Professor and world-renowned author of four novels focusing on critical legal theory, Latinx media and popular culture, LGBTQ activism, and racialized gender and sexuality. At UC Berkeley, Professor Rodríguez is affiliated faculty with the Berkeley Center for New Media; the Center for Race and Gender; the Center for Latin American Studies; the Latinx Research Center; the Haas Institute for Othering and belonging: LGBTQ Citizen Cluster; the Center for the Study of Sexual Cultures; the Designated Emphasis in Critical Theory; the Designated Emphasis in Women, Gender, and Sexuality; and has served on the President's Advisory Council on LGBT Students, Faculty & Staff for the University of California. Professor Rodriguez's influence and impact on the Berkeley community can be seen not only through her popularity amongst students, but also her Distinguished Teaching Award from the Division of Social Sciences and her Distinguished Faculty Mentor Award from Cal's Graduate Assembly. 
A Professor and Department Chair of UC Berkeley's African American Studies department, Professor Jones is also a proud activist and academic, focusing on Black people's experiences with the criminal legal system, policing, and violence. She is also a research expert on urban ethnography and sociology; race and ethnic relations; criminology; criminal justice; and the intersection of race, gender, and justice. Professor Jones currently serves as faculty affiliate with the Center for Race and Gender, the Department of Women and Gender Studies, and the Center for the Study of Law and Society. Professor Jones was the recipient of the 2020 Michael J. Hindelang Award presented by the American Society of Criminology (ASC) for her book The Chosen Ones: Black Men and the Politics of Redemption. According to the ASC, this award recognizes The Chosen Ones as "the most outstanding contribution to research in criminology" within the past three years for its ethnographic approach to understanding the persistence of violence within inner cities, and analyzing the criminal justice and law enforcement systems. Professor Jones has been instrumental in UC Berkeley's dialogue and research regarding American racial justice and police brutality. 
Campus Activities & Organizations
UC Berkeley is home to numerous clubs and campus organizations to support throughout Women's History Month and all year round! 
The Gender Equity Resource Center provides extensive resources for women, including advocacy, health, disability services, and housing! The Center employs an intersectional approach to helping women with disabilities, women of color, and LGBTQ+ women. The RISE Leader Award is also an extension of the Center's involvement within Cal's community, providing the space for students to nominate Berkeley women who represent core values of the Resource Center. Check out the Center for more information relating to gender, sexual orientation, the intersection of the two, and more!
Women in Computing and Data Science at Berkeley (WiCDS) "help female and non-binary students at UC Berkeley improve their technical skills and receive mentorship and networking opportunities from industry professionals." WiCDS strives to bridge the gender equity gap in STEM fields.  
Berkeley Women in Business (BWIB) supports more than 150 members interested in business. BWIB emphasizes the principles of community, empowerment, and professionalism through ongoing mentorships and company partnerships. Learn more about this amazing organization for personal and professional development in the business world.
UC Berkeley Society of Women Engineers (SWE) is a "national nonprofit organization which strives to highlight the achievements of women and non-binary individuals as leaders and engineers." From mentorship programs to help with classes, SWE is an extensive community on campus which encourages the personal and professional development of upcoming female engineers. 
The Women's Network is a national organization that supports women across hundreds of US campuses for personal and professional development. Through career fairs, résumé workshops, mock interviews, and networking events, Berkeley's chapter has hundreds of female-identifying Cal student members. Check out the program for ongoing recruitment and mentorship program opportunities!
Honoring Women's History Month
As March comes to a close, I encourage you to continue learning about women on and off Berkeley's campus, as well as clubs and organizations that support female students and gender equity. I hope this article allowed you to learn a little more about the amazing faculty and opportunities here at Cal!
Kelsey McIvor is a junior at UC Berkeley majoring in Global Studies and minoring in Spanish and Journalism.
Want More?