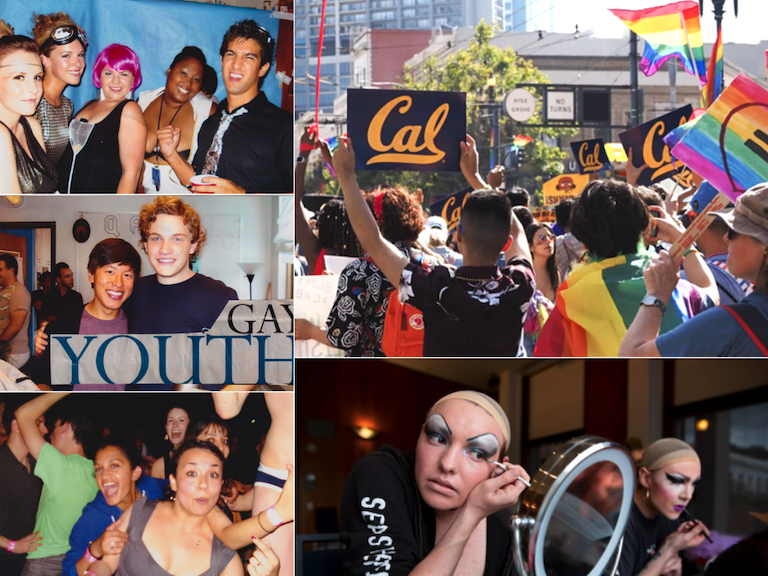 Where to Start if You're LGBTQIA+
As a queer student, I was happy to find that UC Berkeley has a long, distinguished history with the LBGTQIA+ community. In honor of PRIDE month, we're showcasing some of the ways UC Berkeley works to advance the lives of LGBTQIA+ students, alumni, staff, and potential students.
One of the most popular resources on-campus is called the Gender Equity Resource Center, commonly referred to as GenEq. GenEq is a branch of the Division of Equity and Inclusion. Their mission is to eradicate gender and sexuality-based prejudice on campus. They see themselves as a portal to the wealth of resources on campus that fall under the LGBTQ+ or women-forward umbrella. The GenEq Center is a great place to start because it is the most general hub for all things gender and sexuality.
As I mentioned, there are a ton of LGBTQIA+ student orgs on campus. Lucky for us, the Center for Educational Justice and Community Engagement (CEJCE) has compiled a non-exhaustive list of them. There are so many organizations to focus on, but I decided to spotlight three orgs with three diverse goals.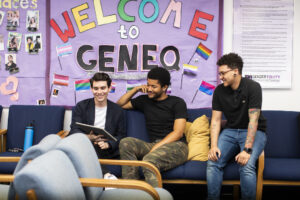 Spotlight: Three Orgs We Think You Should Know About
The Queer Alliance Resource Center (QARC)
The Queer Alliance Resource Center, also known as QARC, is Berkeley's one-stop shop for finding all 19+ LGBTQIA+ student orgs on campus. Their goals focus on resources, community, and advocacy. Their mission statement reads as follows: 
"The Queer Alliance Resource Center strives to transform UC Berkeley into a safe and affirming space for the trans, lesbian, gay, bisexual, and queer community. QARC empowers and enriches the experiences of LGBTQIA+ students, faculty, and staff at UC Berkeley through advocacy, service, and engagement."
I admire QARC because they strive to create spaces on campus specifically for queer and trans folks. On a large college campus, it's comforting to know there are places carved out for you and your community.
 Another thing that stood out to me when I learned about QARC was their commitment to advocacy. QARC collaborates with administration on campus to respond and take action against hate and intolerance, and continues to expand institutional support for Cal's LGBTQ+ community. Whether you're a currently enrolled or potential incoming student, don't hesitate to check them out and see how you can get involved.
For Queer and POC Graduate Students
Similar to QARC, the Center for the Study of Sexual Culture (CSSC) has its own umbrella, under which they describe, "The CSSC organizes and provides support for a range of programs that expand discussion surrounding issues of sexuality and sexual culture across diverse disciplines, critical methodologies and communities." CSSC is an amazing resource for current or incoming graduate students who are interested in maintaining or expanding their relationship with queer theory and sexuality studies as well as building a community around these interests.
Another exciting thing about CSSC is that they regularly host a number of events; ranging from lectures, film screenings, performances, conferences, and more. For graduate students whose dissertations focus on sexuality, race, or gender, the CSSC also holds a 2-day workshop every other year that functions as a retreat for bringing together graduate students and faculty. 
Last but certainly not least, the CSSC sponsors a group called the Queer of Color Working Group. According to the group, their goal "focuses on reading and sharing recent work in queer of color scholarship, and discussing them through the intersections of critical race and sexuality studies on a transnational level." Groups like the CSSC help students generate a stronger sense of identity and broaden diversity on campus.
If you're interested in getting involved with the CSSC, (which we highly recommend you do), try checking out their events calendar, or getting in touch!   
Not Just Students
Another amazing resource that Cal has to offer is called LavenderCal. LavenderCal focuses on inclusivity for all Cal employees and staff members and aims to create an environment that fosters community. Their website has something called an "Out List." The way the list works is that LGBTQIA+ staff members can choose to put their name on it, and that way, anyone looking at the list then knows that they are LGBTQIA+. This, to me, is very important. I feel a sense of comraderie and solidarity with my LGBTQIA+ professors, and without the Out List, I might not know about them. And by creating an Out List, LavenderCal not only fosters community, but visibility. 
The Out List is a great example of what LavenderCal see as central to their mission–to recognize and celebrate the indispensable voices of our diverse community. When we come out and live proudly as ourselves, we can embrace the beauty and joy of queerness together.
LGBTQIA+ Support on Campus
UHS's Counseling services are another indispensable resource to us here at Berkeley. Their site provides a cohesive list of queer and trans-affirming providers. From personal experience, I know how important it is to find a therapist or doctor that understands my unique experience as a queer person. The folks at UHS said it best themselves: "While all UHS counselors have training and experience working with LGBTQIA+ students, sometimes it's important to know your counselor is queer-identified." 
In addition to their generous counseling offerings for LGBTQIA+ folks, UHS also includes a Transgender Care Team, Group Counseling for queer and trans people of color (POC), and a few other special groups that are just for LGBTQIA+ folks.
Lastly, be sure to check out UHS's PRIDE page, where they detail all of their health and mental health services for LGBTQIA+ students. This page offers information on how to access trans-specific health care through UHS, insurance information, an explanation of their "Health Promotion" unit, and more. 
Scratching the Surface
Cal strives to make our campus the most safe, inclusive, and celebratory place it can be. As previously mentioned, there are an abundance of LGBTQIA+ resources available to us here at UC Berkeley. Across the breadth of staff, faculty, employees, graduate students, current undergrads, and incoming students, there is something for everyone that falls under the LGBTQIA+ umbrella. We hope that you enjoyed reading this PRIDE roundup and got a taste of what our university can offer. Happy PRIDE!
Mikena Richards is a fourth-year at UC Berkeley majoring in English.