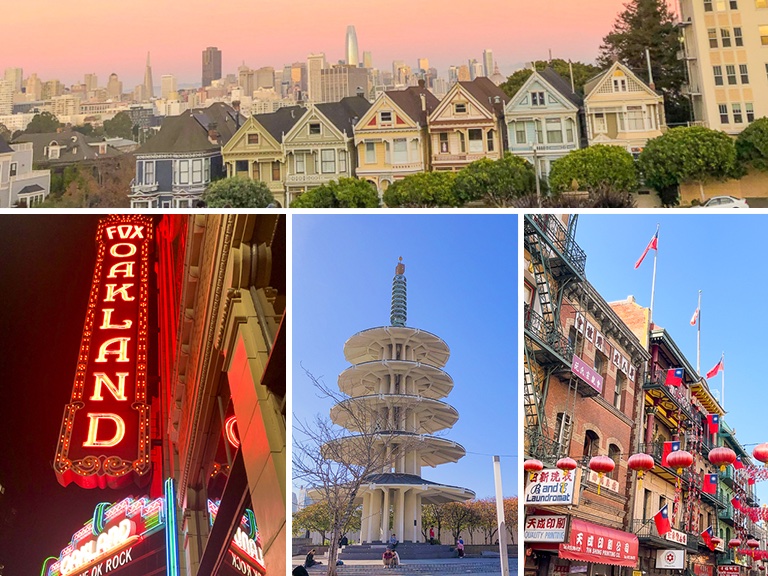 Make the Most of Your Clipper Card
There is so much to discover in the Bay Area that it can get a little overwhelming. I made a list (that is not comprehensive, since there is so much to do) and split it up into sections to inspire you to explore. From Oakland to San Jose, find your new adventure.
Make the most out of your Clipper Card by taking public transportation around the Bay, and use the benefits of your Cal 1 Card too for free or reduced admission to some activities.
East Bay Highlights
Around in Oakland — Take the 6 bus down to Oakland! Lake Merritt is a lagoon near downtown Oakland, and the oldest designated wildlife refuge in the U.S. with lots of parks to explore. Reinhardt Redwood Regional Park in and Lake Chabot east Oakland have great hiking trails, and the Morcom Rose Garden is also available if you'd rather walk instead of hike.
There's also a vintage movie theater, the Grand Lake Theater, with a great selection of food nearby so you can eat a good meal before you catch a movie. Oakland has many events and festivals throughout the year, so keep an eye out for the dates. There's also the Chabot Space & Science Center museum, which has a telescope you can use to stargaze.
Nearby Albany & Emeryville — More adventures await in these neighboring cities. The Albany Bulb, a former construction debris landfill that has become a place for outdoor sculptures and paintings, has beautiful pathways to walk by the water. Emeryville also has a marina with great Bay views and one of the closest movie theaters to campus (in the Bay Street shopping area). Also, Emeryville has a giant Ikea that's great to get lost in.
San Francisco Trips
Be a tourist! — Whether you're a native Californian or not, San Francisco is a huge city with a lot to explore. If you're not sure where to start, check out the famous tourist areas first! Explore the shops in Japantown and attend the annual Cherry Blossom Festival held every April. Have a sunset picnic at Alamo Square and see the Painted Ladies. Visit SF's Chinatown, the oldest Chinatown in North America. And of course, visit one of the 54 museums in the city and check when the free admission days are or if they take student discounts. You can get to SF on BART, by bus, or on the ferry!
Outside of the East Bay
Like I said before, make the most of your Clipper Card! BART can take you all the way to Richmond, Antioch, Pleasanton, and San Jose. If you want to go somewhere a little out of BART's reach, there's also the Amtrak train (and they offer a student discount) or Gig cars. Here are some places outside of the East Bay you can explore:
Muir Woods National Monument, north of San Francisco — a great place to see giant redwoods.
Sausalito, a city across from San Francisco — right on the water with views of SF and great food.
Sacramento, via the Amtrak train — there are great thrift shops and restaurants in Midtown, and of course, you can visit the state capitol.
Westfield Valley Fair Mall in San Jose — one of the largest malls in NorCal, so you can be sure that there are a lot of shops and restaurants to choose from.
If you have a last-minute flight cancellation like I did and need another airport to fly into, check out the San Jose airport! A free bus takes you to the SJ BART station from the airport.
I hope this inspired you to add a new destination to your bucket list! Living in the Bay Area means there's always something new to explore.
Melissa Mora-Gonzalez is a third-year at UC Berkeley majoring in English and minoring in Journalism.
Want More?