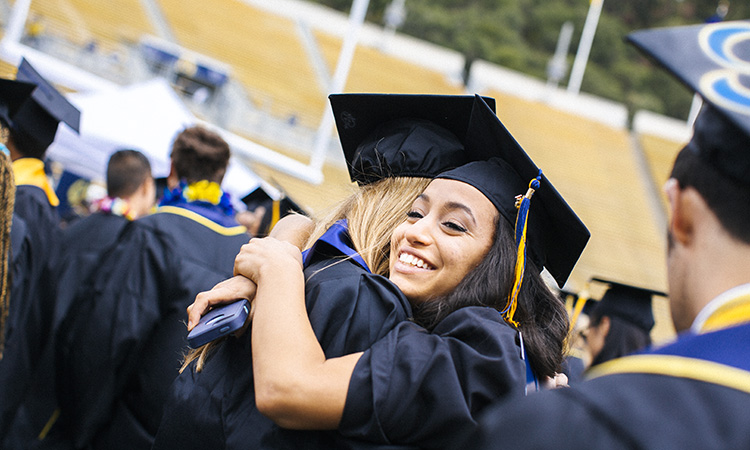 What All Students Can Learn from Our Seniors
As the school year is coming to a close, the Class of 2023 will soon be saying goodbye to Berkeley…but not before we share favorite memories and dispense some (unsolicited) advice to current and incoming students. We hope this helps all of you cherish your Berkeley experience as much as we do!
What makes Berkeley special to you?
Lucas: It's a place where brilliant people from around the world come to share their perspectives and insight on the world. I already miss many things about Berkeley: exchanging thoughts about readings with classmates, rushing the field with a packed Memorial Stadium for the Big Game, and the convenience of a walkable city. But what I miss the most is the nights when I stayed up talking about anything and everything with my housemates from all around the world. We discussed politics, philosophy, and our suppositions on human nature. We taught each other phrases in Italian, Portuguese, Spanish, German, French. It connected me to cultures, ideas, and traditions that I hadn't known before and provides so many places to find community.
Vanessa: There is a community for everyone here! I love my little niche clubs at Berkeley and it's great because my own friends have their own clubs as well.
Nicholas: Before I came to Berkeley, I always felt as though the things I would say to people were dumb and not worth speaking about because those around me were uninterested in what I had to say. I would question the legitimacy of political/legal frameworks and analyze media campaigns and when trying to discuss it, my friends would just throw it to the wind. That all changed when I got to Berkeley. I found a community that was interested in the same things as me and made me feel as though my words had value. Without Berkeley, I may have just stopped speaking about the topics most important to me, ergo, I owe my voice to Berkeley.
Samantha: So many different people from different backgrounds and walks of life are studying here, so you get to see so many new perspectives. I also felt like Berkeley has a lot of resources available for students which I always really appreciated.
Berkeley connected us to people of different cultures and backgrounds, as well as helping us find our community on campus as well. If you are looking to get more involved in the communities and clubs here in Berkeley, check out the CalLink website where you can find all registered clubs on campus.
What's one of your favorite memories at Berkeley?
Lucas: One of my favorite Berkeley memories was attending the men's water polo National Championship Game with three of my roommates. We collectively lost our minds along with the rest of a jam-packed Spieker Pool as Cal overcame a three-goal deficit heading into the final quarter of play.
Cal scored the title-winning goal with just under a minute to play…we screamed so hard we lost our voices, and Bears fans dove into the pool fully clothed in celebration right when the final whistle blew.
Vanessa: My absolute favorite memory is getting really close to my friends on my residence hall floor at Unit 3. There was one night when I was awoken in the middle of the night because of really loud "circus music." I later learned one of my friends was learning how to juggle, but could apparently only do so when circus music was playing. Seeing Cal win and maintain possession of the Axe was incredible as well.
Nicholas: One of my favorite memories at Berkeley was meeting my first roommate. We would stay up all night talking about physics and politics searching for the intersections between my major, Media Studies, and his major, Physics. Similarly our neighbors, also Berkeley students, would join us and bring their own unique insights that made for stimulating conversations. I remember feeling as if I reclaimed something I had lost for the past few years at community college and recognizing I was exactly where I was supposed to be.
Samantha: My favorite memory from Berkeley was definitely going to the Big Game Rally my freshman year with a group of friends. The energy at large sporting events and rallies like those are something that I always loved and looked forward to every semester. It was also right before the pandemic hit which I think made those moments harder to recreate afterward, which is why it holds a special place in my heart.
Whether staying up late with roommates or going to campus events, the memories you make her at UC Berkeley can last a lifetime!
What advice do you have for incoming students?
Lucas: Something I wish I knew when I started at Berkeley was the importance of being proactive in making friends in my classes. Most classes don't have activities where you interact directly with your classmates, so it's important to talk to those around you when you get the opportunity to do so. Joining group chats, joining study groups, and becoming friends with your classmates not only makes studying easier but also provides a space to ask questions about class material.
Vanessa: Don't be afraid to take things slow your first semester/year. You are moving to an entirely new location and it can be incredibly daunting! It's okay to only take so many units so you can get acquainted with Berkeley life.
Nicholas: The best advice I could give an incoming transfer student is to take your time and give yourself grace. Coming to a four-year from a community college, especially Berkeley, is a big difference. A quarter of the people you meet will be valedictorians of their high school; some have done immensely impressive things, and it can be overwhelming coming from underrepresented or low-income backgrounds. But what I urge you to come to realize is that your own unique experiences are just as valuable. Bringing your perspective, no matter what it is, to Berkeley, in turn, makes Berkeley a better and more representative place. You belong here — stand firm in that.
Samantha: I would say to go out and explore Berkeley more. I really felt like I didn't explore campus and neighboring cities as much as I should have when I was a freshman and sophomore because I felt the need to focus on studying instead. So, as a senior I feel like I still have a lot to explore around the Berkeley area.
As a student, it's important to not give into imposter syndrome or overload yourself with too many classes when you are just starting your time at UC Berkeley.
What is your advice to a student who may want to find out more about the community you are a part of?
Lucas: I would advise anybody who is looking for community among the Latin-American community to join one of the numerous cultural clubs that create space for us. Berkeley was the first place I have ever lived that was not a majority Latino community, and I had to adjust to the change. Unfortunately, I did not join one of these clubs, which made finding community with other Latinos difficult. My girlfriend, however, did join the cultural club for Filipino students and was able to enjoy events with Filipino food, make Filipino friends, and access mentorship. PASS gave her a much-needed taste of home.
Vanessa: I identify as Chicana and one thing that really made me feel like I belonged was choosing Chicano Studies as my minor and meeting so many fellow Latinx students in those classes. I am still close to those friends to this day!
Nicholas: There are two parts to this question. Berkeley has a bustling LGBTQIA+ community, and everybody I've met here has been accepting, and has even embraced, my identity as a nonbinary queer person.
Our representation of diversity within LGBTQIA+ identities at Berkeley truly does ring true when you're on campus. In regards to the Black community, it is no secret that our numbers are low at this institution. This does not mean that there is no community; in fact, I argue that it makes a more tight-knit and bustling community. My advice to somebody identifying as Black would be to determine how important being surrounded by people of your culture is to you, and then joining clubs, affinity groups, and research groups as needed. There are plenty of spaces on campus where you will feel represented, celebrated, and loved.
Congratulations to the Class of 2023! As seniors, they have many different perspectives and moments during their time at Cal, but they could all agree on one thing: Berkeley helped shape who they are today during these past four years. For those current students, make sure to make the most out of your time here.
Special thanks to Lucas, Vanessa, and Nicholas for providing their advice and opening up about their experiences for this article.
Samantha Herrera is a senior at UC Berkeley majoring in English and minoring in Journalism and Creative Writing.

Want More?