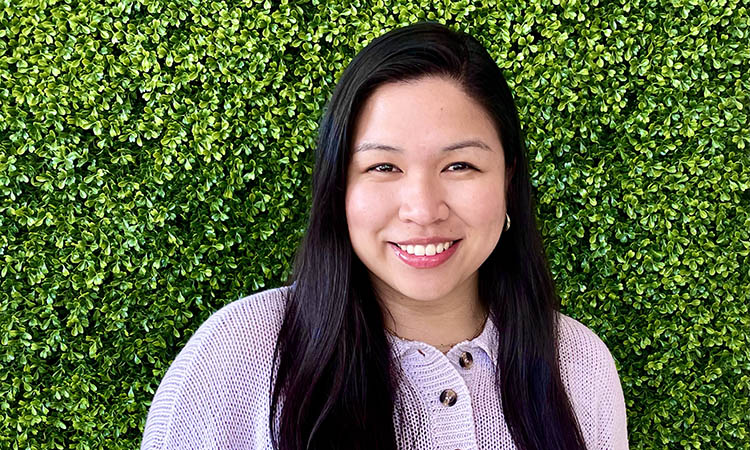 Meet Abigail Guadarrama
Ever wonder how an alum is doing in the real world? We hope to periodically share alum experiences — and how their time at Berkeley, including resources and advice — after graduation. 
Here we're featuring Cal alumnus Abigail Guadarrama, her new job at Lyft in San Francisco, and how Cal prepared her for the position. You can learn more about Abigail's typical day from her Berkeley Life Instagram takeover, recorded in YouTube.
Communications Specialist at Lyft
I'm currently a Communications Specialist on the Consumer Tech Comms team at Lyft.
To give you an idea of what my team and I do: the Communications team at Lyft essentially functions as the press and publicity team. We support the tactics and execution of external communications, announcements and media relations for Lyft products and partnerships across all our lines of business.
In my role specifically, I'm focused on delivering high-impact campaigns, media and press engagement, and ongoing brand and consumer storytelling to further Lyft's mission, vision and values. In many ways, my role allows me to exercise my creative thinking and writing skills in unconventional ways as we are constantly crafting the best stories to pitch to press that highlight Lyft's core mission—to improve people's lives with the world's best transportation.
While having that creative freedom, my day-to-day requires a lot of organization, project management, adaptability, and critical thinking. I am responsible for making sure that campaigns meet deadlines, crafting content for press releases, blog posts and FAQs, conducting ongoing competitive research, staying abreast of the latest news and cultural trends, collaborating closely with cross-functional stakeholders and leaders across teams, and engaging and building relationships with reporters and external partners. 
How UC Berkeley Helped With the Job Search
Although I did not get direct help in getting my current job at Lyft through a campus resource, as a student at Cal, I found campus resources to be very helpful and instrumental in getting internships and job opportunities that I feel have been crucial building blocks of experience for my current role today.
Through calendar and email reminders via Handshake and by occasionally seeing posters posted around campus or being flagged by someone on Sproul, I attended several career fairs, visited the Career Center regularly, and attended many networking events that were of interest to me.
It became even more useful and fun to explore career events that were hosted outside of my city. One event I specifically remember during spring break was a Career Center Connections Treks event that allowed Cal students to network with Cal Alums based in LA and working for NBCUniversal Media. Getting backstage access and a behind the scenes tour of Universal Studios really immersed me into what work life could look like at this company. I truly felt that through these events I was able to gain a better professional network and also practice the skills necessary when networking or interviewing.
Campus Clubs, Classes, and Theater: Oh, My!
While I had countless courses and classes that I could spend days raving about within both the PoliSci and Media Studies departments (shoutout to the War and War in the Middle East class series with Prof. Ron Hassner, some of THE best lectures, no kidding), I found that the best way to make connections and bring me out of my comfort zone was by exploring and joining the clubs at UC Berkeley.
Clubs often made a big school feel just that much smaller. With the plethora of clubs to choose from, I tried to diversify the types of clubs/activities I joined, and to this day, I am so thankful to each club/program for all the experiences I was able to have.
As someone who had the chance to study abroad in London my first semester at Cal as a part of the Global Edge program for freshmen, I was able to not only find my best friends but also deepen my love of travel and broaden the bounds of the classroom while studying in a new country. Upon my return to Cal in the spring of freshman year, this program allowed me to be a Global Edge Student Ambassador where I continued to be an advocate for study abroad and encouraged other incoming freshmen to take on this life-changing experience.
You'd think that nothing could top studying in London freshman year, and maybe it's true that nothing did, but I eventually found several more communities at Cal that truly challenged and invigorated me to explore the field I'm in now.
By sophomore year, I joined The Berkeley Forum, a student-run organization dedicated to providing the Berkeley community with a nonpartisan, accessible forum for the presentation and debate of a wide range of ideas. As an organization that provides free talks, debates, and panels to the greater Berkeley community on a broad variety of topics in STEM, the arts, culture, politics, etc., I felt that in some way, in my five semesters of being in the club, I had made a difference at Cal. I actively managed events, moderated talks, and promoted an engaging platform of discourse on the Cal campus. I have to thank this org for allowing me to grow my passion for thought leadership, telling stories, and the exchange of ideas.
Even before Cal, I had always been an avid lover of theater and entertainment. Active in student-led musicals and plays back in high school, I took the chance to continue that passion by auditioning for the Spring play for Barestage Productions my freshman year. A gender-bent, modern take on William Shakespeare's Taming of the Shrew allowed me to express my love for theater and the stage at a university level. I later learned that even beyond being on stage, I had grown curious about what happens behind the scenes.
At an even broader level, I was curious about the business side of entertainment and how people make a career working for legendary companies and studios like Netflix, Pixar, Warner Bros., NBCUniversal, and Spotify, just to name a few. And so, during my last year as a senior at Cal, I took the leap of faith to recruit for one last club that focused on this career path, Business Careers in Entertainment (BCEC).
Despite the awkwardness of feeling like it was way past my due date to start anything new, let alone recruit for a whole new club as a senior, I was fortunate to get the chance to join the film committee and spend a whole semester with amazing, creative people who knew that a career in the entertainment industry wasn't actually far from our grasp. From hosting networking events with Cal alumni to filming a student-produced commercial for Dang, a plant-based whole foods company, BCEC allowed me to see that a career in brand, PR, and marketing for entertainment- or tech-focused companies was a path I wanted to pursue.
Be Authentic and Manifest What You Want
As someone who isn't even five years past graduation from Cal, I couldn't possibly impart half of the career wisdom that I know many more experienced Cal alums could share. But I'll try to share one of the crucial things I've learned on this journey so far. After entering a post-grad life largely characterized by the challenges of the pandemic, having experienced being laid off at my first ever full-time job, and feeling that constant anxiety and doubt that I'm sure many of us have felt for quite a while, there is power in being your authentic self and manifesting what you want in your career. I think those two things have carried me forward, even when faced with some of the hardest challenges in the workforce.
Something you have to remember after college is the bittersweet reality that you're truly tasked with making decisions that are best for you and only you, often without the influences or constraints that school life gave you. While on the one hand, this feels freeing, it can also be pretty daunting and it may feel like you can easily succumb to aimlessness.
This is why it's so important to use the time in college and even post-grad to find what it is that will allow you to be your authentic self and to be courageous to take that leap even at the risk of failing.
This constantly carries over even once you get your first job, because staying true to what you want and who you are will then push you to the next best opportunity for growth. Not to be all preachy, but if you use that as your true north, then everything else in your journey will just follow.
Enjoy Your Time at Cal
As cliche as it sounds, live and enjoy the moment. There's a ton that I miss about college and school life in general. Everyone says it all goes by so fast, and in all honesty, it does. There won't ever be another time in life where you're only a 4.6-mile radius away from all your friends or one hike up the hill from getting a coffee together at the best campus café (Yali's is superior, and no one can say otherwise).
Post-grad life will be so rad too, and you'll make so many new memories while adulting with your shiny new job or new campus for grad school.
But remember that you won't ever get this time back.
Enjoy this time at Cal to the fullest and I promise you won't regret it. My line is always open, so feel free to reach out to me if you ever want more career/life advice or just to chat 🙂 
Connect with Abby
If you'd like to connect with Abby, be sure to visit her LinkedIn page. And to learn more about career opportunities at Lyft, check out the Lyft Careers page for more information. 
Melissa Mora-Gonzalez is a rising second-year student at UC Berkeley majoring in English.