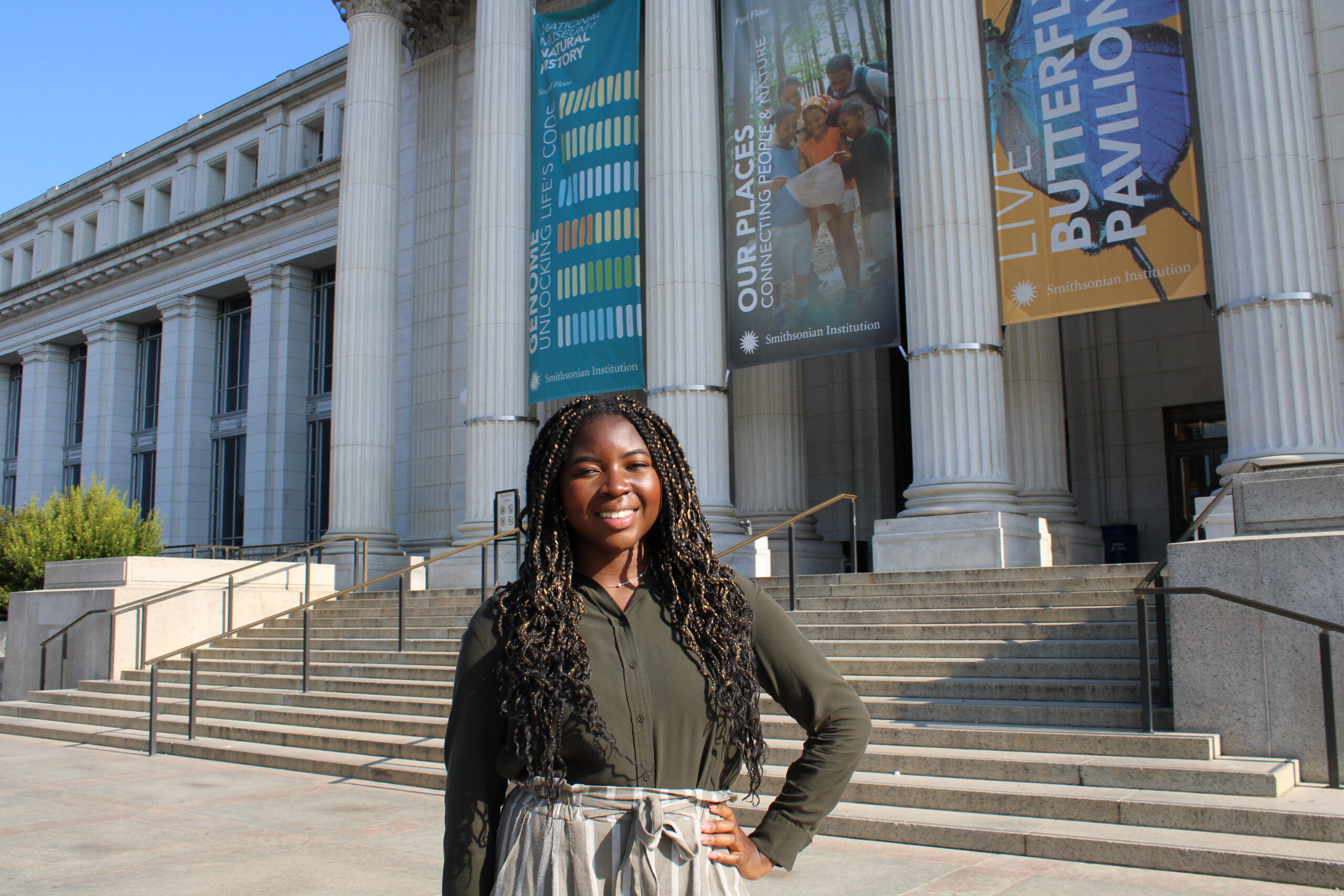 A Summer in Washington DC
You might have seen that a few UC Berkeley Golden Bears spent their summer participating in programs or internships at the capital! I met with Daniella, Class of 2024, who spent her summer in Washington DC interning at the Smithsonian. To learn more about her internship, and how you can get involved in a similar program, read on to hear some of Daniella's tips and tricks.
How did you find out about this internship?
In spring 2021, I developed a newfound interest in museum spaces and museum education, so I applied to some internships under the Getty Marrow internship program for cultural, art, and historical organizations and museums in Los Angeles. It was during that first museum internship search and discovery process when I saw that the Smithsonian had a multitude of internship opportunities at all of their different museums. I made sure to keep it in mind, because I knew I wanted to go DC in the summer of 2022 as part of the Cal in the Capital program. (Note: The Cal in the Capital application deadline for summer 2023 is October 16.)
You can find internships and fellowships on the Smithsonian website. It regularly updates and lists all of the opportunities for all of the different offices, museums, and centers.
Can you tell us more about the exhibit you interned at — Our Places: Connecting People and Nature?
Our Places is all about people's connections to nature. The exhibit explores stories from scientists, conservationists, and community leaders whose everyday work is related to exploring and conserving our environment, as well as bringing people out into nature. The exhibit space is separated into three parts: living on land, living along the water, and living close together. To me, the exhibit is really a place where you can reflect on your memories and experiences with nature, whilst being inspired by new ways you can engage with nature.
The exhibit space is also super interactive and what was cool was that we could change the activities whenever based on how people have been interacting with them. We would watch people do one of the activities and notice what they were drawn towards, what they weren't, and then the next day we could change how the activity was set up, which I think is really cool.
What drew you to this internship, and what was your role?
I was drawn to this internship because I love storytelling and hearing about people's life experiences. I've explored this through creating a podcast when I was 15 called Life Told By a Stranger, writing for The Daily Californian, and hosting a radio show on campus called The Graduates. I thought that interning for the National Museum of Natural History's office of exhibits would be a new way for me to tell a story. This internship was the perfect mesh of storytelling, education, and public engagement. I also love informal education spaces for the public, which I first got interested in when I volunteered with the LA public library throughout high school, so this internship was the perfect mesh of storytelling and education.
In my role, I got to do a little bit of everything. I got to help design and facilitate activities in the exhibit space; I got to do some audience research and observations; I got to provide feedback on exhibit elements.
My favorite part was getting to sit in on a storyteller interview and writing the story panel for an ocean archaeologist who will be featured in the next rotation of the exhibit! That was a really cool experience because she's doing really meaningful work; she's part of an organization called Diving with a Purpose, where she's taking part in a project exploring the shipwrecks of slave ships.
Who did you meet through your internship?
During my internship, there were six other interns for the exhibit. I had such a great time working with them, and I'm grateful that there was a cohort of us all from different parts of the country, with one being from out of the country, too.
I got to meet experts from all sorts of fields like paleontology, meteorology, entomology, osteology, and more. An expert entomologist's work was featured in the exhibit and ABC 7 did a story on it, which was really cool. It was also interesting to work with the people on the exhibit's team who have different roles: there's exhibit writers, media producers, designers, and educators. It opened my eyes to all the work that goes into creating an exhibit.
I also had such a fun time in DC as part of the Cal in the Capital program! I highly recommend Cal in the Capital or UCDC. It was a great experience to live in a different city with other Berkeley and UC students. It was fun to hear about their internship experiences, too. Living in the UC center made everything feel familiar in a way.
Any advice for interested students? What if you aren't majoring in a STEM related field?
I want people to know that applying to internships can be stressful and time consuming — I know I applied to at least 30. My biggest piece of advice is if there are organizations you think you'd like to intern for, check to see their application timeline as early as possible so you can plan ahead.
And if you already missed the deadline, just note it for next year. Keeping a list of opportunities, whether it's a Google Doc or on your phone, definitely helps you out. There's so many opportunities that you hear about throughout the year, or ones that you randomly stumble upon online, so having them all in one place makes applying easier. When I started the internship application process, I went to the Career Center to get my resume looked over, which was really helpful.
In high school I volunteered and worked at my local library, helping the children's librarian with STEAM (science, technology, engineering, arts, and mathematics education) programs for the kids. Here in Berkeley, I worked at the Lawrence Hall of Science for a brief amount of time, doing more fun science-related activities with kids. Even though I am not studying anything science related on the college level, I really do love those informal science learning experiences for children.
Going into my internship, I didn't feel completely like an outsider because I did have experience in related fields I mentioned earlier. I was a little concerned that I would feel out of place, but I actually felt perfectly at home. I think because the exhibit's topic was so relatable to everyone, because everyone has experiences with nature, I felt really connected to it. People who are in the humanities or social sciences, there are ways that we can connect and work in the STEM world and still feel at home, too.
Whether you're doing tech, public health, history, or English — I feel like all these things overlap in our everyday lives and there are roles like this internship where you can combine storytelling and more STEM-related things.
Your Turn!
As Daniella said, if you spot any opportunities or internships throughout the year, make sure to write them down somewhere, regardless of whether or not the application deadline has passed! And use the resources that are available to you: seek out the Career Center and learn how they can help with your internship process, learn how to find the right internship for you, attend some networking events, and sign up for newsletters.
The Cal in the Capital application deadline for summer 2023 is coming up fast on October 16. If you miss it or need more time to think, remember Daniella's advice and write it down, so you can prepare for your application throughout the year.
Melissa Mora-Gonzalez is a second-year student at UC Berkeley majoring in English. Feature image by Anahi Araiza, UC Berkeley Class of 2025.