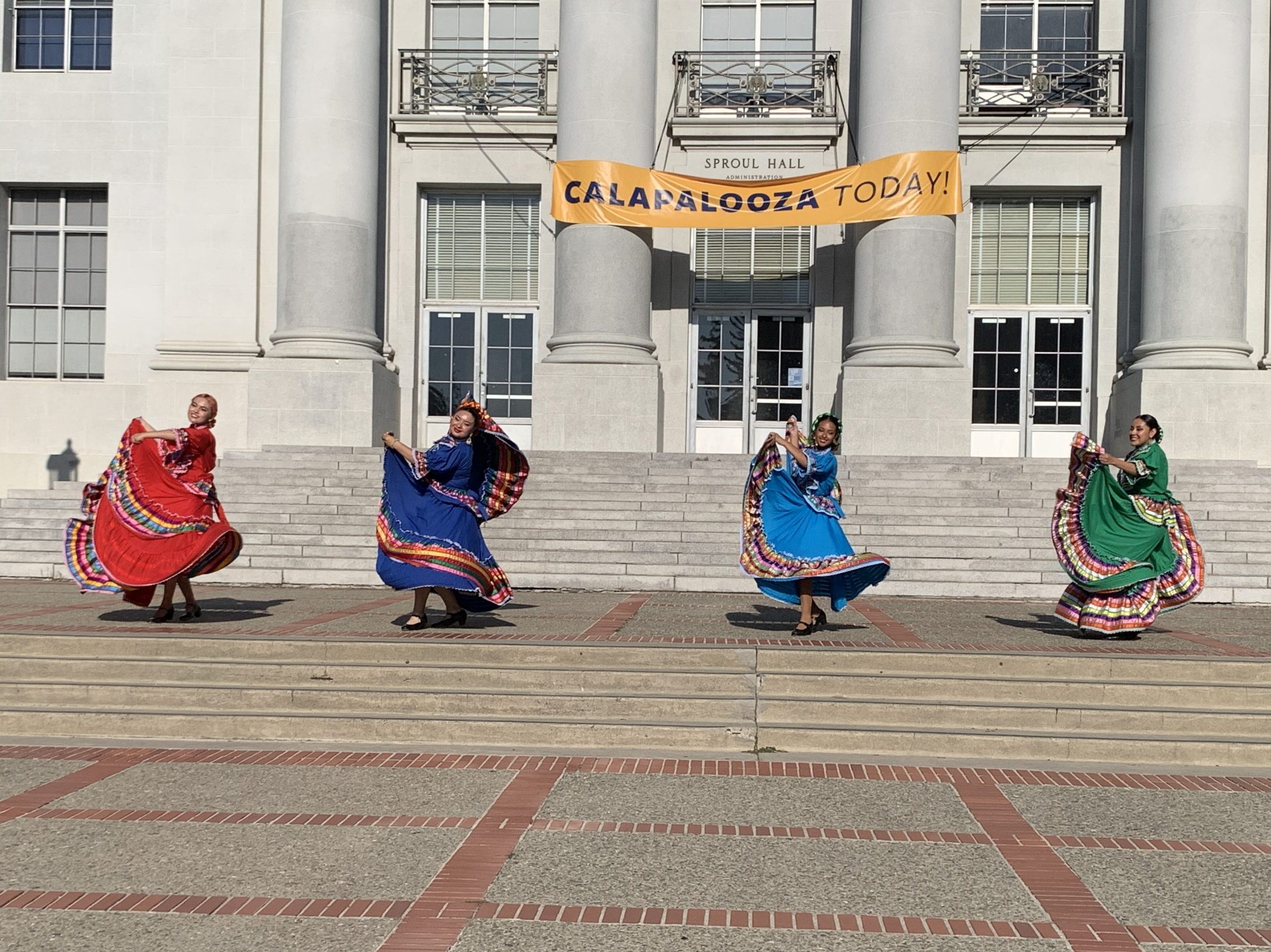 A Wide Variety of Extracurriculars
Every year, UC Berkeley hosts its biannual club fair (fall and spring) on Sproul plaza, dubbed "Calapalooza." The fair can see over 600 clubs promote their causes and activities. Their focuses are varied: leadership, social justice, sports, culture-based, fun, academic. The following are a small sampling of the clubs that were in attendance, highlighting the opportunities that UC Berkeley affords students. 
Cultural Clubs
Cultural clubs are among the most prevalent and accessible clubs on campus. They help students from similar cultures, backgrounds, and upbringings find community with one another. UC Berkeley is home to over 100 clubs that fall under this category. These clubs are also generally open to anyone who is interested in learning more about and participating in the culture. I was able to interview and catch up with two such clubs at Calapalooza: UC Berkeley Indian Students Association (ISA) and the Latin American Leadership Society (LLS).
The Indian Students Association helps plan and host the biggest South Asian cultural events every year, including the annual celebrations of Holi, Diwali, and Raas Garba. Along with these cornerstone events, they facilitate internal club bonding in the form of socials, mixers, and retreats. Their mission, according to Senior Advisor Nishita Bagaria, is to "host South Asian discussions" and promote "South Asian voices that typically aren't heard." ISA accomplishes this through hosting a South Asian Art Night to uplift South Asian student artists on campus. In Bagaria's words, anyone who wants "a community to join, or if you're looking for a home away from home, you join ISA."
The Latin American Leadership Society, in the words of Vice President Andrea Jimenez, serves "students who want to find a Latin-American or Spanish-speaking community on campus." The group works to help its members develop professional skills: helping them create better resumes, promoting research they've done on Latin America, allowing them to run the club's social media in a professional capacity, empowering them to design club merchandise, and even fundraising for charities in Puerto Rico. Truly, LLS provides the chance to "advocate for communities that typically aren't heard of at Berkeley."
Academic Clubs
In addition to celebrating the community that can be found through culture, Berkeley clubs can help students find community through their academic pursuits. Many groups within specific academic fields find it helpful to bond with those who have similar experiences in the classroom. That's why Berkeley is home to over 100 clubs under this category. I interviewed representatives of two such clubs at the fair: Underground Scholars Initiative (USI) and Association of Women in EE & CS (AWE).
Underground Scholars Initiative is a student-led organization that supports formerly-incarcerated and system-impacted students at UC Berkeley. They accomplish this goal by participating in a policy fellowship, where they work on reducing the harm and dehumanization caused by the prison-industrial complex. All of their efforts strive for their four pillars of success: advocacy, retention, recruitment, and wellness. The club recently received funding that will allow it to expand and create branches on all UC campuses and many community colleges across the state. This will allow the club to continue to create what assistant director Daniela Medina calls an "academic support system and a sense of community" for those within USI.
The Association of Women in EE & CS is a club for anyone that "identifies as either a woman or as nonbinary in the tech space," according to Internal Vice President Jackie Roche. AWE hosts social events, provides mentorships, and organizes technical events to "support underrepresented groups in the tech industry, specifically women. It's a really great space for someone who might want to find a community in the EECS or CS space."
Athletic Clubs
Maybe cultural and academic clubs aren't quite your speed, but you're still interested in being involved on campus. Athletic clubs might be the fit for you! Many of them require no prior experience and offer fun ways to stay in shape. UC Berkeley is home to over 50 athletic clubs: bowling, water polo, soccer, and many more! I met up with one athletic club when checking out the Calapalooza tables: Berkeley Waterski.
Berkeley Water Ski and Wakeboard is the first water ski team at UC Berkeley in about 30 years. As a lifelong competitive water skier, co-founder Alex Topp says he "wanted to create a place where people could learn and compete." He describes the experience as ideal for anyone looking to have fun on the water.
Finding the Right Fit
If none of these clubs were for you, don't worry. There are tons of clubs to choose from on campus; CalLink even provides a guide for you to filter by exactly the kind of club you're looking for. Also check out Berkeley Life articles on how to start getting involved in a student club and one student's experience about finding and applying to student orgs. If you don't find anything that suits your specific interests, you can also start your own club through the LEAD Center. Whether you're looking for greek life, spiritual connections, student government, or student publications, Cal has a club for you. Clubs are one of the many ways to find community, friends, professional development, and support throughout your time in Berkeley!
Find more Berkeley Life stories about student clubs and organizations. And if you are looking for more clubs that are featured in Calapalooza, check out this post from our Instagram!
Lucas Yen is a senior at UC Berkeley majoring in Political Economy. Feature photo shows the Calapalooza performance by club members from Ballet Folklorico Reflejos del Sol. All photos by Student Affairs Communications.