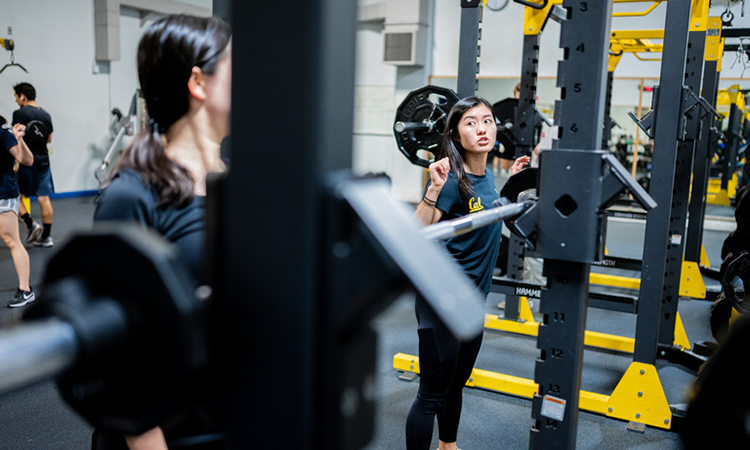 Many Roads to Fitness and Wellness
Fitness is not just relegated to free weights and cardio machines. Rec Sports offers a variety of services to not only enrich a traditional fitness experience (like free weights and cardio equipment), but also extend beyond those avenues. Below are some ways that Rec Sports helps meet the diverse fitness needs of the UC Berkeley community, including Inclusive Recreation programs for members with disabilities.
Convenient health and fitness services
Though Rec Sports does charge for some services, the following is a list of some of its lesser-known free services:
Group Exercise Class. Rec Sports runs a group exercise program that offers over 50 fitness classes led by certified instructors, ranging from Zumba to various types of yoga. Offering both Zoom and in-person options, the program has several classes a week that run free of charge to the public.
Live Crowd Meter. For the times where hitting the weight room is the right option, it helps to know just how crowded the weight room is. Luckily, Rec Sports provides a live tracker of the weight room on their website, giving users an idea of how easy it will be to access weights and machines.
Jobs, Jobs, Jobs. Though not precisely a service, hiring happens year-round at Rec Sports, offering a great opportunity for some work experience or just some extra cash. This last semester they hired lifeguards, game managers for intramural sports, fitness staff, and other positions. With flexible schedules—and many of the jobs not requiring prior experience— Rec Sports could be that great campus job you're looking for.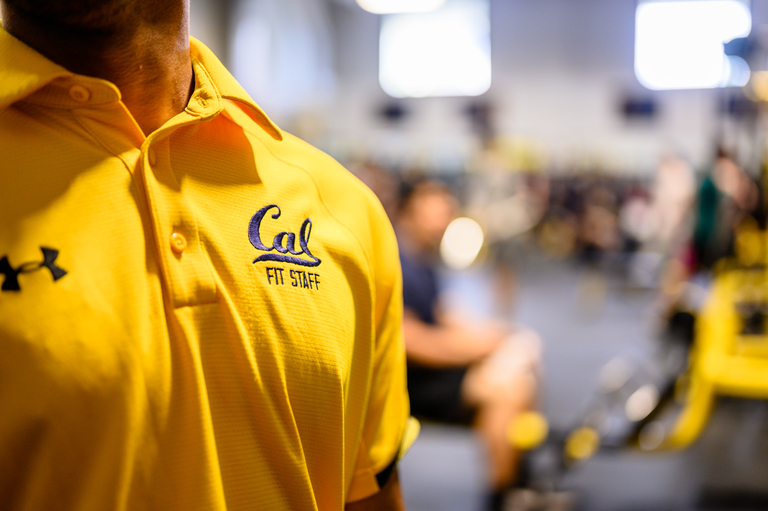 Invest in premium fitness adventures
Free services are great, but a little bit of extra spending opens doors to some of the coolest services offered by Rec Sports.
Learn Something New. Rec Sports offers lessons in swimming and various martial arts. Taking advantage of either one of these offers is a great way to get into or stay in shape! Plus, many of these classes meet students at their level by offering beginner, intermediate, and advanced courses.
Go on an Adventure! Cal Adventures offers both group and self-guided outdoor adventures. These include kayaking, sailing, and stand-up paddleboarding. They can also arrange group activities (like ropes course) for student clubs and organizations.
Personal Training. For those who want more individualized attention, Rec Sports employs certified personal trainers who help clients meet specific needs and goals. These sessions are often supplemented by fitness assessments or even the BodPod, a machine that meets the "gold standard" for body composition testing. These allow personal trainers to come up with a plan that is specifically tailored to the individual instead of a generic plan.
Adult First Aid, CPR, & AED. Earn a digital certificate for Adult First Aid/CPR/AED or Adult and Pediatric First Aid, CPR & AED valid for two years.Classes include CPR with AED, body composition testing and fitness assessments, and more.

More information
I hope you discovered a service that supports your personal wellness goals or passions. But remember, this list is just the tip of the iceberg. If you're interested in more, you can explore additional Fitness and Wellness programs from Rec Sports.
Lucas Yen is a second-year student at UC Berkeley majoring in Political Economy.