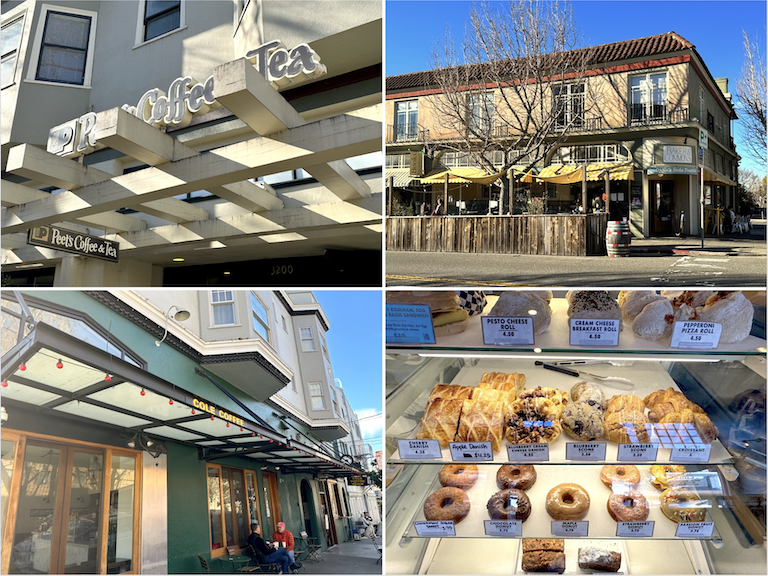 Find new study spots on this beautiful stretch
When I first moved to Berkeley, it wasn't long until someone recommended that I check out Elmwood. After my first time strolling through the neighborhood/retail hub south of campus along College Avenue, I've been going weekly to study, shop, and catch up with friends. Here are some top spots to crack open your books and get to work.
Baker & Commons
This beautiful corner space was first opened in 1921 as a soda fountain. Since being converted into a cafe today (read about Baker & Commons' history), it has served as a gathering spot for casual conversation and quality pastries. It's common to find at least one customer typing away at their computer or reading through a book (it's conveniently right next to Mrs. Dalloway's!). Bring your phone charger and a personal network hotspot, as they don't offer Wi-Fi.
Souvenir Coffee Co.
The main customer base here are students. The tables are filled with computers, textbooks, and airpod cases. Good coffee, nice food selection, and free Wi-Fi. Another plus is that it's the closest cafe to campus.
Timeless Coffee
Great espresso drinks paired with top-notch vegan pastries, this cozy spot is a quality pick for a busy day. This is another place without Wi-Fi, so be prepared for providing your own service.
Peet's and Philz
Your classic Bay Area coffee shops are conveniently across the street from each other. Wi-Fi and all your favorite drinks are available in these locations. Typically packed with students, the study vibes are in full effect. I recommend trying the cold brew oat milk latte from Peet's and the iced mint mojito from Philz.
Cole Coffee
You'll find this place packed with locals every morning, a good sign that their food and drinks are consistently worth it. The lounge chairs and cozy ambiance provides a perfect place to relax and get in the zone.
Ain't Normal Coffee
A very on-brand theme for Berkeley, Ain't Normal Cafe has plenty of drink and pastry options along with Wi-Fi. Only downside is the limited seating, but the place is creatively designed and worth checking out.
Mudrakers Cafe
With an extensive food menu along with your traditional drink options, this cafe is laid-back and offers free Wi-Fi. Grab a sandwich or salad to fuel your study session.
Happy studying in Elmwood!
With a coffee in hand and the right environment, studying doesn't have to feel like the end of the world. Explore each location with this map of Elmwood study spots and change up your scenery. Reinvigorate your focus by treating yourself throughout all of your hard work.
Preslee Vanlandingham is a junior at UC Berkeley majoring in English. Photos by Preslee Vanlandingham.