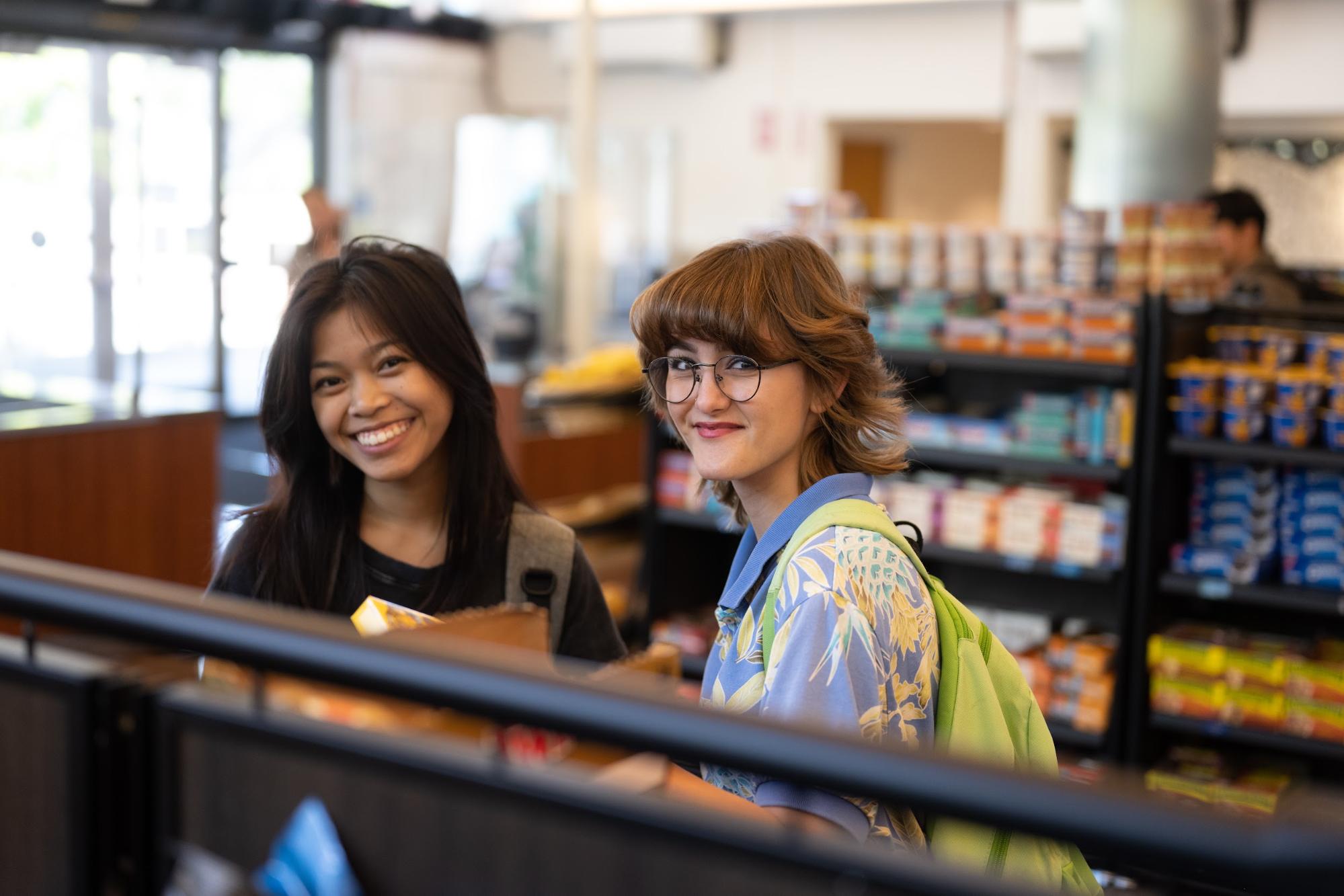 Accessible from Anywhere
If you're feeling hungry on campus, don't worry! There is always a café that's just a ten-minute walk away. UC Berkeley's campus cafes offer everything: soups, salads, hot-pressed sandwiches, lattes, burritos, banh mis, and so much more. Read on to find which cafes meet your palate!
Northside Cafes
Yali's Qualcomm Café is a great place to get some work done given its plentiful indoor and sunny outdoor seating. Located right outside Sutardja Dai Hall, Yali's serves coffees, juices, and smoothies to perfectly complement a wide array of pastries. If those aren't your style, they also sell sandwiches, soups, salads, and bagels galore. It's the ideal spot for the early risers and the brunch getters as they open at 8 a.m. and close by 3 p.m., Monday through Friday.
V & A Café can be found next to Soda Hall and Etcheverry Hall and serves breakfast, lunch, and dinner. Open from 7 a.m. to 7 p.m., Monday through Friday, V & A sells pastries, paninis, pasta, and salads. Many of their dishes even include vegetarian options.
East Campus Cafés
If you're heading toward Haas or studying in the Environmental Design Library, the cafés on the east end of campus may be perfect for a quick bite.
Café Think is located in Chou Hall, vegetarian friendly, and full of fresh, high-quality food. This is the perfect option if you're nearby from 8 a.m. to 3 p.m., Monday through Thursday or 8 a.m. to 2 p.m. on Fridays.
Caffè Strada is one of the only campus cafe options that is open seven days a week and, arguably, the most aesthetically pleasing of them all. With sunny outdoor seating and greenery to boot, this is the ideal spot for a latte, sandwich, or pastry. Stop by if you're headed to Berkeley's Law School or the Anthropology Library.
Central Campus Cafés
Maybe you have class in Dwinelle or Wheeler, or perhaps you're simply walking through Sproul. If that's you, some of the cafés in the center of campus might be the right pick.
Flex Dollar Friendly:
Golden Bear Café (GBC) serves coffees, burritos, and endless snacks while conveniently located in the center of Sproul Plaza. Open every day except Sundays, GBC accepts both meal swipes and flex dollars for its tasty breakfast, lunch, and dinner options.
Ladle & Leaf is one of campus' healthiest options thanks to its menu of various soups and salads. Located inside the MLK Student Union, it is my go-to during Berkeley's cold, rainy days.
Uno Express, on the other hand, is for when you want to indulge yourself. Also located in the MLK Student Union, Uno Express serves hand-tossed and deep-dish pizzas, the perfect reward for a long day of studying.
Other Options:
Goldie's is the Student Union's classic café option, serving coffee and snacks to help get your weekday started. If a caffeine kick is what you need, stop by here anytime between 8 a.m. and 2 p.m.
Free Speech Movement Café is located inside Moffitt Library and, much like Yali's, it serves hot sandwiches, pastries, teas, coffees, and more while offering both indoor and outdoor seating. Open every day from morning until as late as 10 p.m., it is the ideal spot for a quick break after grueling Moffitt study sessions.
Learn More / Off-Campus Options
This concludes our list of on-campus café options! Next time you find yourself hungry on campus, look back at this list to find the right option for you. Stay tuned for a list of the places where you can use meal swipes or flex dollars off campus!
Lucas Yen is a recent graduate of UC Berkeley majoring in Political Economy.