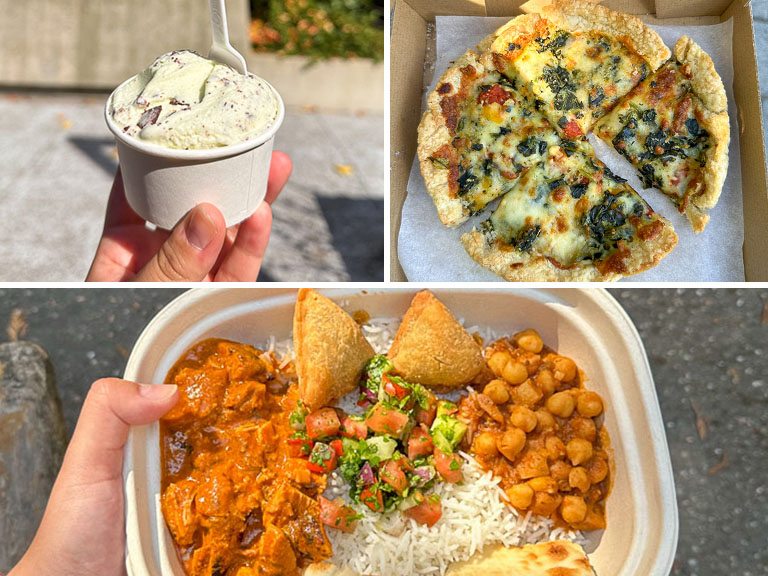 Berkeley Dining's Eateries in MLK Student Union
Did you know the MLK Jr. Student Union building has food locations now? Located on the first floor next to the Game Zone, the four eateries are a convenient way to grab a meal or snack in between classes without having to leave campus. You can use your flex dollars and meal swipes at all four of the eateries, and they all offer vegan or vegetarian options. You can check their locations and menus on the Berkeley Dining website. I was lucky enough to visit all four, and also learn about the new GrubHub Flex Dollars program, so read on to learn more about my experience!
Monsoon Kitchens
The first eatery I visited was Monsoon Kitchens, which serves Indian cuisine. The food was flavorful and neatly arranged (the Berkeley Dining staff member was careful with everyone's plate presentation and they did not disappoint). I'd never had cucumber pico de gallo before, but now that I have I will definitely be recreating it. The samosas were perfectly crunchy and soft all at the same time. There were a lot of different flavors and textures in one bowl, but they all complimented each other! Monsoon Kitchens also offers Samosa Chaats, a street food snack.
UNO Express
I went to UNO Express next, which serves ready-to-eat personal pizzas in small boxes. I got the deep dish spinach and feta pizza; it was four slices, perfect to share with a friend like I ended up doing. Feta cheese can sometimes taste a little strong but it tasted perfect in this pizza.
Ladle & Leaf
Ladle & Leaf serves fresh soups, salads, and sandwiches. The chicken noodle soup is the Berkeley Dining staple I used to eat a lot as a first year, so I had to order it. It was very warm and tasty. The little artisan bread was so fluffy and tasted freshly baked, and the sandwich bread too. You can get half a sandwich with soup or a bowl of grains or salad.
Almare Gelato
One of my favorite stops (and the only dessert location) was Almare Gelato. All flavors come in 4-ounce cups (2 scoops), are perfectly refreshing, and make a great dessert or snack. They also offer two vegan options (strawberry and mango sorbet). I got mint chocolate gelato! It wasn't too minty or too sweet — a great balance between the two flavors — and it came with a tiny spoon, which I just saw as an added bonus.
Using Flex Dollars for GrubHub
Did you know you can use your flex dollars on GrubHub? You can use your flex dollars for pickup or delivery at any GrubHub location, so it doesn't matter if you're in Berkeley or traveling back home. And it's so easy to use! Follow the steps outlined on the Berkeley Dining website and you're all set. And when you add your campus card to your GrubHub account, you automatically get a free GrubHub+ Student membership.
Explore what Berkeley Dining has to offer!
Whether you have an on-campus meal plan or an off-campus meal plan, I hope this blog post encourages you to explore all that Berkeley Dining has to offer. The eateries get busy around the end of lunchtime classes (12 and 2) and also at around 3:30 p.m. on Tuesdays and Thursdays, so avoid these times if you're in a rush. Special thank you to the Berkeley Dining staff who made my visits possible and enjoyable!
Melissa Mora-Gonzalez is a third year at UC Berkeley majoring in English and minoring in Conservation and Resource Studies
Want More?