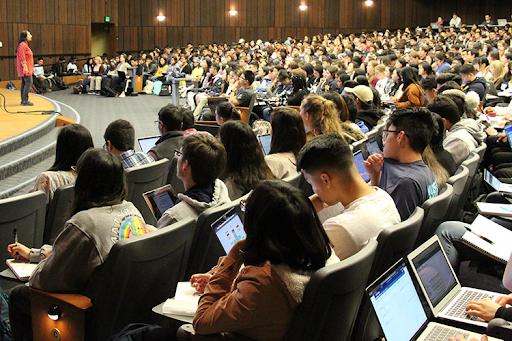 Follow One Student's Academic Journey
Choosing my major and minors was an adventure with many twists and turns. Currently, I am a rising fourth-year majoring in cognitive science and minoring in creative writing and data science. Arriving at that sentence was not as straightforward as saying it — I actually got into Berkeley as an environmental sciences major.
The summer before I began my first year I realized I did not want to pursue environmental sciences as a degree (more on that below). I felt uneasy during that time because all of a sudden I did not have a known direction to advance toward. I started considering at least seven other majors and eventually decided on cognitive science. As freshman year went on, I added minors in creative writing and data science. Since then I have loved what I learn and do because they are a reflection of my interests, values, and strengths. 
If you are still deciding what to study, here are some considerations and tips that were really helpful for me. (My most important and insightful tip is at the bottom.) While it may be uncomfortable to be uncertain in this aspect, it is not uncommon; remember, you are trying your best and the pieces will fall into place with time.
Major Considerations
For me, picking what to study came down to how I saw myself and where I wanted to be. 
I genuinely and honestly reflected on my interests, values, and strengths. This process is backed by a lot of psychology and advice from my elders. 
My curiosity inherently makes me a good student: I have the eagerness and motivation to learn, and I retain and perform a lot better when I demonstrate interest. If I naturally shine in one area, I want to maximize my potential; research on successful business people found that they focused on capitalizing on their strengths rather than improving their weaknesses. I also had to think about my identity in terms of what is important to me and what I want to bring to the world. Lastly, research has shown that exercising your strengths makes you happy!
Next, I asked, "Where do I see myself after I graduate and how will my coursework propel me in that direction?" The average person spends around 30% of their lives working, so we should be selective about where we spend that time and energy. This question led to my switch out of environmental sciences. I realized that while I was passionate about the subject, the careers the degree entailed were not where I personally wanted to be in life. 
By approaching how I chose my majors (and minors) with these considerations, I've been able to have a really positive college and classes experience. I am also able to feel good about my future because I have been anchored in what matters to me.
Wait, Why Minors?
You may be wondering why someone would want to add minors. There are actually many benefits they bring for your academic curiosity and professional experience. 
Maybe you really enjoy a topic but cannot practically major in it; consider a minor! My creative writing minor was something I wanted to do for my own passion and interests. The classes I took for this minor were mandated trips to an oasis in the desert if my other classes were ever dry or arduous. In other words, classes for your minors can diversify your coursework (say no to four technical classes a semester) and satiate your pure interests to keep you happy and engaged as a student. 
Professionally, minors are a great way to stand out and indicate your emphasis and specialty in your major and skill set: What unique perspective can you bring into synergy with your major? Although my creative writing minor was something I started off doing for fun, I soon found that my concentration in poetry was relevant in content design, which I hope to get into career-wise. My data science minor helps me navigate the research side of my job prospects in user experience. When people hear about what I study, a lot of them comment on how I have a unique and applicable academic foundation. It all started with the considerations above.
How I Explored What to Study
Now, for how I went about choosing the specific majors and minors: I first brainstormed all the majors and minors offered that I would potentially be interested in and then I decided on ones that fit me and my considerations the best.
To see what was out there, I looked through the list of majors and minors UC Berkeley offers. I talked to my friends and family and searched on the Internet and YouTube. I inquired into things like a major's projected salary, what careers it can lead to, what it's like to do that kind of work, and what knowledge and skills I can gain. The Berkeley Career Center also offers major-to-career resources.
During the summer before freshman year started, I also took the class L&S W1 (Exploring the Liberal Arts). It provided a weekly survey of material from many different majors and helped me determine what appealed to me. There, I discovered that my brain turned off when learning about molecular cell biology, so I eliminated that from my potential majors list. (The summer I took the class, it was advertised as free if students passed [in p/np grading], and passing was straightforward.)
My Most Important Tip
For each major you are interested in, look at the classes it requires (you can Google a major's course requirements).
A major in practical terms is the set of classes you have to take under that topic. You may be interested in the idea of a major by its title, but looking at the classes you'd have to take may actually leave you disinterested. For example, I initially considered majoring in media studies but, after looking at the course requirements, I realized there were too many history classes that lie outside my interests. 
You can even go as far as to search up syllabi for classes you're curious about to see if the content is what you imagined. In any case, you would be more informed about what exactly you'll learn in a major in the process of narrowing down potential majors this way. 
Best Wishes & Have Fun!
While planning your academic journey, remember that you are the expert on yourself and what you love. The adages exist for a reason: Do what you love and love what you do, and if you choose work you enjoy, you'll never have to work a day in your life. On a logistical note, you are able to change/add majors, add minors, and switch colleges as needed in most cases. You can learn more about this process on your college's website or with a major advisor.
Be patient with and kind to yourself, and have fun exploring who you are and what gets you smiling while talking. You never know where you'll serendipitously end up. 
Hosea Chen is a rising fourth-year at UC Berkeley majoring in cognitive science and minoring in creative writing and data science.
Want More?
As mentioned, classes really influence your college experience so here are some resources I use when picking them.
If you're a new student, here is a collection of Berkeley Life blogs to get you started.
If you're a transfer student, check out this article on finding success as a transfer.