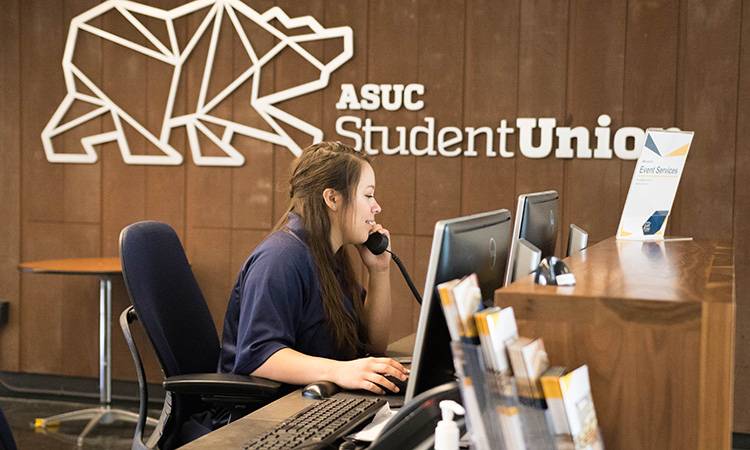 The Center of Campus Life at Berkeley
Are you involved in any university-registered organizations? Their hubs are found here. Need help with media production or want to be more creative? Good thing they have just the studios and guidance for that. Are you seeking emergency relief, community, or ways to help the environment? Check, check, check. Just looking to grab a coffee and sit with a friend? They've got you covered there too.
We're talking about the ASUC Student Union: the center of student life at Cal and a provider of a myriad of services, shops, and food. 
The Buildings
The departments and services that make their home in the ASUC Student Union are in two main buildings: MLK Jr. Student Union and Eshleman Hall. Both buildings are ADA accessible with entrances off of Lower Sproul Plaza.
The MLK Jr. building also has entrances off of Upper Sproul Plaza. Eshleman faces Bancroft St.
Fun fact: When you shop at the Student Union, you are giving back to fellow students because all purchases made in the Student Union get shared to support student programs directly. Consult this map of both buildings to find the services you need.
Food
Convenient and delicious food at the Student Union ranges from snacks to meals. Stop by Goldie's, a coffee shop on the second floor that offers Peet's coffee, grab-and-go pastries, and snacks. It's the perfect stop before or after class. You can come by any time between 8 a.m. to 2 p.m. ,Monday through Friday. 
If you want something more substantial, head to Ladle & Leaf or Uno Express. Ladle & Leaf has a salad and bowl bar that offers an array of ingredients. They also serve soups and classic sourdough bread. Uno Express serves pizza with any type of dough you prefer. Both of these eateries are on the first floor.
Pro tip: If you have a Cal Dining meal plan, you can use flex dollars in The Eateries at the Student Union.
The Food Pantry on the first floor provides an emergency relief food supply. It can be visited as many times as necessary, as long as you are being conscious that it is a community supply. It's important to note that the lines can get pretty long, so I advise going as soon as it opens if possible.
Retail Therapy
If you're in the shopping mood, the Student Union can ease your fix. For some new Berkeley apparel, pop in to the Cal Student Store. They'll have your next hoodie or game day fit in stylish designs that proudly represent Cal. More into thrifting? ReUse is just the place. Entirely volunteer-based, all of the clothes are priced at $3 or less. Check their website for store hours. Waiting for a package or wanting to return one? Go to the Amazon Hub Locker+ for all of your Amazon deliveries.   
Get Creative
If you're searching for ways to become more creatively involved, there are multiple avenues you could explore. The Berkeley Art Studio offers students, faculty, and the larger Berkeley community, classes in painting, drawing, photography, ceramics, and more. Classes are taught by a staff of professional artists and teachers and are typically divided up by seasons (spring, fall, winter).
The Creative Lab is a marketing and design resource for student organizations and the larger east Bay Area. They have print and advertising services and they offer classes in design.
The Berkeley Student Media Center offers resources and design consulting for student media publications and organizations. Here is the student Lead for Berkeley Student Media and the Executive Chair for the ASUC Publications Media, Kalani Dunn on how students can take advantage of their resources: 
"I help provide all of the free media resources we offer to students, including equipment checkouts, studio/space reservations, graphic design, and more….several ASUC-allocated spaces that are dedicated to bettering the publications/media community on campus. Our website is a great resource for learning how you can take advantage of our amazing (and free) services! Anyone can request creative equipment through our Checkout Program, any Registered Student Organization can request graphic design services, etc. Feel free to come see our spaces and meet our student staff in the Creative Lab, which is located on the first floor of the MLK Student Union Building (Room 155)." — Kalani Dunn, Class of 2025, Media Studies major, Journalism minor
Crafter Dark and Crafter Noon are free drop-in crafting sessions led by a professional artist. Consult Crafter Dark's schedule for their upcoming events and be on the lookout in the Game Zone Area on the first floor during lunch for Crafter Noon. Besides these studios and classes, there are free programs throughout the semester and games such as Dance Dance Revolution and ping pong on the first floor.   
Chair of the ASUC Board of Directors and Student Union staff Henry Isselbacher shares his perspective on the benefits the Student Union offers: 
"We have a lot of really great programming going on all the time. We have our Crafter Dark and our Crafter Noon programs where folks can just come and have fun, hands-on craft activities for free. We have a variety of services including a fully operational bank. We have the Creative Lab where folks can get prints and flyers done at abetted costs compared to other places around Berkeley. We have the art studios where people can sign up who have no background in art and end up loving it and take classes for successive semesters which is super popular. There's really something for everyone here even if it's just coming in and getting work done or using some of the resources. We like to think of ourselves as a base that's unique from the rest of campus, we call MLK the "campus living room." We want it to feel like a break from Berkeley's rigid structure." — Henry F. Isselbacher, Class of 2024, Economics and Public Health major, Public Policy minor
Basic Needs, Services, & Centers
Along with cafes, stores, and painting classes, the ASUC Student Union provides important services for students. The Basic Needs Center connects students to food, housing, and financial security services that impact well-being as well as preventative education.
Be Well offers nutritional coaching by registered dietitians as well as counseling for student parents. Cub-e, located behind Golden Bear Cafe, is the place to go if you're a student organization interested in tabling on Upper Sproul. The Re-entry Student Program has resources such as transition courses and counseling along with a community for students who have deferred their degree. 
For your tech needs, the Student Technology HelpDesk in Eshleman Hall is here to answer all of your technical difficulties questions.The Open Computing Facility located on the first floor is a computer lab with free printing and scanning (with 20 pages max per day). 
Many student-focused centers also reside within the Student Union:
All of these services and centers are here to help you from basic needs to finding a cultural community. It's important to mention that many of these centers welcome undergraduate and graduate employees so consult each of their websites for job opportunities.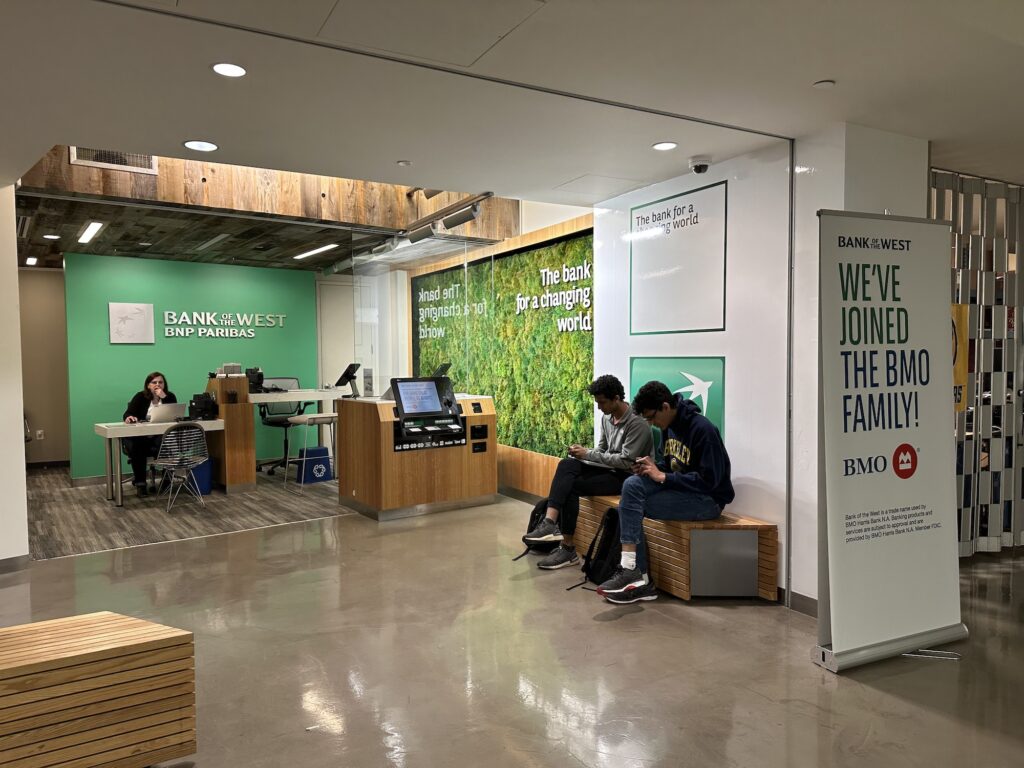 Bank of the West on the first floor of MLK Jr. Student Union
Stop By!
The ASUC Student Union strives to support, assist, and empower Berkeley students. No matter what kind of assistance you need, the ASUC Student Union has the resources you're looking for. With abundant space to sit and study, it also serves as a good workspace in between classes. Check out the various ways you can get involved in and further your personal success through their services during your time at Cal.
Preslee Vanlandingham is a third-year at UC Berkeley majoring in English and minoring in Creative Writing.
Want more?