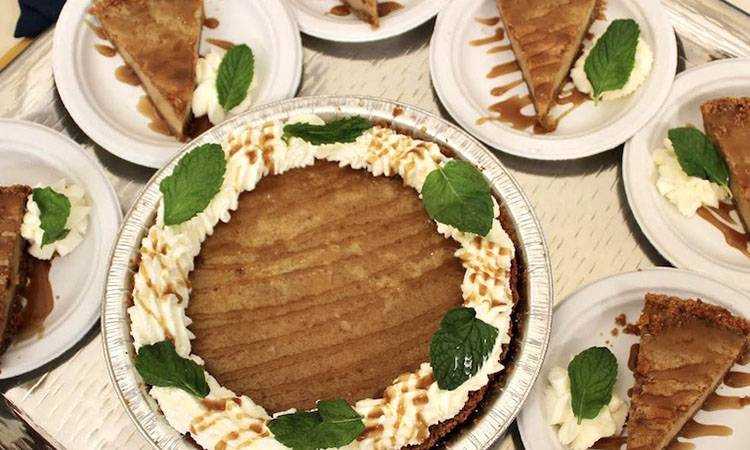 The Story of a Dish
I am Vida Sánchez, a fourth-year student and Food Literacy Coordinator of the Housing and Dining Sustainability Advocates (HADSA). As a member of HADSA, I am committed to curating spaces within Residential Student Service Programs (RSSP) that facilitate sustainability discourse and education for students and staff. One of the major events hosted by our team is the Plant-Forward Recipe Challenge, an event in which HADSA challenges Dining chefs to design delicious and sustainable dishes featuring plants at the center. This year's challenge highlighted fair trade, organic, and locally-sourced ingredients as well as sustainable seafood.
Since my first experiences with Cal Dining as a freshman eating in the dining commons, I have been amazed by the sheer scale at which the chefs produce high-quality meals. Having gained experience behind the scenes in the menu design process, I feel it is crucial for students (and the larger public) to recognize the steps going into Cal Dining's meal production, and the significance of using environmentally and ethically sustainable ingredients.
Below I document the complete journey of a locally-sourced yellow-eyed bean pie served at Clark Kerr during October's Plant-Forward Recipe Challenges, from its ordering to its delightful consumption.
Invoice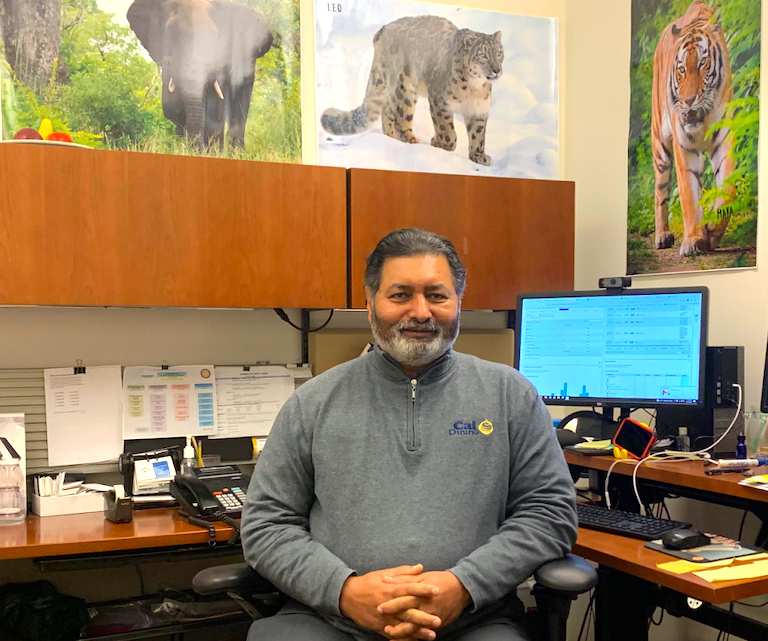 Sunil Chacko at his desk in the Residential Student Services Building.
If there is a dish served in the dining commons, Sunil Chacko has had something to do with it. As Assistant Director of Commodities and Purchasing, Sunil places orders and negotiates prices with distributors to get chefs the ingredients they request. In this case, he ordered the yellow-eyed beans from Rancho Gordo farms located in Napa, less than an hour drive from campus. He claims that institutional food service and its challenges are in constant flux, and believes that Cal Dining does what it can to serve plant-based and sustainable foods.
Distribution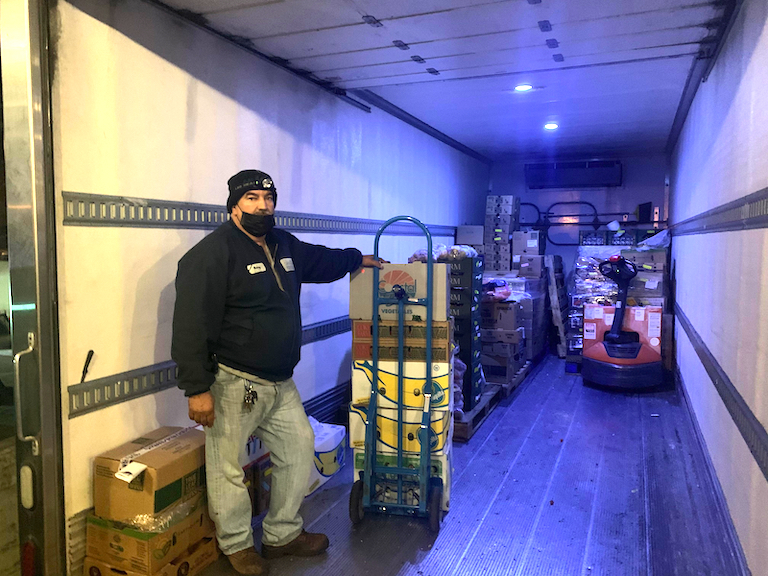 Manny ready to unload produce for the recipe challenge at Clark Kerr.
At 6:07 a.m., Manny docks the delivery truck and unloads the produce for the recipe challenge from Coke Farms and other produce at the Clark Kerr kitchen. He works for Daylight Foods, transporting and unloading the foods that have been preloaded onto the truck. Manny's day starts at 1 a.m., and he sees value in having the afternoons off to spend time with family. He says, "Me gusta mi trabajo,"or "I like my job." By 6:30 a.m. at Clark Kerr, some of the prep cooks wait outside for maintenance staff to unlock the doors in anticipation to prepare breakfast.
Preparation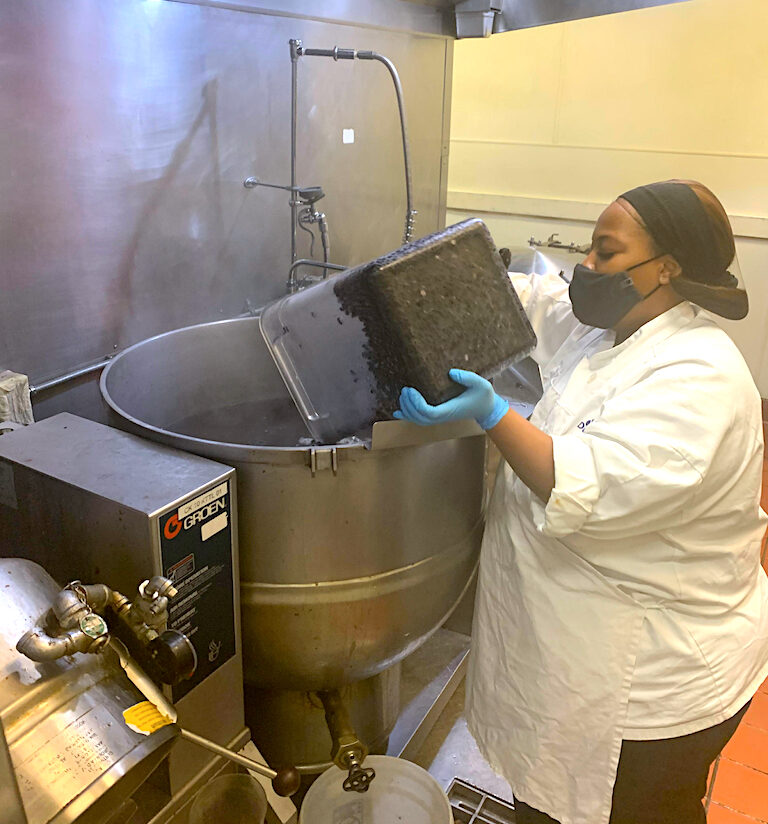 Chef Stephanie Stephens at Clark Kerr soaking beans overnight for easier preparation.
Chef Stephanie Stephens soaks locally-sourced Rancho Gordo beans from Napa overnight to decrease the cooking time for the bean pies planned for the next day. Her inspiration for the dessert came from her childhood in Berkeley, in which she recalls Black Muslim community members selling bean pies. Chef Stephanie was a pastry chef in San Francisco before joining Cal Dining and has plenty of culinary secrets to share. She emphasizes the importance of seasoning water when boiling or soaking any food to bring out the flavors; in this case, she adds brown sugar to give the beans a nuanced sweetness.
Service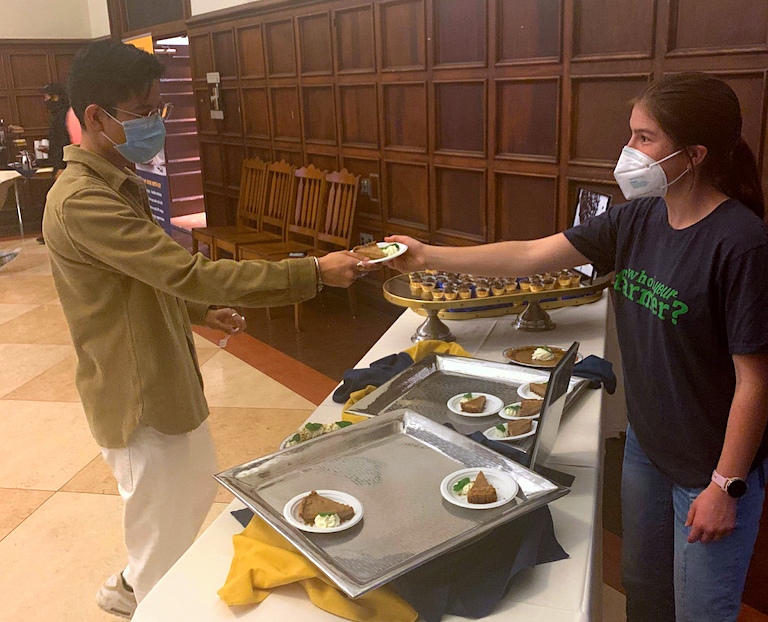 Juliette Nast handing out the finished yellow-eyed bean pies.
Juliette Nast, a member of the Housing and Dining Sustainability Advocates (HADSA), hands out the yellow-eyed bean pies with butterscotch sauce. She explains the connection between sourcing local ingredients and reducing carbon emissions, and encourages students to take a survey about the pie in an attempt to track student opinion of the plant-forward dish. Out of the 41 survey participants, 7 of 10 gave the pie a perfect score, with all others agreeing on a similarly high score. Surely, achieving an intersection between flavor, locality, and health may be a challenging task for Cal Dining, but not an impossible one.
Every plate served at Cal Dining is the product of meticulous planning, labor, and resources dedicated to ensuring a delicious, healthy, and sustainable bite. The composed ingredients on the plate represent just the tip of the iceberg of the time, care, and environmental footprint that went into creating the dish, making food waste all the more devastating. Cal Dining's food recovery program donates food that has not been eaten or wasted to the Basic Needs Center Food Pantry, where it reaches students and staff experiencing food insecurity. The next time you eat a meal from Cal Dining, stop to consider the intricate paths that each of the ingredients took to reach your plate.
Vida Sánchez (they/them) is a fourth-year student majoring in Chemistry with a minor in Global Poverty and Practice.
Want More?