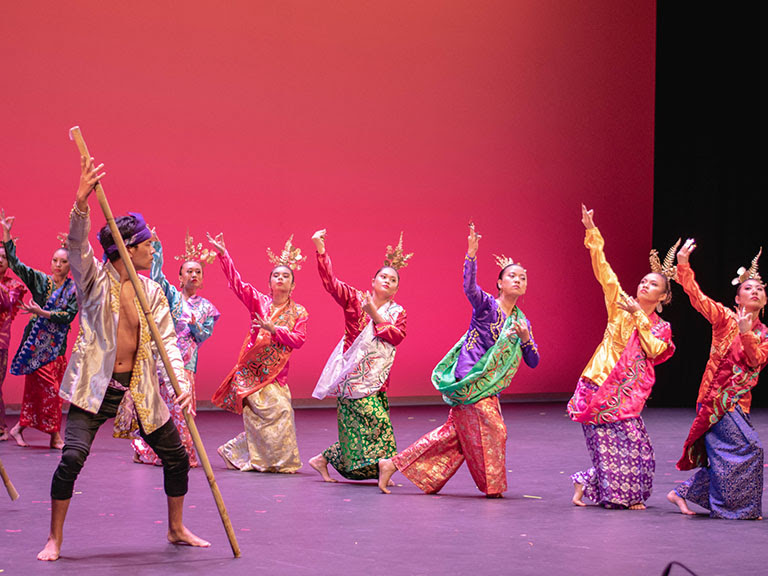 Two students share resources, clubs, orgs.
October is Filipino American History Month, and it's a great time to get to know the Pilipinx community at Cal. The Pilipinx community is underrepresented but still has made an impact on campus and claimed its space. We talked to two students who are active in Cal's Pilipinx community about Pillipinix student organizations on campus that you might not have known about.
We interviewed two students to introduce us to the Pilipinx community at UC Berkeley. Meet Abigael and Brian.
How would you describe the Pilipinx community at UC Berkeley?
Abigael: The Pilipinx community feels like home away from home! You are bound to find your community within this community, and it's great that we have so many orgs where you can explore each different little pocket of the community and see where you fit right in! The community is very open-minded and incredibly welcoming for all students!
Brian: I would describe the Pilipinx community at Cal as fierce, dynamic, beautiful, and inspiring! I have met so many people that have made my experience at Cal so rich and memorable. I've been able to learn from and with my fellow community members in such meaningful ways. The Pilipinx organizations at Cal have challenged me to think more critically about social issues, provided spaces to explore my identity, and offered many resources and supports. They taught me the importance of building strong and authentic relationships. Being engaged with the Pilipinx community at Cal was central to my growth and development as a student and leader.
What is Pilipinx Academic Student Services (PASS)?
Abigael: PASS is both a recruitment and retention center in which we host programs and events that pertain to mentorship programs for K-12 and community college students to help them reach higher education, as well as celebratory events for current Cal students. Some of our mentorship programs are held through SHADOW Weekend, a all-expense paid three-day, two-night program in which we facilitate workshops to help high school and community college students attain higher education.
Our celebratory events for current Cal students are Night with the Seniors (NWTS) and Pilipinx Graduation. NWTS celebrates the hard work of the graduating class through a Met Gala-esque event and Pilipinx Graduation is our sendoff for the graduating class. For general members, we host a General Retreat in the Spring for all students to come learn more about the PASS community.
To get involved with PASS, reach out to pass.executive@gmail.com or to the Internal Executive Director at: adia.pass@gmail.com
What is PAGaSA? Why should Plipinx graduate students consider joining?
Brian: Pilipinx American Graduate Student Association (PAGaSA) aims to provide a supportive social, intellectual, and political space for Pilipinx graduate students to organize for the following purposes: academic retention, community advocacy, mentorship, networking, community service, and research about Pilipinx & Pilipinx-American studies. PAGaSA is a revival of a defunct Pilipino graduate student group known as PANGIT (Pilipino American Network of Graduate Insurgents), which was very active in the 1990s.
Pilipinx graduate students should consider joining PAGaSA to connect and build community with folks across schools and disciplines. To get involved, visit the PAGaSA CalLink page, email cal.pagasa@gmail.com, or fill out the PAGaSA membership interest form.
What other undergraduate Pilipinx organizations are there and what do they do?
Abigael: There are eight undergraduate Pilipinx orgs in total (including PASS, described above) and those are:
What about graduate students?
Brian: Pilipinx graduate student groups on campus include the Pilipino American Law Society and the Filipino and Philippine Studies (FPS) Working Group. I would also recommend checking out some of the community events hosted by our undergraduate Pilipinx organizations.
What are some big annual events in the Pilipinx student community?
Abigael: Besides the PASS events mentioned, the biggest annual event for the Pilipinx campus community is Pilipinx Cultural Night, a student-run production celebrating Pilipinx culture. It will take place in April. To get involved, send a DM to the Pilipinx Culture Night Instagram account.
There are so many ways to get involved by joining an organization or attending an event, it's easy to find a way to be involved one way or another, no matter how big or small. We hope this has inspired you to join!
Dixie Valle is a senior at Berkeley majoring in Political Science. Featured image: A dance performance at Pilipinx Culture Night, held at Zellerbach Hall in 2019. The annual student-run event will take place in April.
Want More?