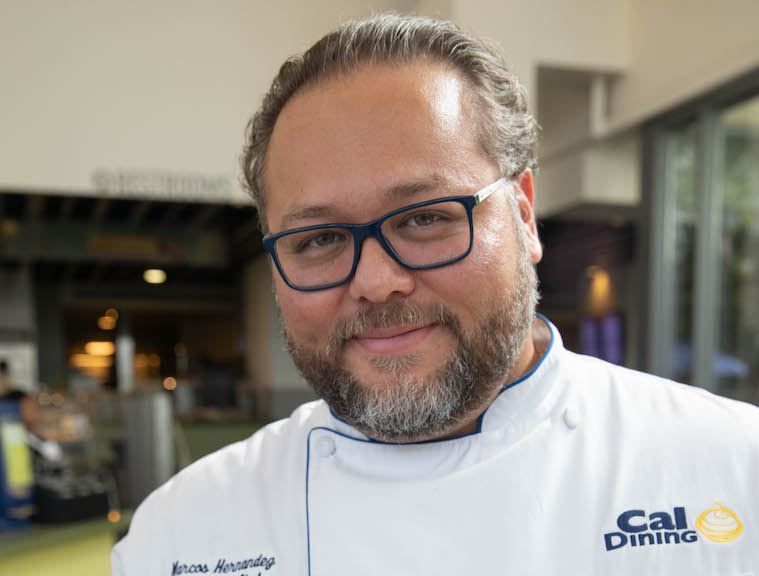 Chef Marcos Hernandez Builds Community at Berkeley Through Food.
Being a student at Berkeley means attending the number one public university, interacting with world-renowned faculty, and surrounding yourself with a collaborative community. And, despite sometimes being overlooked, it also means having one of the best collegiate food operations in the country. But don't just take my word for it. Listen to Marcos Hernandez, who has been professionally working with food for close to 25 years. Luckily for us, Hernandez is now part of the Golden Bear community.
Chef Marcos Hernandez shared where his love of food and cooking began in this audio clip from our interview.

Hernandez, the Director of Culinary Services for Cal Dining, has cooked at fine dining restaurants, retirement homes, local cafes, catering companies, and with master chefs all around the world. For the last nine years, Hernandez has been leading the charge to improve the food options for Berkeley students. Last year, amid the COVID-19 pandemic, he was tasked with overseeing the entire university's culinary program. A program that speaks to a love for fresh ingredients, sustainability, and making people happy. We asked Hernandez about his new position, recent challenges, the ideal student experience, and how Berkeley dining stands out.
What does your role entail?
"My job is to oversee the entire culinary program as far as it pertains to food and menu. It's pretty much getting everybody on the same page, creating the vision, sharing the vision, communicating the vision, and then breaking that down into steps [so] that we can methodically reach our goals….But very simply, my job is to ensure that our students are happy. Food is something that brings a lot of comfort to a lot of people, and it's a pretty important thing that sometimes gets overlooked."
How does dining at Berkeley stand out from other universities?
"We're looking into certified humane sources for all of our meats. We also put good effort towards using local farms as well to find sustainable produce. And, we're very cognizant of carbon footprints so our menu has labels that indicate whether it's the low, medium, or high carbon footprint. ….If you were to break down the inventory of the items that we use compared to universities and colleges across the country, we're probably in the top five if not close to number one." 
What is one of the challenges of your work here at Berkeley? How do you work to overcome that challenge?
"COVID was definitely a huge challenge. It changed the game for the entire industry… But it was also an opportunity to hit the reset button on everything that we do from menus to operations to work culture."
What do you bring to Berkeley that you are proud of?
"I'm very proud of the fact that we have a receptive staff where a lot of people do want to learn. People want to do things better. They want to push themselves to be better, and that's kind of the goal. I'm proud to be a part of that and to be able to facilitate that."
What do you love about your work?
"I love food. I love making people happy, and I love making people happy with food. For me, this is something that reaches a lot of people which is what I've wanted to do for a long time. And it's nice to be working for one of the most recognized universities in the world." 
What do you hope for students to experience when they eat on campus?
"I hope they remember the food. They remember how good the food was when they ate it. It's all about the hospitality experience. I want them to feel comfortable when they walk in the door, welcome and invited. The best thing is when the dining [commons] is full, but pretty quiet because it means everyone is eating and not talking. That's always a good compliment to the kitchen."
In chatting with Hernandez, it was evident that he was a perfect choice to lead the dining program for our Golden Bear community. He constantly stated his desire to keep improving dining with fresh ingredients, sustainability, and variety. The hope was for Berkeley to eventually become the best collegiate food operation in the country. Beyond that, he had a larger goal: to make sure students are happy and welcomed. And, as a student, what more could you ask for from your director of culinary services? Especially one that says, "I love food. I love making people happy, and I love making people happy with food." 
For me, this insight on the student dining experience and who is making my food definitely results in greater appreciation for Cal Dining and the benefits of my meal plan. We are very fortunate and in good hands, thanks to people like Hernandez. So, next time you see him or a Cal Dining staff member around campus, make sure to say hello and give some thanks. They deserve it!
Mathew Miranda is a second-year graduate student at the School of Journalism.