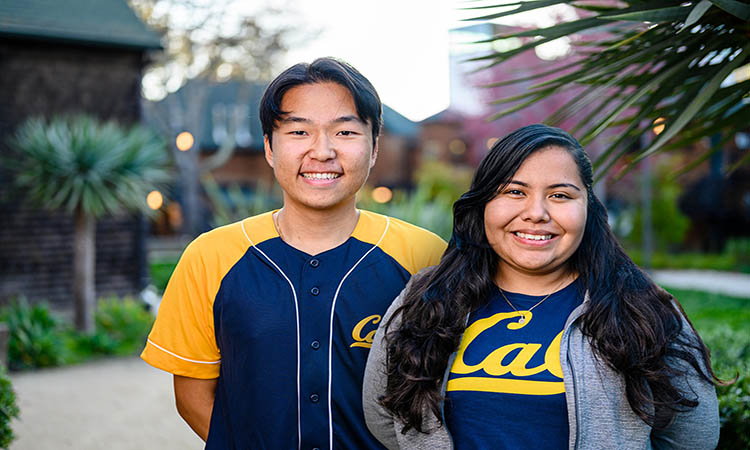 Time to get social as a new UC Berkeley student.
Not gonna lie: COVID-19 has had a way with graduations, vacations…and being a college student!
But Berkeley has the edge on inn-o-va-tion. And all of our students, staff, and community, especially in New Student Services, are collectively finding ways we can meet up, study, and find our campus bonds from anywhere in the world.
We talked to two students, Marilyn Luna and Elbert Moon, who also are coordinators with Golden Bear Orientation (GBO) about some of the many ways you'll get to connect with your new classmates this fall.
Q: In the big picture: How do new students connect?
Marilyn: In GBO, Orientation Leaders will head up small groups, and you'll work with these groups daily. Plus, we are offering a variety of social activities that can work for both small or large groups, groups can interact and make it friendly competitions or get together and make it one big group. We will host social programming events in the evening.
Elbert: Students are encouraged to attend with their group, but they can also attend with other Berkeley students they know.
Marilyn: Some of these events do have capacity limits, so groups will need to sign up ahead of time; you will find out what events your group is signed up for. And all of our events are open to all new students, and you can participate at your own leisure. We've also prepared many small activities that groups can enjoy in their free time or during evenings.
Q: Will our Orientation Leaders help us?
Elbert: Yes, Orientation Leaders — who will lead your individual group — will have these activities available to them and they can pick with their groups what they want to participate in. For some, you'll be able to participate as many times as you want. this: obviously clubs would want to recruit new people!
Q: Can you give us a sneak peek of some of the events?
Elbert: As we mentioned, we have designed events for both large and small groups, outside of the groups led by Orientation Leaders.
For small groups, or even just Berkeley students who want to hang out with others, you can check out our virtual game rooms. We will have these virtual rooms set up every evening, and groups can go in and choose the games they want to play. You can set up these game rooms on your own and won't need staff to host them. We've got some cool stuff lined up: Codenames, Werewolf, Scattergories, among others.
Marilyn: You can also virtually travel the globe in our virtual museum tours offered through Google's Arts & Culture section. If you want to sprinkle in some friendly competition, check out the bingo cards and race your group to find different artworks.
Elbert: And you and your Orientation Leader can even have a virtual campfire with your small group! We've put together a list of Bay Area and California ghost stories and urban legends; bring snacks and hear some scary tales or share your own with your group.
Q: How do we connect with the larger community?
Marilyn: For larger community building, we will be hosting events such as Trivia Night and a Murder Mystery on Saturday evening. If you're more of a bingo person, we'll be hosting Bingo Night (partnered with SUPERB). Yes, these are friendly competition activities and we will have prizes available!These are some great events to attend with your group or challenge another GBO group for some friendly competition!
Elbert: If you want to learn some arts and crafts or maybe display your skills, you can join our Crafter Dark event (partnered with Berkeley Art Studio). We'll be learning how to draw iconic Berkeley landmarks.
To get into a Blue-and-Gold mood, we partnered with the UC Rally Committee to bring some school spirit to our Zoom! We will be jointly hosting a brief session with them (Sunday, August 23) to learn more about traditions and school spirit. And, we will be hosting Q&A sessions (every evening) led by current Berkeley students; this will give you a chance to ask about the Berkeley experience.
Q: There are rumors that some celebrities will make an appearance…any hints?
Marilyn: Yes, we will be hosting a special event by a famous Emmy award nominee on Friday, August 21, as well as a Daily Show correspondent Monday, August 24. You'll have to stay tuned to find out who they are! But I can tell you that we will have Cal alumni, Sammy Obeid and Maz Jobrani return for a special comedy night on Saturday, August 22.
Q: Any events transfer students in particular should look out for?
Marilyn: We have certain social events that are more discussion based such as Tackling the Transition led by our Orientation Leaders in their small groups. This would be a great time to ask your orientation leader questions about how they adjusted to being at Berkeley as a transfer student, especially in a virtual environment.
Elbert: Plus, our Q&A sessions will be hosted by members of our student staff, one of whom will be a transfer student. This would be an opportunity to ask questions about the transfer experience at Cal and gain insights on how the transition is.
About the students: Marilyn Luna is a fourth-year student studying legal studies, as well as Spanish language and literature, and hopes to attend law school. Elbert Moon is a third-year student studying history with an eye towards East Asian history during Japanese colonialism and onwards.