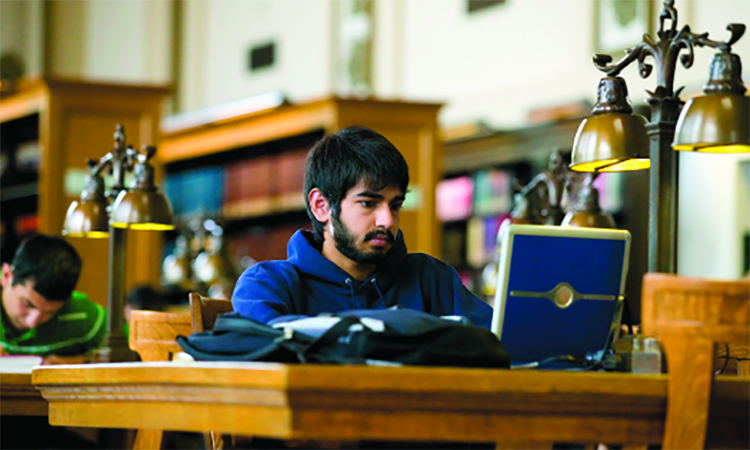 We've Researched How to Max the Library
Although most students just use the libraries at UC Berkeley to study, there are a ton of resources and services that the library has readily available. With this list, you will be better prepared to take advantage of everything the library offers!
Book a Personal Study Room
Sometimes, the libraries may be a little bit crowded, especially during midterm and finals season. To avoid this, you can book your own personal study place in most of the libraries on campus! There are spaces suitable for any group study session or smaller, cozier rooms for you and a friend to study in. During exam season, the study spaces can fill up quickly, so make sure you sign up early! Sign-ups open at midnight one week before the day you would like to study.
Various study rooms also have whiteboards and chalkboards, allowing for conversation if you are in a quiet library so it's perfect for studying with a group. On the day of your booking, you just go to the front desk and ask for the key which makes for a quick and easy process to access the room.
Borrow Resources Online and From the Many Campus Libraries
If you have an upcoming midterm paper, the UC Berkeley Library system is the perfect place for your research! The library has a large collection of online databases, electronic books, dissertations, theses, historical government documents, journals, articles, and much more. If you are looking for a physical copy of a book, the library system has you covered with over a million volumes of books.
The Bancroft Library also has special collections that are open to registered researchers to review for their papers. Some of the special editions that they have are John Militon's first edition of Paradise Lost, early editions of Geoffrey Chaucer and William Langland's work, and Medieval manuscripts. Since these are very fragile editions though, there are a couple of rules and regulations you should keep in mind, so make sure to read them carefully before you book an appointment!
Study in Different Libraries for a Change of Scenery
Did you know there are actually over twenty different libraries on campus where students can study or check out materials? Although most students know of Doe and Moffitt Library, there are several libraries on campus that are beautiful and can provide the perfect change of scenery you need while studying.
For example, Morrison Library is a hidden gem. With beautiful couches and chandeliers, the library resembles a cozy reading place that you are sure to love. They also have a wide selection of new releases that you can check out to read in your free time which is an added plus. One thing to keep in mind though is that this library doesn't allow computers!
There are also a bunch of specialty libraries focused on certain areas of study, like the Music Library, the Mathematics Statistics Library, and the Environmental Design Library. These libraries allow for students from any major to study in them. So, if you are looking to make the most out of the Berkeley libraries, be sure to check out all of them!
Attend a Berkeley Library Makerspace Crafting Workshop
The Berkeley Library Makerspace hosts crafting workshops for students to learn valuable skills like knitting and sewing, or to work on crafting projects. Both beginners and experts are welcome and encouraged to join.
The crafting workshops do provide some of the materials to start a project, like crochet hooks, knitting needles, yarn, and embroidery hoops, but you can also bring your own materials. Additionally, there are volunteers there who will help you learn the basics of knitting or sewing! Here is the list of upcoming Makerspace events if you are interested in learning a new skill. Make sure to register beforehand since the spaces are limited!
Borrow Art for Your Room
The UC Berkeley library actually has a Graphic Arts Loan Collection that you can use to borrow prints for your room or apartment! Students can check out up to two prints to decorate their room for the semester and turn it back in the week before the semester ends.
The collection was started in 1958 by Professor Herwin Schaefer, who wanted more students to love and appreciate art by allowing them to sit with works of art in their rooms throughout the semester.
If you are an art lover or just want some more things to liven up your home, you should check it out!
There are many different ways to utilize the UC Berkeley Libraries that many students might not know about, so hopefully these tips helped you find something new that you want to try!
Samantha is a Senior at UC Berkeley majoring in English and minoring in Creative Writing and Journalism.
Want More?