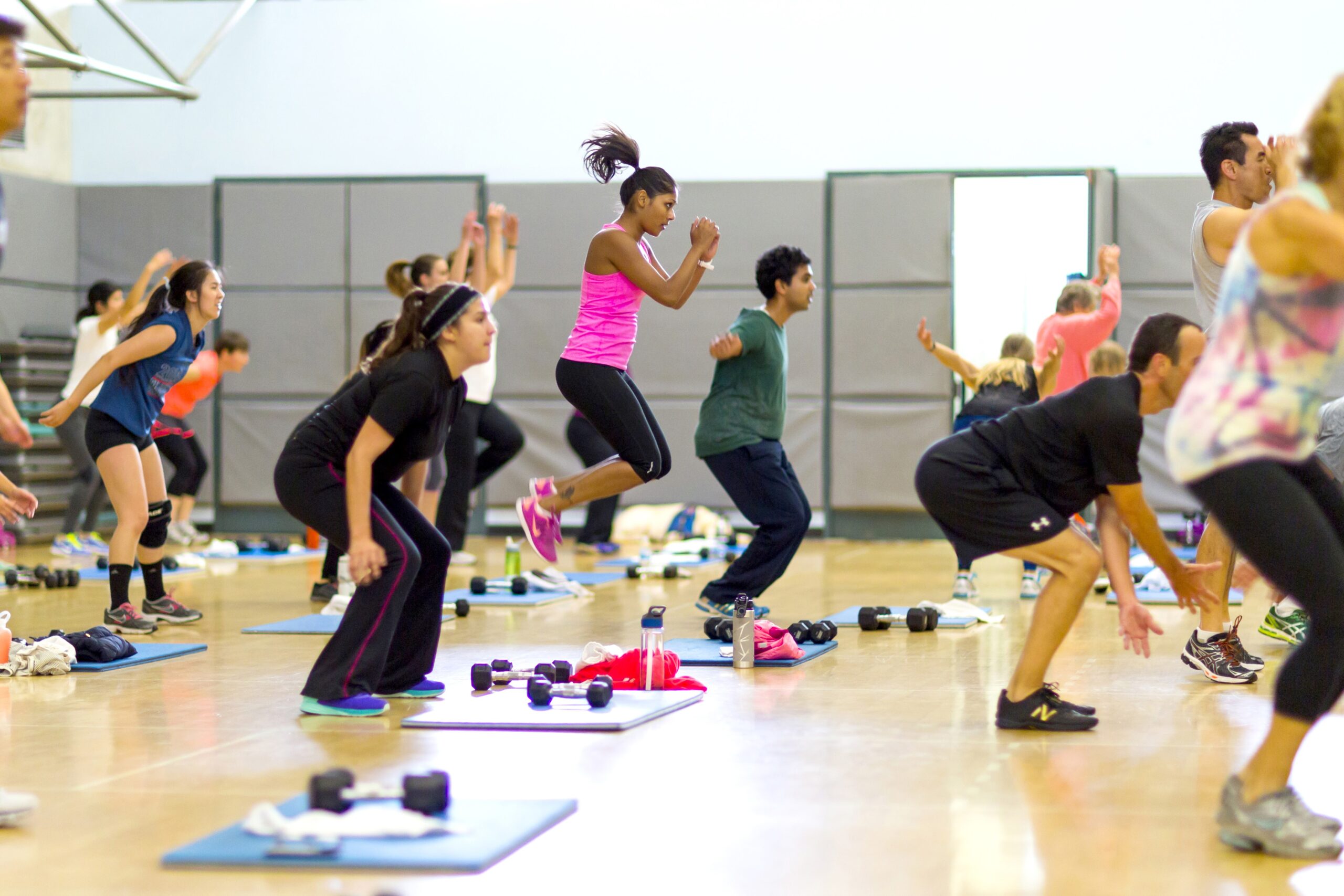 Student Resource Must-Haves
Being a student is a lot of work! To help you out, I've created a list of resources that are free (or discounted) for you. Health and wellness-related resources are included to remind us to look after ourselves, which is important in seeing the academic successes we strive for. From more obvious resources to lesser known ones—discover something new and useful for you!
Exercise and Nutrition
Recreational Sports services include the Recreational Sports Facility (RSF) as you may know, but Rec Sports also offers much more. WorkFit is a free program with a diverse selection of classes for you to choose from. Here are more surprising Rec Sports services you may not know about.
Nutrition services through University Health Services (UHS) are available to students for free. Registered dietitians provide nutrition therapy and education for all UCB students and host virtual nutrition events as well.
CalFresh provides eligible students up to $250 per month for their groceries, and the application is free. The Basic Needs Center offers application assistance for students. If you are not eligible, they have a list of resources to help you figure out next steps.
The Food Pantry is an emergency food supply free for all UC Berkeley students and affiliates. Students can go up to once per week and take as much as they need, keeping in mind that everything offered are shared resources within the community. There are no eligibility requirements, but make sure to bring your Cal ID with you.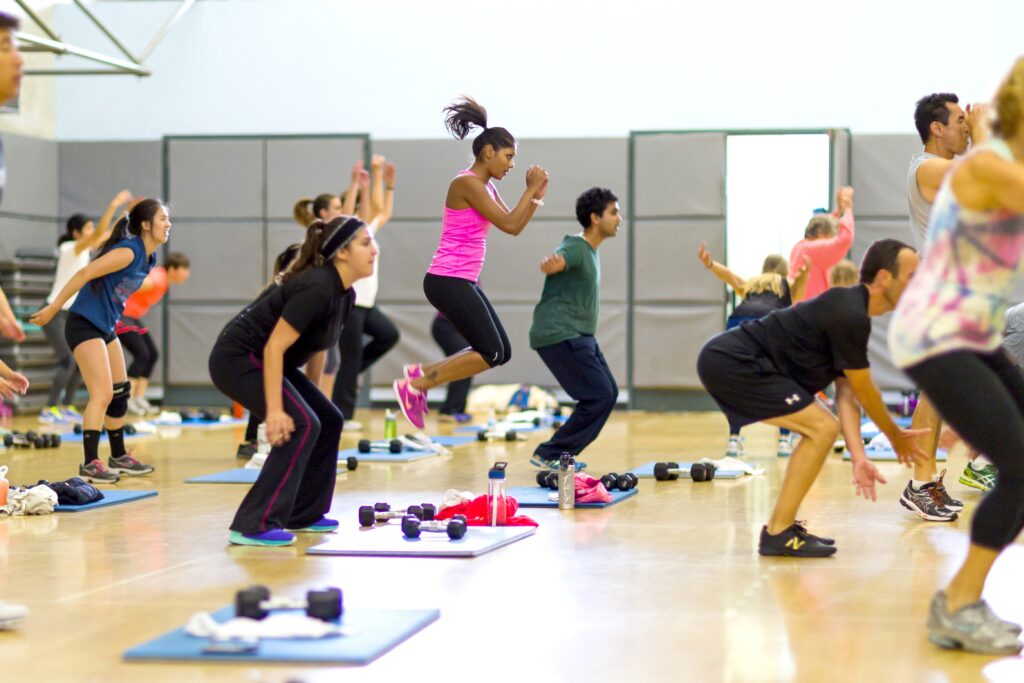 Rec Sports class, photo by Student Affairs Communications.
Tech and All Things Online
Most students know about free Adobe and Microsoft software, but there's even more out there waiting for you. Before you buy any software, check your eligibility with Software @ Berkeley and take advantage of the free things available to you.
The Open Computing Facility in the MLK Student Union is a computer lab that offers free printing to all Berkeley students. Though that is the main reason why I visit the OCF, they offer more services to students as well.
The Student Technology Equity Program (STEP) loans laptops or peripheral devices to students for free based on eligibility. Undergraduates, graduate students, and professional students are welcome to apply.
Most technology companies offer discounts for students. Student Technology Services compiled a helpful list of them, as well as more resources to help you afford your tech.
Online subscriptions to the New York Times and Wall Street Journal are free for students — just use your berkeley.edu email to sign up. You can also read other current world newspapers through the library guides.
To find free ebooks and research material, see the Berkeley Library's guides: Guide to Open, Free, & Affordable Course Materials: eBooks and Freely Available Resources for Research: General.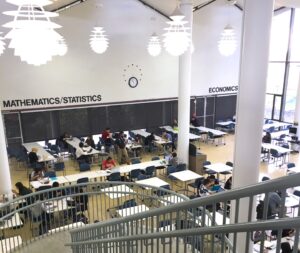 Student Learning Center photo by Tim H., Econ Support.
Tutoring and Studying
The Student Learning Center has a wide variety of programs available for students, from support in math courses to language exchange. They also hold a writing contest with prizes, so keep an eye on their website for that announcement.
If you're living in the res halls, the Residence Hall Academic Support is a great resource. Academic Centers are good places to study if you need a change from your room, and there are printers available in addition to computers. I visited the Unit 2 Academic Center during RRR week to find it empty (everyone goes to the library, so seek out places that are not as busy!).
For your test prep needs — the ASUC (Associated Students of the University of California) Office of the President partnered with the Princeton Review to offer all UC Berkeley undergraduate and graduate students a 20% discount on test prep materials and 10% off individual private tutoring sessions. To get the code, fill out this ASUC form.
Mental Health Resources
UHS offers a variety of Student Mental Health resources including Career Counseling, where students receive help in the challenging process of selecting a major and make career decisions. UHS also compiled a list of community specific resources for students seeking specialized support.
Paws for Mental Health is an organization you may have seen on Upper Sproul Plaza on weekday afternoons. The dogs are incredibly cute and are a great way to de-stress in between classes. To make sure you don't miss out, check their Instagram, @pmh.berkeley, for the tabling schedule. And watch this YouTube video to learn more about their organization (and to see some cute dogs).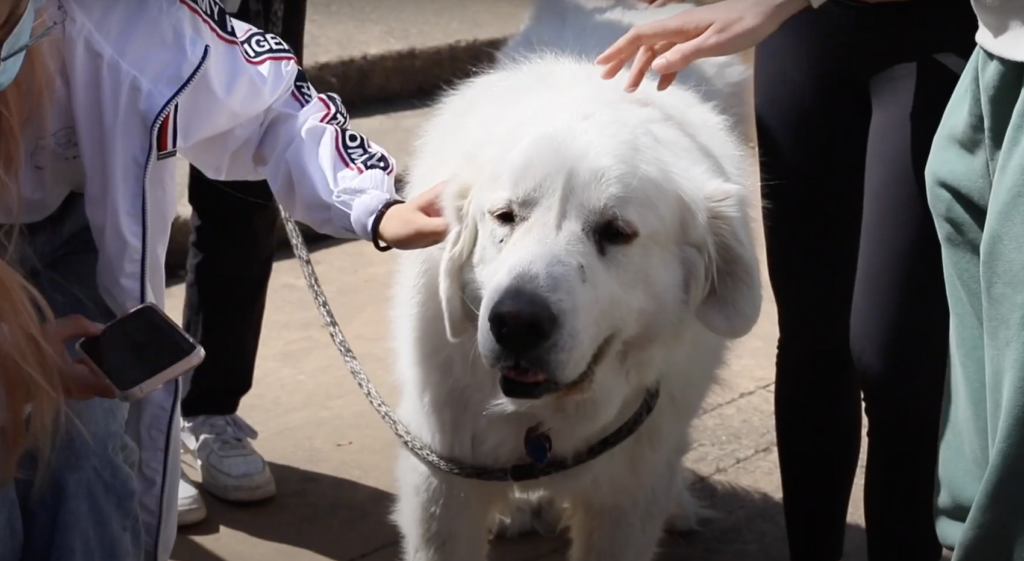 Trooper is a Great Pyrenees and Paws for Mental Health's biggest dog. Photo from Berkeley Life's Club Spotlight YouTube Video that is linked above.
Unexpected Resources
The UC Berkeley Libraries are more than just great study spots. You can check out laptops and other electronic equipment and even borrow art for your home if you want to feel fancy or add colorful decoration to your walls. If you're looking for tutorials for makerspace learning, the library has you covered there, too. Libraries offer more services and resources than you think — I encourage you to find your own local library to explore what it has to offer. Continue to take advantage of Berkeley's libraries while you are a student and have access to all of their resources (and the many books the library has!).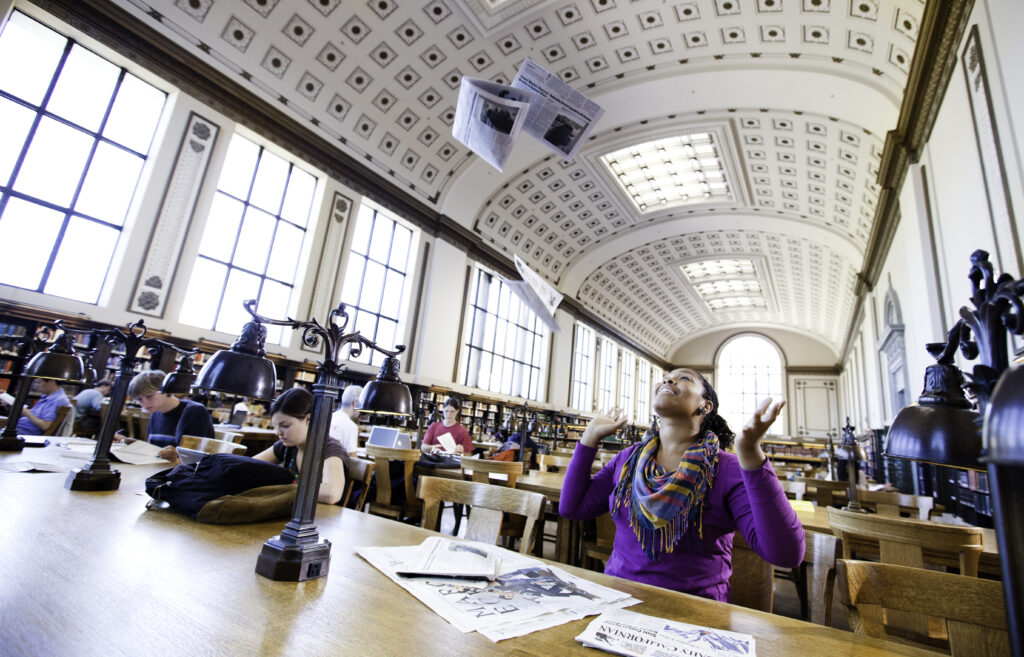 Photo by Kathryn Bader, UC Berkeley Public Affairs.
Graduate and Career Support
The Graduate Student Travel Grant provides funding if you are presenting at conferences (virtually or in person). For requirements and eligibility, including more information for grad student parents, visit the Graduate Assembly's page.
The Career Center and its services are invaluable to all students, regardless of their year. You can make an appointment to talk to a career counselor (or attend a drop-in session), attend events and workshops to speak with alumni, and even practice your interview skills with Big Interview. If you're preparing for an internship, learn how the career center can help you out in your process.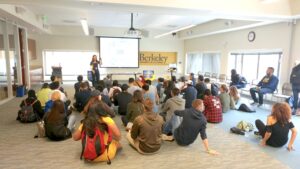 Students attending a Career Center Workshop. Photo courtesy of Adrianne Johnson.
Designed to Help You
Financial wellness advice is offered free through the Bears for Financial Success program. Students can make one-on-one appointments with a peer educator or attend workshops. If you would like to learn more about the BFFS program, explore their blog where they share more tips and advice.
Student Legal Services offers advice to Cal students about legal questions, rights, and obligations, including things like landlord-tenant disputes, questions related to debts, family law, and more.
There's More Waiting For You!
I am still continuing to learn of new things that are available to help students, and I encourage you to do the same. This article (and the other one in this series: Free, Fun, Both for Cal Students) is a great place to get started on your search. Continue to seek out resources and share them with others who may also benefit from them — they are here to help you in your college journey.
If you have resources that you would like to share, we would love to learn more! Please fill out this form to share your resources with us.
Melissa Mora-Gonzalez is a second-year student at UC Berkeley majoring in English. Feature image by Student Affairs Communications and Kathryn Bader, UC Berkeley Public Affairs.