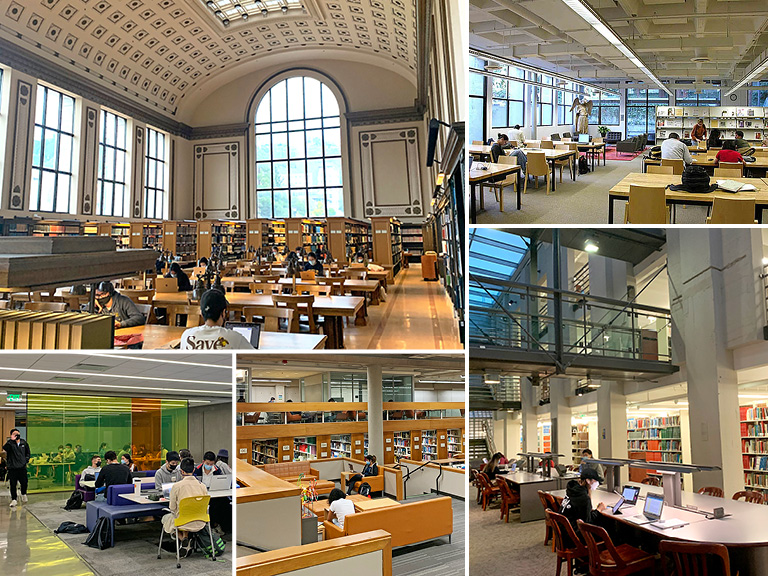 The Ultimate Study Spot: Fact or Myth?
Berkeley has the most beautiful study spots out of any place I've ever been. In fact, students have an almost overwhelming amount of options to choose from when it comes to libraries, cute cafés, parks, and picturesque benches – how do you choose the best place to sit down and work?
This was the burning question I asked myself as I visited all of the different libraries open to undergraduate UC Berkeley students (yes, ALL of them) to try and discover the ultimate study spot. First, I had to ask myself what makes a study spot great. Everyone learns differently and has different needs when it comes to a productive study session. I tried to make my terms as inclusive and all-encompassing as possible: How late is the library open? How busy is it during its peak hours? How hard is it to find a place to sit, and how comfortable are the seats? Does it echo with silence or provide comfy white noise? Are there outlets? How about good lighting? Can you expect to have the same experience every time you go?
Obviously, not everyone will agree with the choices I've made, but half of the fun was simply getting out there and exploring new places to sit. Hopefully this list will inspire you to break out of the monotony of routine and try a new place when studying for finals.
5. Valley Life Sciences Library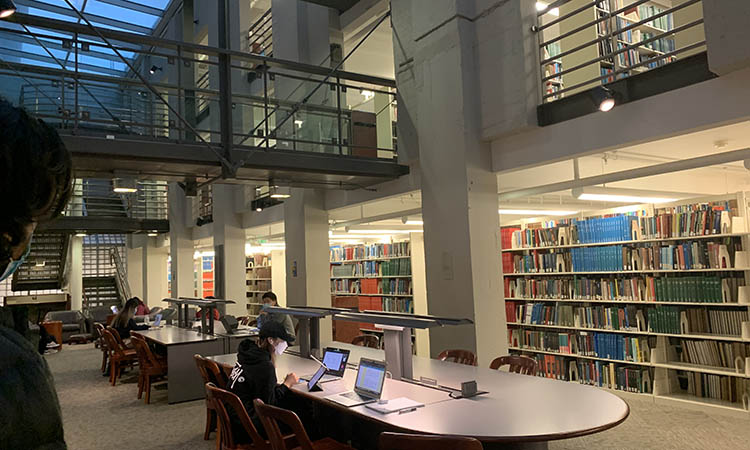 Open 9 a.m. to 9 p.m., Mondays to Thursdays; 9 a.m. to 5 p.m. Fridays; 1 to 9 p.m. Sundays
Solid, imposing, and spacious. Most people are familiar with the Valley Life Sciences building, a massive structure located in the southern half of campus comprised of both large gen ed classrooms and labs. Fewer take advantage of its generous library, which has dozens and dozens of cozy study spaces. The VLSB library has the atmosphere of a museum: it seems to exhale knowledge with its displays of fossils and rows of shelves filled with scientific journals.
The atrium at the back of the library has a futuristic catwalk that makes the space open and inspiring, and there are plenty of study rooms available to reserve which don't require sign ups in advance!
Notably, this library is somewhat far from restaurants and it doesn't receive as much lighting as other campus spaces, but it's still a great place to get work done in between classes.
4. Engineering Library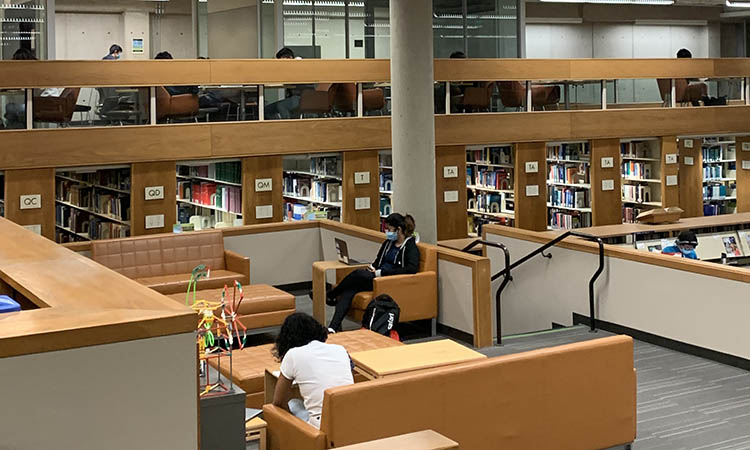 Open 9 a.m. to 5 p.m., Sundays to Fridays
Focused, academic, and quiet. If you're a no-nonsense student who just needs a table, a chair, and a little quiet, look no further: just north of Memorial glade and the Economics building lies the Kresge Engineering Library. You can't get much more classic than this environment of wooden tables, rolling chairs, and fluorescent lighting. Still, it's a valuable space for those who don't want to be distracted by rolling views or the smell of coffee, so make this stop a priority if you're someone who has a hard time focusing on your work.
Come to the engineering library with the intention to work hard and knock stuff off your to-do list. Just note: if you're a procrastinator, this space isn't open on Saturdays!
3. Environmental Design Library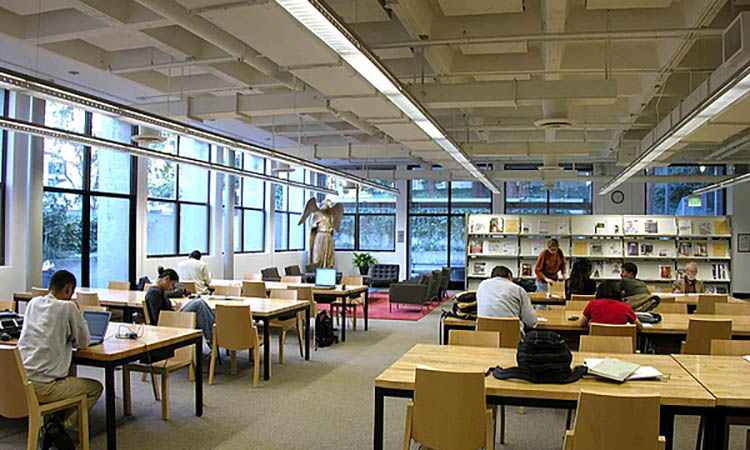 Open 9 a.m. to 5 p.m., Mondays to Fridays; 1 to 5 p.m. Saturdays; 1 to 9 p.m. Sundays
Urban, trendy, and convenient. Tucked away in an easy-to-miss corner on the second floor of Wurster hall is the Environmental Design Library, a modest space with abundant study locales. It's located near the Anthropology and Arts Practice building and the Law School, which makes it a convenient spot for anyone who lives on the southside or up in the hills.
Inside, the library is small and comfortable with shaded windows and rows of tables which can seat up to four people. There's a secret bar table in the back with plenty of outlets for especially long study sessions. All this combined with its quiet environment and seclusion make the Environmental Design library one of the top campus study spots.
If you need a break, Wurster also has Ramona's Café downstairs for a quick pick-me-up to fuel your studying, and there's also a shaded outdoor courtyard area where you can take a breather or get some work done while soaking up some sun.
2. Doe Library / Main Stacks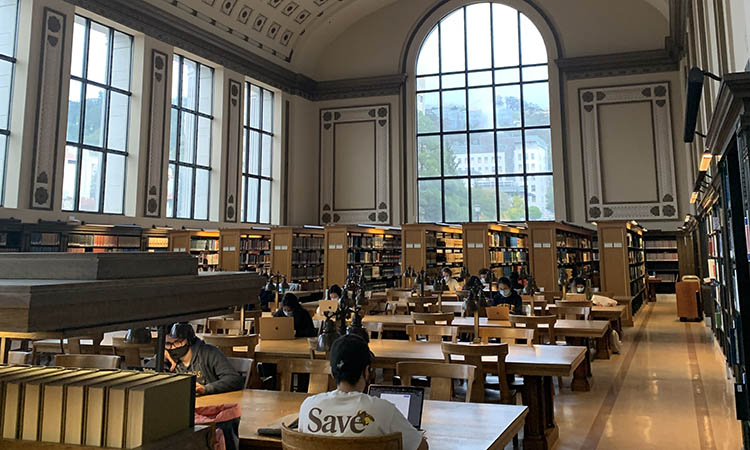 Doe open 8 a.m. to 9 p.m., Mondays to Fridays; 9 a.m. to 5 p.m. Saturdays; 1 to 9 p.m. Sundays
Main Stacks open 9 a.m. to 10 p.m., Mondays to Fridays; 9 a.m. to 5 p.m. Saturdays, 1 to 9 p.m. Sundays
Classic, vast, and timeless. It's hard to measure up to Doe. Standing underneath its impossibly tall ceilings and imposing windows, with the sunlight streaming in on a sea of studying students, it's difficult not to feel intimidated—but even harder to feel uninspired.
As the original UC Berkeley library, Doe offers an endless array of resources to help students with their work. The two reading rooms offer quiet without solitude and plenty of spaces to work, as well as armchairs for the more casual reader, with tons of outlets, plentiful lighting, and peaceful quiet.
If you're feeling old school, the gorgeous Morrison Reading Room is open most Mondays through Fridays from 9 a.m. to 5 p.m.. Located next to Doe's entrance, the Morrison room is like a gateway to another time period when you enter the vintage study and haven for book lovers where computers aren't allowed. Use the space to catch up on readings!
If Doe isn't your speed, try voyaging to Main Stacks. You'll need your Cal1 card to enter this labyrinth of shelves which goes far underground and most likely contains any reference you'll need for your assignment. As deep as it goes, it stays warm and bright with the help of skylights which rest above ground and deliver sunlight to students below.
1. Moffitt Library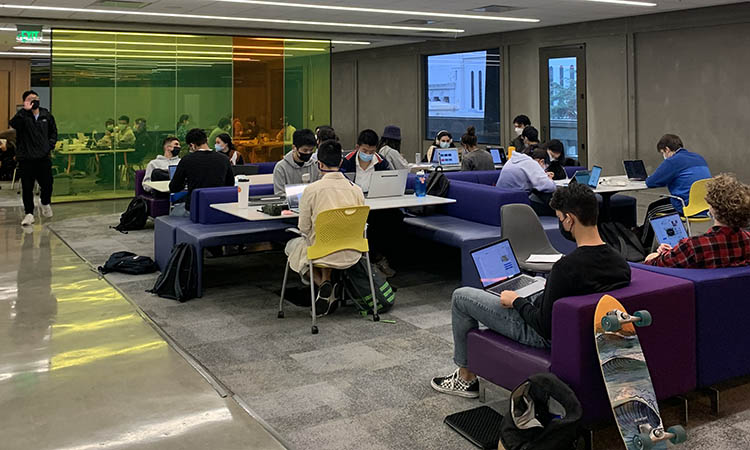 Open 8 a.m. to 10 p.m., Mondays to Fridays; 9 a.m. to 5 p.m. Saturdays, 1 p.m. to 10 p.m. Sundays
Popularity well-deserved. Are you shocked to see Moffitt as the number one study spot? Probably not–it just can't be beat as the ultimate study location to ground yourself and power through work regardless of what your academic needs are.
No other space on campus compares to Moffitt's wide variety of spaces to suit your needs. If you simply need a quiet place to spend a few hours in the sun, you can sit on the patio and sip a latte from Free Speech Movement café. Likewise, if your task list is piling up and you need to bury yourself in work, Moffitt has you covered with an abundance of desk space, study rooms to reserve, cozy couches to curl up on, breathtaking views of the glade and campanile, and an abundance of outlets for your charging needs. There are even a handful of isolated, futuristic study pods—if you can get there early enough to snag one, that is.
Maybe most importantly, Moffitt has the longest stretch of open hours out of any UC Berkeley library. That automatically makes it the most accessible spot for anyone looking to get some work done or collaborate on a project.
How does this list measure up to your rankings? There is lots more to investigate about UC Berkeley's library system and vast amount of resources. Or explore this bonus video: Berkeley Life Instagram shares the vibes inside the East Asian Library.
Lillian Marsh is a fourth-year Berkeley student studying English and Education.