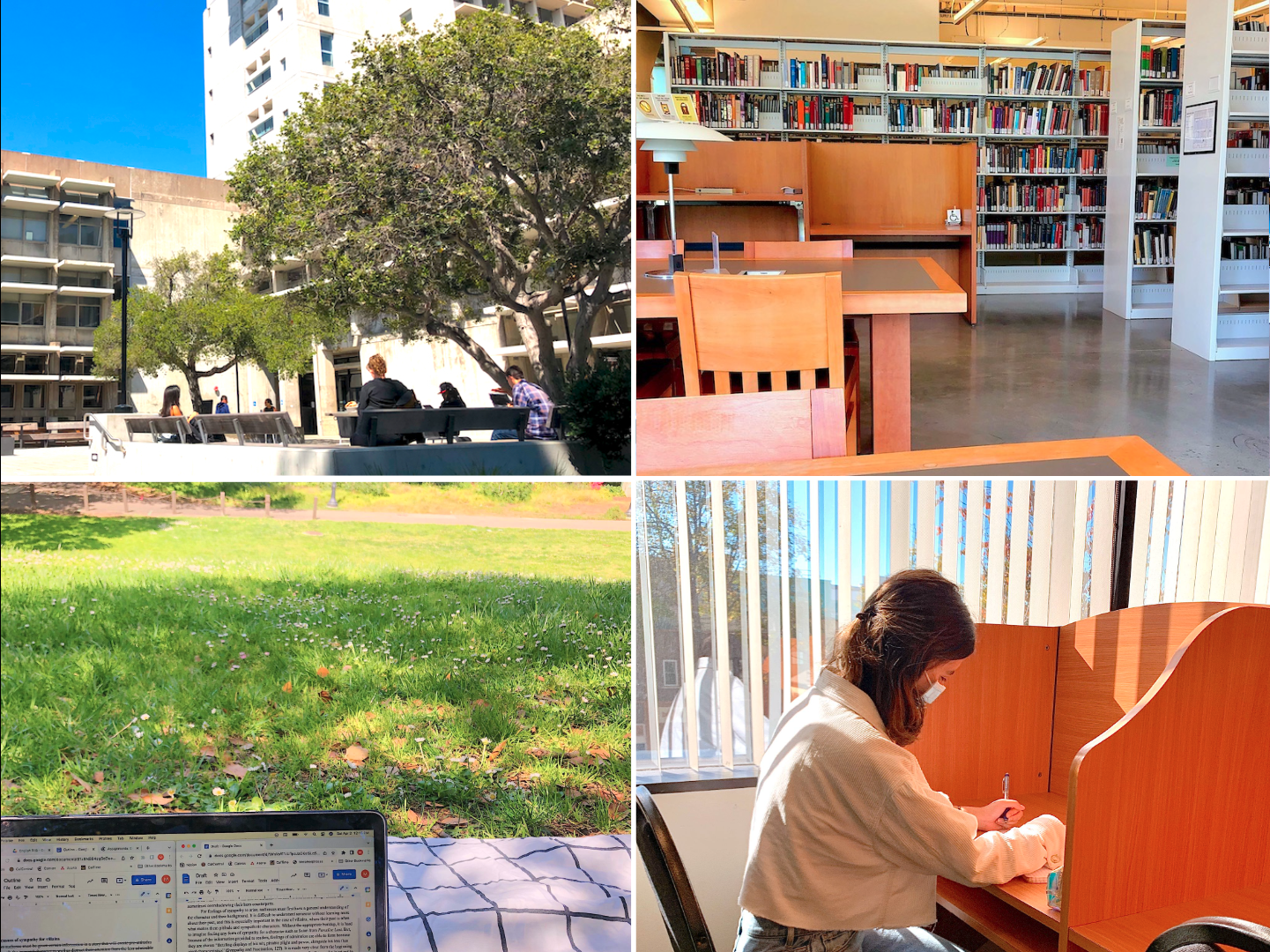 5 Strategies for Successful Studying
With so much to balance in a semester at UC Berkeley, we're continuously seeking new ways to make the most of our time, especially with studying. From starting a new semester to ramping into finals, there are different approaches that can help with focus, time management, and even your general attitude toward school work! If you're a freshman feeling that familiar overwhelming sensation of university life or a seasoned student looking for an edge, we hope these tricks give you some extra boost.
Organize Your Thoughts
"As someone who types notes, I print them out when I study and annotate through them. By physically manipulating them, as I would when I write notes, I can better wrap my mind around the material. This method especially works for psych classes and open-note exams."
Hosea C., Junior, Cognitive Science major, Data Science and Creative Writing minors
"I always make an early comprehensive list of what I need to study for in a class. Then I find that in the back of my mind, I review or bookmark these items, so it's like passive studying. And when I finally sit down to actually study, things don't seem so overwhelming."
Cybele W., Senior, Business major
Starting with a list makes the task at hand less stressful and easier to manage. Making a cohesive list tailored to each of your subjects helps you track important topics and make sure all important concepts are covered. Once you have a list, you're easily able to figure out what to prioritize when studying. If you start a list of all of the major concepts early, it is incredibly helpful in making time to study bits of material, instead of cramming all of the concepts before your exams. One way to start preparing your major concepts lists is to go through your class syllabi. These syllabi are perfect tools for figuring out what the major concepts are and to remind yourself of what former exams have covered.
Make Your Work Fun
"This depends greatly on you and the assignments you are assigned: try to make your work fun! This semester, for my English 90 class, I'm writing an essay about aliens in a specific short story. I'm a sci-fi fan, so this is fun for me!
"Seek out things that interest you, especially if you are allowed to pick a topic for your essay or project. If you can't, make the most out of what's been assigned to you. If you're dreading a particular assignment, try out a new study spot, and get yourself a treat before you get started. Find something positive in your assignment and grab onto it until you finish and turn it in."
Melissa M., Sophomore, English major
No matter what classes you take, there are ways to search for the positives. This could be rekindling the passion that you had when you first chose and started the class, or reminding yourself of your goals and how trying your best now with your classes will help you achieve your end goals.
In order to help dispel the 'dauntingness' of the concepts that you are reviewing, you can ask your GSI or professor questions about topics that you are struggling with and follow-up after class or during office hours (here's some advice for talking to GSIs). Most likely other students have questions about the same topics, so never hesitate to ask!
Create a Study Plan
"Plan your study schedule weekly. I personally have benefitted from estimating how much time each assignment, reading, and/or project will take me for that week and creating a detailed plan of action to complete all my work on time, if not early. I also love adding an additional hour for each class as I tend to underestimate how long tasks will take me; this tends to add some wiggle room for breaks as well!"
Kelsey M., Junior, Global Studies and Spanish majors
I also like to review my course syllabi and plan out chunks of study time in preparation for exams. This method not only doesn't leave you stressing out just a couple days before the exam, but it also helps in retaining more of the course information as well.
Try to Disconnect From Social Media
"I realized that although Do Not Disturb and Airplane Mode could help me stop using my phone when I am trying to study, I have difficulties with self-control. However, when the library was insanely packed, students were forced to go down to the last floor in Main Stacks, which doesn't have any reception whatsoever. Therefore, I wasn't receiving any messages, unless I connected my phone to WiFi. However, I noticed that the WiFi wasn't working on cellular phones. So from then on, whenever I need to hyperfocus and really crack down on the books, I take the elevator down to the last floor of Main Stacks and disconnect for a while."
Genesis M., Sophomore, English major
Taking a break from your phone not only helps you stay on task, but also helps to enhance your well-being. Remember to breathe and create space from continuously checking your phone or checking to see how others are doing. For your mental health, it is incredibly beneficial to take a step back and refocus on your personal goals and why they matter. Prioritizing yourself and what contributes to your well-being is a must. Taking a break from social media is also supposed to enhance your ability to focus, which can boost your productivity.
Try the Pomodoro Method
"If you are having trouble getting started on an unpleasant task, try setting a timer for 25 minutes. During this time, focus only on the task at hand. Afterward, take a 5-minute break (snacks, social media, etc.). Repeat these 25-minute chunks as many times as you want. If 25 minutes is not your cup of tea, try nudging it down or up for a few minutes."
Peter D., Senior, Data Science major
The Pomodoro Method is an excellent time management method proven to be effective in helping individuals get work done through 25-minute time intervals with 2, 3, or 5-minute breaks. After 3 or 4 intervals of 25 minutes, followers of the Pomodoro method take 15 or 30-minute breaks.
"One technique that I've found useful in studying is the Pomodoro Method, which is a work + integrated break system. My roommate and I are in different majors—Computer Science vs. Film—but we both use the 25:5 ratio and it works wonders! (25 minutes of work, 5 minutes of break time.) I repeat the cycle about four or five times. It's helpful when I really need to get down to business, but worry about stressing myself out if I just write non-stop."
Nina T., Freshman, Film major
No matter the field that you are in, the Pomodoro Method is a very efficient study method that can help break down big tasks into smaller ones. A major benefit is taking breaks in between work or study sessions. A fulfilling amount of breaks is necessary in order to enhance your ability to stay focused and motivated. I have used the Pomodoro method myself, and it has helped me not feel too overwhelmed with the tasks that I have to complete.
You Got This
Being well prepared for your assignments and exams will not only help you succeed academically, but will also help you succeed personally long term. Try new study strategies, be consistent, and take care of yourself. You're on the right path to do your best on your exams and achieve your goals. And to find a beautiful library on campus to put these tips into practice, check out this video on our Instagram! Good luck to everyone, and go Bears!
Want More?
Caitlynn Kelley is a Freshman at UC Berkeley majoring in political science.
Original post date: Nov. 7, 2022