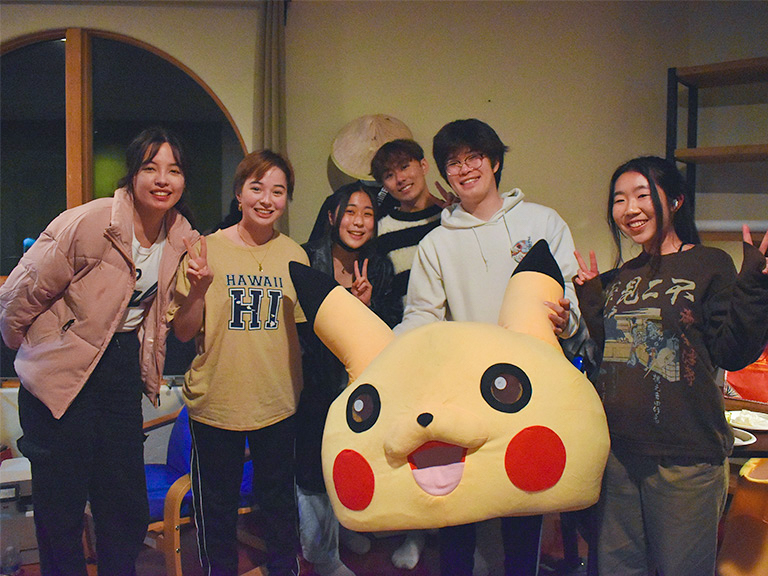 Making Friends: Where to Start?
Making friends is an integral part of your university experience. Unsurprisingly, it was also one of the aspects of college life that terrified me most when coming to UC Berkeley. As an out-of-state student, I was one of the few from my high school to get into a UC school and the only person to go to Berkeley. I knew right away that I'd be starting from scratch in the friend department and have to break out of my shell.
In this article, I share the insight of friends and draw from my own experiences to describe how to find community—and yourself in the process.
Interest-Based Clubs
Clubs dedicated to shared interests are one of the simplest ways to start making friends. If you have a passion for a certain activity, there's probably a club dedicated to it at Berkeley.
First-year Ashley Watanabe found community through the Berkeley Legends Club, also known as the Riot Games Club, an ESports group on campus. Through Berkeley Legends, she's been able to meet others—both in-person and online—who share her love for gaming. Ashley reveals that "while clubs are definitely one of the easiest ways to find that core group of friends, you're not limited to just them."
Sports groups are a specific type of club that sophomore Drew Shinozaki found to kindle friendships well. They joined Cal Archery's Advanced Strategies for Competing Effectively and Nurturing Technique (ASCENT) program last semester, a club which allows students to gain competition experience and confidence before joining Cal's Archery Team. Drew notes that community is naturally formed between folks who share a common interest and see each other multiple times a week for club events.
"In interest-based groups, there's so much opportunity to have conversations with people. If you're someone who gets nervous with social situations, it's especially comforting to have that activity act as a buffer and ease your nerves." – Drew Shinozaki, 2nd year, English major
Identity-Based Clubs
Identity-based clubs refer to groups in which members share a given identity, such as an ethnoracial label or gender. Because these clubs often place a heavier emphasis on belonging, many students I interviewed feel they have a deeper connection with fellow members of identity-based groups.
Mia Soumbasakis is an intern for Berkeley's Queer Alliance Resource Center (QARC). As someone passionate about social justice, they were originally a general member, and this semester, starting devoting more time to organization. Mia spends multiple days a week at QARC talking with board members, planning events—look forward to a queer tea party!—and hanging out with friends. In addition to QARC, they're also a member of Cal's Queer and Asian Club and a writer for the Maganda Magazine, a Filipino literary journal that focuses on healing through art.
Organizations like QARC provide a safe space for students to meet with people who share their lived experiences, beliefs, and interests. Identity-based organizations are often families, and that's a truly beautiful thing.
Living on Campus
As an out-of-state student, I came to Berkeley without any connections. That's why I'm incredibly fortunate that my two roommates ended up becoming my closest friends. I met one of them online and spontaneously asked her to room with me, and our other roommate was randomly assigned to us.
At first, sharing a living space felt a bit awkward, but after just a few days, I settled into the rhythm of cohabitation. Now, my roommates and I do almost everything together: eat at the dining hall, attend club events, and host weekly movie or game nights in our room. As Ashley Watanabe said to me, "If you get good roommates, they're basically built-in friends."
During freshman year in particular, everyone is trying to make friends. Sophomore Devon Akiyama, an RA in Unit 1 Deutsch, emphasizes that those living in a residential community have a huge advantage in this process. Residents who know the people on their floor tend to enjoy dorm life more, so try to become a friendly face! Attend events hosted in your residential community, wave first to people in the halls, and invite your floormates over.
Outside Organizations
Something I wish I'd learned earlier is that you can find community outside of UC Berkeley. While it might be easier to join solely Cal-based organizations, don't limit yourself. Local groups can be a wonderful way to make friends.
Devon Akiyama is a follower of the Berkeley Buddhist Temple (BBT). He was raised Jōdo Shinshū Buddhist, and since coming to Berkeley from Sacramento, has been attending BBT services almost every Sunday morning. "Everyone at BBT was kind and welcoming when I came to Berkeley," he says, "and it reminded me of the same friends and family that I had growing up in Sacramento as a Buddhist." Through BBT, Devon has been able to make friends who share similar ideologies and lifestyles as him.
Outside organizations allow you to get connected with the city of Berkeley at large, and explore outside the Cal campus. This is especially beneficial for students who aren't from the area, such as myself, or those who want to put down roots in Berkeley.
Final Tips on Finding Community
With so many clubs on campus and opportunities to make connections, managing friendships and academics can feel overwhelming. The most important thing in these cases is to breathe and take time to figure out what works for you. Below is some final advice from our interviewees about juggling all aspects of college life!
Balance, Balance, Balance
"Balancing extracurriculars and school is extremely important. You can't only do academics, so remember to give yourself breaks and have fun! College is a time to meet others, explore, and grow into an adult." – Ashley Watanabe, 1st Year, Economics major
Take a Leap of Faith
"It's definitely important to do scary things. Sometimes there will be events and opportunities to meet people, but you're terrified to put yourself out there. Remember that the first step is always the scariest. As soon as you take it, be proud of yourself—no matter what happens." – Drew Shinozaki, 2nd Year, English major
Embrace Living on Campus
"I was lucky enough to end up on a floor with many other queer people even though I didn't choose LGBTQ+ affinity housing, and it's kind of been this awesome surprise! My floormates and I got really close last semester, and I expect these connections to carry on for a while." – Mia Soumbasakis, 1st Year, Ethnic Studies major
"I believe that any resident should push themselves towards attending an RA/Residence Hall event, especially one that already aligns with things they like because it's a win-win scenario. Attending a residence hall event means meeting new friends and building close bonds, or at the very least, winning some free things to take home." – Devon Akiyama, 2nd Year, Political Economics major, History minor
Get Swept Up
I hope these tips gave you some ideas on how to make friends here at this large, lively school. A final tip from me is to let yourself be swept up into the chaos of it all. Rather than speed walking through Sproul Plaza with noise-canceling headphones in and your head down, take a good look at the various clubs tabling. Spin wheels, accept fliers, and talk with club officers. You might just find your family that way.
Nina Takahashi is a first-year at UC Berkeley majoring in film and minoring in Japanese. Feature photo by Nikkei Student Union Historians: Nina Takahashi (second from left) Drew Shinozaki (center left), Ashley Watanabe (right), and the rest of the Nikkei Student Union's Social Committee.
Want More?